WWE fighters are known for being tough. But Roman Reigns, 3 time WWE World Heavyweight Champion, is showing his soft side toward his family and fans in the aftermath of his Leukemia treatment.
WWE champion Roman Reigns said that his Leukemia is in remission in an announcement on Monday Night Raw, a professional wrestling television program that airs on Monday nights.
Read More
Leukemia is cancer of the body's blood forming tissue, including the bone marrow and lymphatic system. Remission for Leukemia means that no remaining cancer cells can be detected in the blood or bone marrow, and the bone marrow is working normally again. Remission is the goal of Leukemia treatment.
During Reigns' announcement, he opened up about his fears around announcing his cancer to the world when he was initially diagnosed. "I'm not going to lie, before my announcement in October I was terrified y'all. I was scared. I was insecure. And I didn't really know if I wanted to shared that secret with the world," said Reigns. "I was scared to tell everybody because I didn't know how you would react. By the time I got home, the outreach, I mean, between people texting me, calling me, tweeting me, Instagramming me, Facebooking me — if there was a way to get to me, y'all figured out how to do it. And that overwhelming support that you gave me, it gave me strength, it gave me new life, it gave me a new opportunity, and it gave me a new purpose."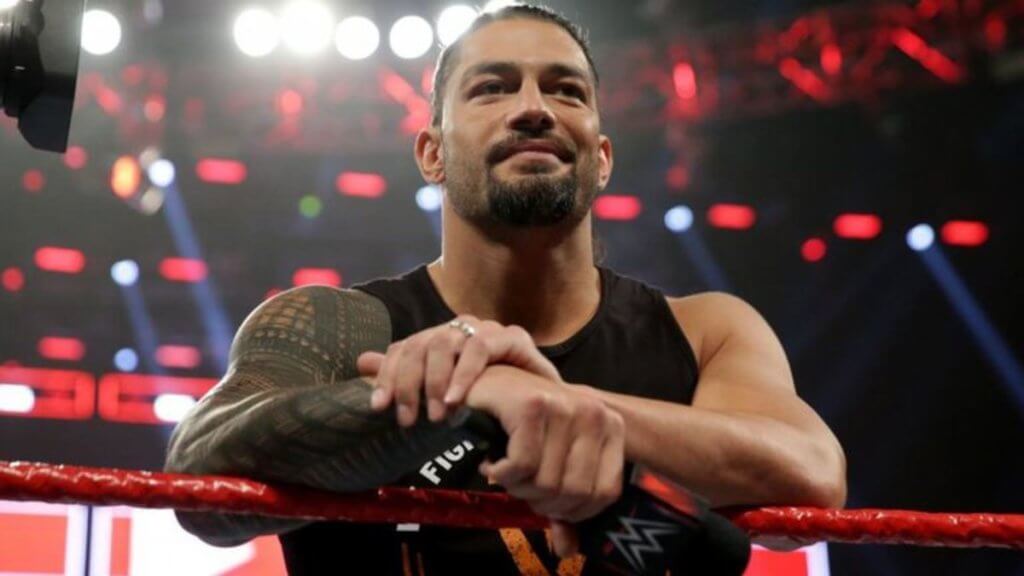 Roman Reigns announces that "THE BIG DOG IS BACK," on Monday Night Raw.
"For me, the only thing that is important, that I have the ability to step foot in this ring every single night," said Reigns. "And if I can do that, I'm going to use this platform, this giant WWE platform that is global and the whole world can see, and I'm gonna use it to raise awareness, and I'm gonna use it to support those in need just like I was."
"Well we advertised it as an update, so, should we get to the update?" Reigns asked the crowd. "The good news is, I'm in remission, ya'll. So with that being said, THE BIG DOG IS BACK." His announcement was met with chants from his fans, "Welcome back!"
Reigns went on Good Morning America to talk about the announcement of his remission. "It's one of those things I just thought about over and over, and I just knew in my head, you know, this journey's not going to be complete until I get to step back in that ring and I get to address my fans," said Reigns.
"I was so nervous last night. And I don't get nervous. I'm fine right now. Main events in wresle-mania — I'm good," said Reigns. "Last night I think because it was just so close to the vest that, it just really, the perfectionism came out in me, the OCD came out. But everybody was so great. The love through this whole process, the support is what's really overwhelming."
View this post on Instagram
When asked about his family's role during his illness, Reigns said they were a huge support. "They've been my rock. I think thats the most important thing, that support system that surround you," he said. "And I'm sure you know this, sometimes it's our families that suffer the most. We're just in it and just trying to overcome, and just move on to the next stage and continue to progress, and they are the one's worrying to death. My mom, bless her heart, but she is the biggest worry wart in the world. Mom, I love you, but you gotta chill out a little."
He said that the support he got from fans a huge help, too. "The terror and the fears that I had it was quickly alleviated when I felt that outreach of, you know, all my fans. Everyone, just whether they knew who I was or were indifferent to me, they all rallied behind me."
An estimated 61,000 new cases of Leukemia will be diagnosed in 2019, while about 22,000 blood cancer related deaths will occur.  Leukemia is diagnosed 10 times more often in adults than in children, and 61.4% of people diagnosed live 5 years.
During Leukemia, a patient can enter into either "complete remission" or "complete remission with incomplete count recovery," according to Dr. Raoul Tibes, Director of the Clinical Leukemia Program at the Perlmutter Cancer Center at NYU Langone Health. "This is doctor language saying [the patient has had] almost either the complete disappearing of any measurable or detectable leukemia cell in the patient's blood or bone marrow, or a near complete absence of all the cells. And this includes, sometimes the patient recovers the full normal blood counts back. And sometimes we don't find any leukemia anymore, and the more normal blood counts may not fully recover. However, that's also important because we do not, the patient with leukemia may not need the same normal blood counts."
Learn more about SurvivorNet's rigorous medical review process.