Mom of Two's Breast Cancer Journey During Covid-19
Liz Gulvin, 42, found a lump in her breast when her daughter was snuggling with her.
She was diagnosed with stage 2 breast cancer and needed surgery, radiation, and chemotherapy; during surgery, it was revealed the tumor was larger than doctors thought and it was upgraded to a grade 3 tumor.
Women aged 45 to 54 should get mammograms annually; women with a history of breast cancer in their family should start screening sooner. Perform self-breast exams at home, too, to minimize risk.
People often credit their children with changing their lives but it's not many people who can credit them with saving their life; and yet, that's exactly what happened for 42-year-old Liz Gulvin in South London.
In January 2021, Liz and her daughter were snuggling and her daughter moved closer towards her mother, which revealed a lump on the mom's breast. Liz tells The Sun, "My daughter accidentally plonked her head down a bit hard on my left breast as she was cuddling me and as I went to rub it, I felt quite a large lump."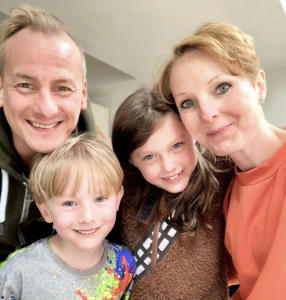 Read More
"I'm fairly small and this felt out of proportion," says Liz, "but I didn't think anything of it. I just thought it might be a cyst."
Liz initially thought it was nothing serious, and tried to convince herself as much. Her husband, however, urged her to get it checked out.
Liz's Cancer Journey
Liz made an appointment to have the lump on her breast examined. Due to the ongoing Covid-19 pandemic, there were additional safety protocols to contend with, too. She also had to wait five days for an appointment.
Related: Getting to Know Your Breasts with Self-Exams
At her first doctor's appointment, on January 25, 2021, she was referred elsewhere for a specialized appointment where she could get a mammogram. Liz says, "I had totally convinced myself it was fine and even then I still thought it might not mean anything."
Related: Actress & Breast Cancer Survivor Julia Louis-Dreyfus, 60, Has An Exclusive Message On How to Support People with Breast Cancer
At her February 9, 2021 appointment, to which Liz went on her own, due to pandemic restrictions, she said she found many people like her in the waiting room. She recalls, "I just kept thinking oh [cancer] won't happen to me, I didn't want to waste their time, and I just felt like I shouldn't be there. I was even apologetic when I had the mammogram, but the nurse was putting me at ease telling me about her kids so I thought, well I must be fine if we are just having a normal chat."
However, Liz was given a diagnosis of stage 2 breast cancer, which would need to be treated with surgery and radiation therapy. Her diagnosis left her in a state of temporary shock, she says, as she feared she would die. "My world just caved in and all I could think was 'am I going to die', I was so scared and I just went into shock, I was shaking and trying not to cry. I was sitting on my own, ice-cold, shaking all over. They came to get me for more tests and I could hardly walk," she remembers.
Liz and her care team snapped into action, though. They scheduled her surgery for March 1, 2021. During the surgery, which included reconstruction, doctors discovered the tumor was larger than previously thought. This meant there was a high risk of her cancer returning.
The tumor was upgraded to a grade 3 tumor, and doctors told Liz that it could spread if she did not have chemotherapy. She had an accelerated chemo regimen of eight cycles over the course of four months. The chemo resulted in hair loss, a common side effect of chemotherapy, so Liz decided to shave her head. She says she did her best to explain to her children what was happening to their mom, and how she tried to hold it together for them.
Related: Complete Guide to Wigs for Cancer Patients: Cost, Types and Where to Buy
"I had to be strong and fight it, I needed to look like I was being strong in front of my kids," says Liz, who successfully finished treatment in early September.
The Debates Around Radiation for Breast Cancer
Screening for Breast Cancer
When it comes to breast cancer, mammograms save lives. As Liz discovered, detection is critically important and it can mean broader treatment options as well. Women ages 45 to 54 with an average risk of breast cancer should get mammograms annually.
Related: Related: These 3 Sisters Were Each Diagnosed with Breast Cancer; Doctors Said It Was a Coincidence; Why It's Important to Know Your Family History
For women with an elevated risk of breast cancer – this means they either have a history of breast cancer in the family, or they have the BRCA1 or BRCA2 gene mutation – they should begin screening even earlier, before age 45.
While getting a mammogram, ask about dense breasts, which may obscure cancer. The technician will be able to do determine whether or not you have dense breasts.
When Should I Get a Mammogram?
Learn more about SurvivorNet's rigorous medical review process.