Finding Hope In Clinical Trials
Colleen Conner Ziegler was diagnosed with stage 4 lung cancer in 2015. She's since participated in a clinical trial using a targeted therapy that's exceeded expectations for lung cancer with the ALK gene mutation.
Five percent of non-small cell lung cancer (NSCLC) patients are caused by ALK gene mutation. Conner Ziegler has taken Alectinib (Alecensa) – a targeted therapy – that's helped her thrive eight and a half years after being diagnosed with metastatic lung cancer.
Despite the great benefits of clinical trials, they also come with risks (like potential side effects that are not fully understood yet). People interested in participating in clinical trials must first talk with their doctor to see if they would be a good fit.
For help finding a clinical trial that's right for you, try our easy-to-use Clinical Trial Finder.
Colleen Conner Ziegler, 67, is a mother and wife and defying the odds as a stage 4 lung cancer survivor. When she learned she had cancer, her doctor said she only had a few months to live. However, the resilience of Conner Ziegler shined through, and thanks to a promising clinical trial treatment, she got to see her daughter graduate college and continues looking forward to more milestone moments.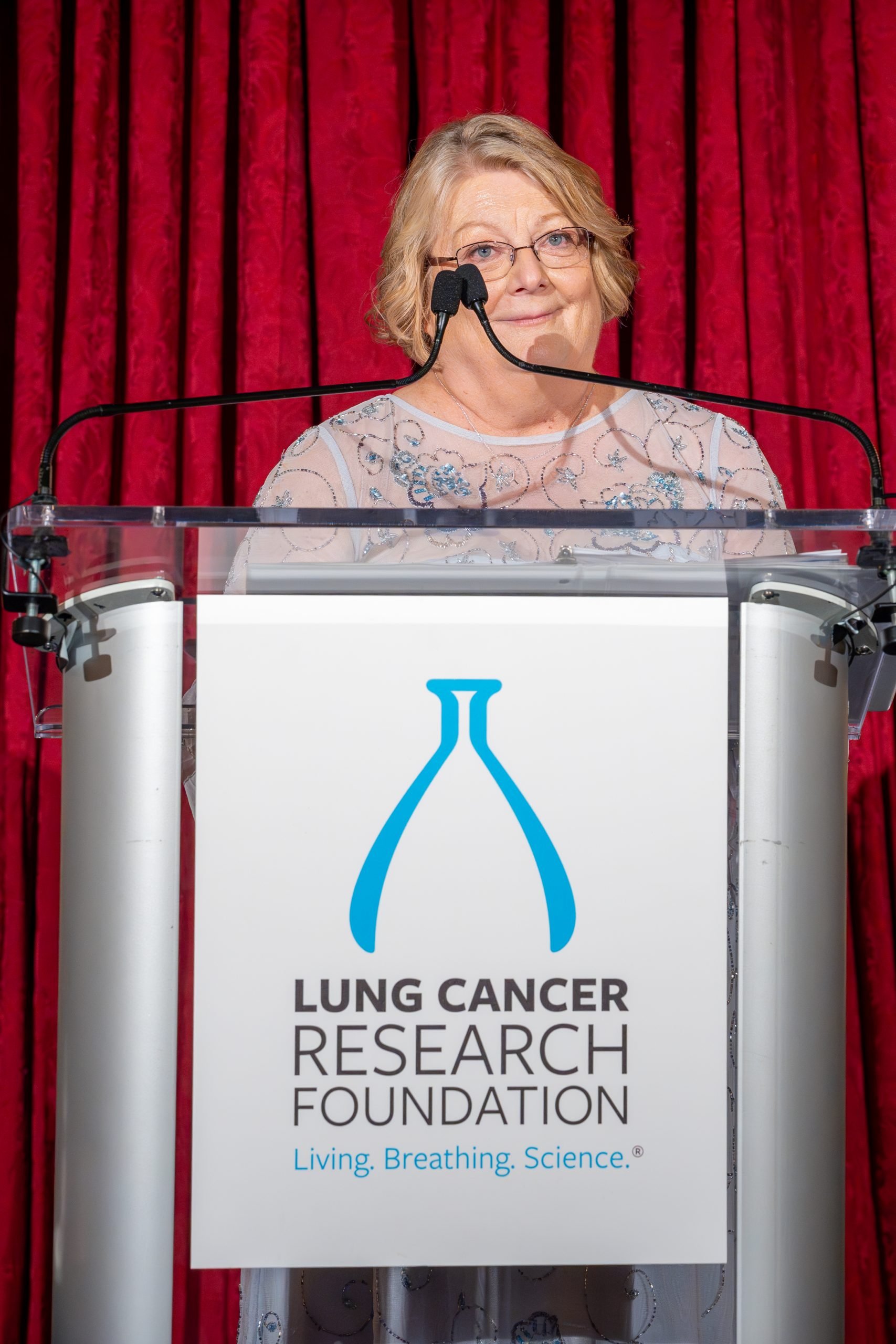 Read More
"Don't waste your cancer" is a mantra Conner Ziegler lives by now, eight years into cancer treatment. "What it means to me is if you're able to do something, then you should do it. And that's why I do the advocacy work that I do," she tells SurvivorNet. She was diagnosed with stage 4 lung cancer in 2015. Her cancer was discovered after she was rushed to the hospital one night after coughing up blood. An X-ray revealed something unusual around her lungs, which led to her diagnosis. Unfortunately, upon discovery, the cancer had already spread to her bones and brain in a process called metastasis, which means the cancer has spread beyond its point of origin in the body.
Lung cancer is difficult to catch in its early stages because symptoms usually appear after the cancer has spread beyond the lungs.
"When I received a diagnosis of stage four lung cancer, I knew it was very dire. When you hear that news, everything flashes before you," Conner Ziegler said.
Her husband, Tom, was scared after hearing his wife of over 40 years had cancer.
"It was shocking and very scary. Her doctor initially told her she had three to six months to live, and she sat there and said, I do not believe it. I do not believe you. And she didn't," Tom Ziegler tells SurvivorNet.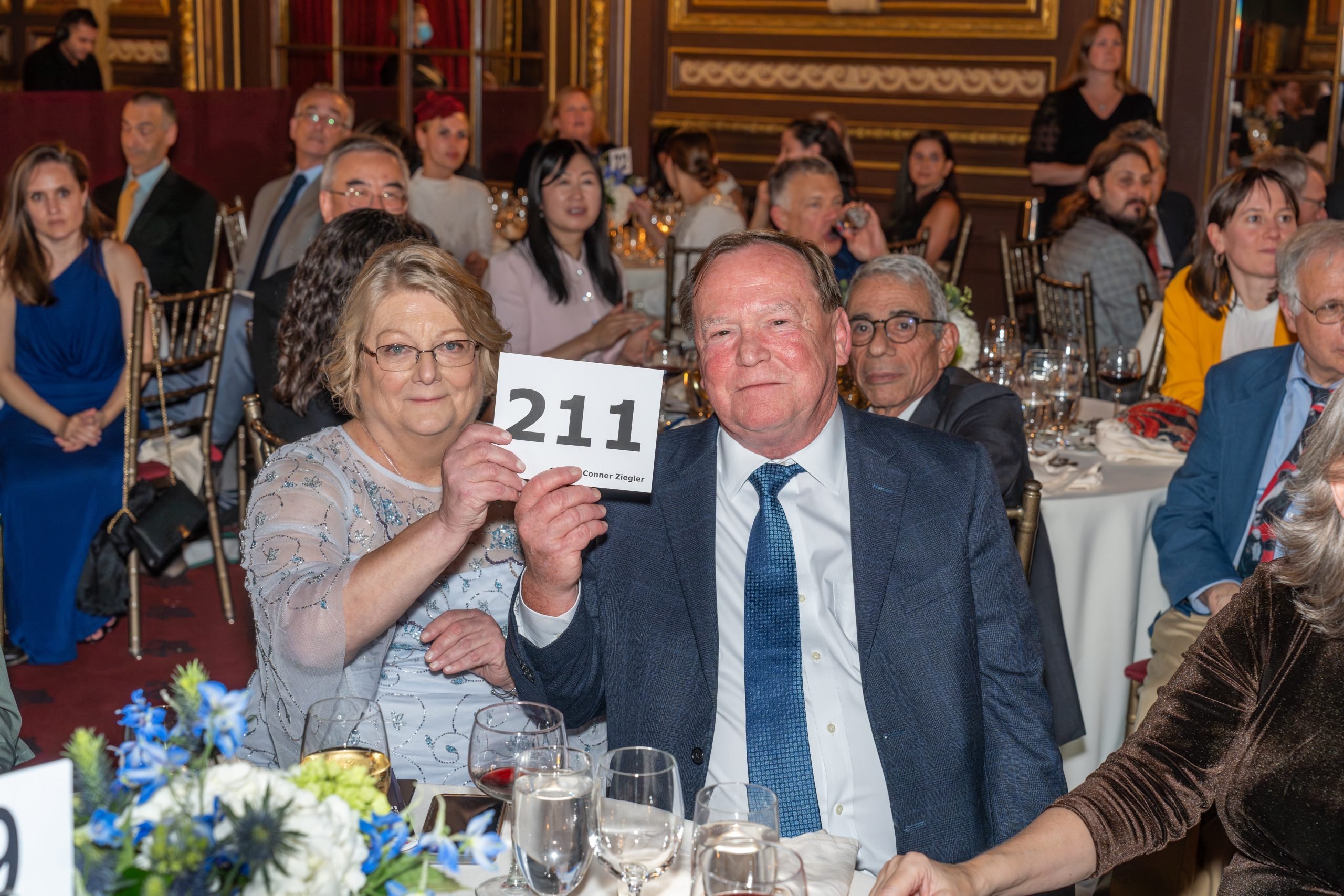 Colleen's lung cancer diagnosis came 15 years after she battled breast cancer. Her husband remembered how brutal treatment at the time was on her amid chemotherapy, conjuring up even more emotions.
When you receive a cancer diagnosis, a wave of emotions will likely flood your mind. Psychiatrist Dr. Lori Plutchik tells SurvivorNet that these emotions are normal and tend to be fluid.
"The patient or person going through the stressful event should accept that emotions will be fluid. You may feel fine one day and then feel a massive wave of stress the next. It's also important for those you look to for support, whether that's a therapist, friends, family, or both, to understand the fluidity of stress-related emotions," Dr. Plutchik said.
After reconciling with her new reality, Colleen talked with her doctor about possible treatment options for her type of lung cancer, which her biomarker testing determined to be ALK-positive, a type of gene mutation found in non-small cell lung cancer.
"When I was diagnosed, I felt that a clinical trial was gonna offer me the best chance at survival," Colleen said.
Colleen's clinical trial involved alectinib (Alecensa) as her first line of treatment. It targets the ALK gene mutation.
Studies of new treatment options are called clinical trials, and they are an important part of medicine for two reasons:
Clinical trials help doctors better understand cancer and discover more effective treatment methods.
They also give patients a chance to try a treatment before it's approved by the U.S. Food and Drug Administration (FDA), which can potentially be life-changing.
Dr. Beth Karlan is a gynecologic oncologist at UCLA Health. She says the goal with clinical trials is to advance cancer research to a point where the disease becomes akin to diabetes, where it becomes a manageable condition.
"Clinical trials hopefully can benefit you, but is also providing very, very vital information to the whole scientific community about the effectiveness of these treatments," Dr. Karlan said.
"They can be lifesaving. We've seen many in the last few years of children and adults who have participated in trials and have had miraculous results," Dr. Karlan continued.
WATCH: Clinical trials can be life-saving.
RELATED: Learn more about lung cancer clinical trials.
Luckily, her doctor was able to recommend a clinical trial for her.
"[Dr. Heist] gave me realistic hope…she said, you know, I think that I may have a phase three trial for you. And from that point on, I've been on the treatment for eight and a half years," Colleen said.
The treatment has given Colleen and her family a renewed outlook on life, and they credit her treatment for giving them much-needed hope and optimism.
"I actually woke up one morning, and I said, you know what, Colleen? You have a voice, and you know what? Let's figure out how you're gonna use it. So, I started as a mentor to people who were newly diagnosed. And then that all just eventually led to being a research advocate," she said.
How Biomarker Testing Helps Lung Cancer Patients
Biomarker testing is important after a lung cancer diagnosis. This process tests the tumor tissue for abnormalities in its DNA and levels of specific proteins in the tumor. If doctors can determine what makes the tumor grow, they can match you with the best targeted therapies to slow tumor growth.
WATCH: Next-Generation Sequencing.
Target therapies have shown great promise for lung cancer patients within the past decade. Colleen's drug treatment is also a targeted therapy. It starts with next-generation sequencing (NGS) tests, which search for specific mutations in your tumor. This testing dives deep into the genetic changes (somatic mutations) in your cancer cells to determine the best treatment for your cancer. Scientists have identified several targets for therapy against these mutations, and this discovery could ultimately enhance the chance of survival and improve the quality of life for lung cancer patients.
How Do Clinical Trials Work?
Within the U.S., all new drugs must go through clinical trials before the FDA approves them. Although the rewards of clinical trials can be great, they also come with risks. Talking to your doctor about this before enrolling in a trial is important. Some risks to consider include:
The risk of harm and side effects due to experimental treatments
Researchers may be unaware of some potential side effects of experimental treatments
The treatment may not work for you, even if it has worked for others
Before you enroll in a trial, you must be allowed to read the consent documents thoroughly and to ask any questions you may have. The documents will likely contain the following:
The purpose of the research
Any risks and benefits expected from the research
Information about procedures that may cause discomfort (like frequent blood tests)
Any alternative procedures the patient might consider instead
How the patient's information will be kept private
How long the study is expected to take
A form confirming you are participating in research voluntarily
Whether any compensation or additional medical care is available if some sort of injury occurs
The patient's rights (like the right to stop research in the middle of the trial)
Contacts for any patient questions
Patients are allowed to walk away at any time during the trial. Understanding your rights as a voluntary patient is important before you participate in a clinical trial, and understanding that the treatment may not work is also crucial.
What are the Costs for Clinical Trials?
Clinical trials may also have no extra cost for the participants, as the study's sponsor may pay for the treatment and any additional care. Some sponsors even pay for travel to and from appointments or treatment centers. Patients should ask what will be paid for before signing up to be part of a trial.
The Affordable Care Act also mandates that health insurance companies cover routine patient care costs while people are enrolled in clinical trials.
The 'Placebo'
While some participants receive the real thing during the treatment of an experimental drug in a clinical trial, others do not. These participants received a placebo.
The placebo is "an inactive substance or other intervention that looks the same as and is given the same way as an active drug or treatment being tested. The effects of the active drug or other intervention are compared to the effects of the placebo," as defined by the National Cancer Institute.
In some cancer clinical trials that are "randomized," patients who enroll are randomly assigned to receive either a placebo or the new experimental drug being studied. If the clinical trial is "double-blinded," that means that neither the patients nor the doctors running the clinical trials know who's in which group. This is an important part of a clinical trial design because it safeguards against bias and the possibility of skewed results.
It's important to know that getting zero treatment isn't usually the reality of the "placebo arm" anyway.
Instead, when patients with life-threatening cancers enroll in randomized clinical trials, the two groups are often broken into the new, experimental drug and a "control" group that receives the "standard-of-care" treatment.
Treatments considered standard of care are those that experts accept as the go-to treatment for specific cancers. Standard-of-care, in other words, is the most used treatment.
In many cases, it might involve a combination of chemotherapy, surgery, or radiation, but not always.
Questions to Ask Your Doctor
If you find yourself struggling with a diagnosis or helping a loved one cope with their emotions, consider asking your doctor the following questions:
When should I seek other interventions if I'm still struggling?
How can I go about improving my outlook/mental health?
What are the steps to finding a different therapist if the one I'm using is not working out?
Are there any activities I can do to encourage positive feelings?
Learn more about SurvivorNet's rigorous medical review process.
---