A Teen Musician's Life After Cancer
A 13-year-old blind pianist and cancer survivor impressed passersby in England this month while performing Chopin's Nocturne in B flat minor on a public piano.
The Ravenscliffe High School student, who had tumors in both of her eyes at a young age, has autistic traits and is globally developmentally delayed, was videoed playing the piano flawlessly on Channel 4's The Piano.
People like Lucy, who incorporate the arts – music, art, theater, and literature – into their daily lives seem to thrive. Surrounding yourself with the arts can improve the quality of your life in many ways.
Lucy, a 13-year-old blind pianist and cancer survivor, wowed passersby at Leeds Train Station in West Yorkshire, England, this month while performing Chopin's Nocturne in B flat minor on a public piano.
The Ravenscliffe High School student, who had tumors in both of her eyes at a young age and has difficulty communicating due to being born with an extra chromosome, performed beautifully on Channel 4's The Piano, a TV talent competition.
Read More
The Piano judges, singer-songwriter Mika and Chinese pianist Ling Lang, were astonished as they watched Lucy, who is autistic and has a total loss of vision, play music by Polish composer and virtuoso pianist Frédéric François Chopin. Dressed in a blue floral dress and a white sweater, and with her hair in pigtails, this young bling pianist appeared to warm the hearts of all who listened.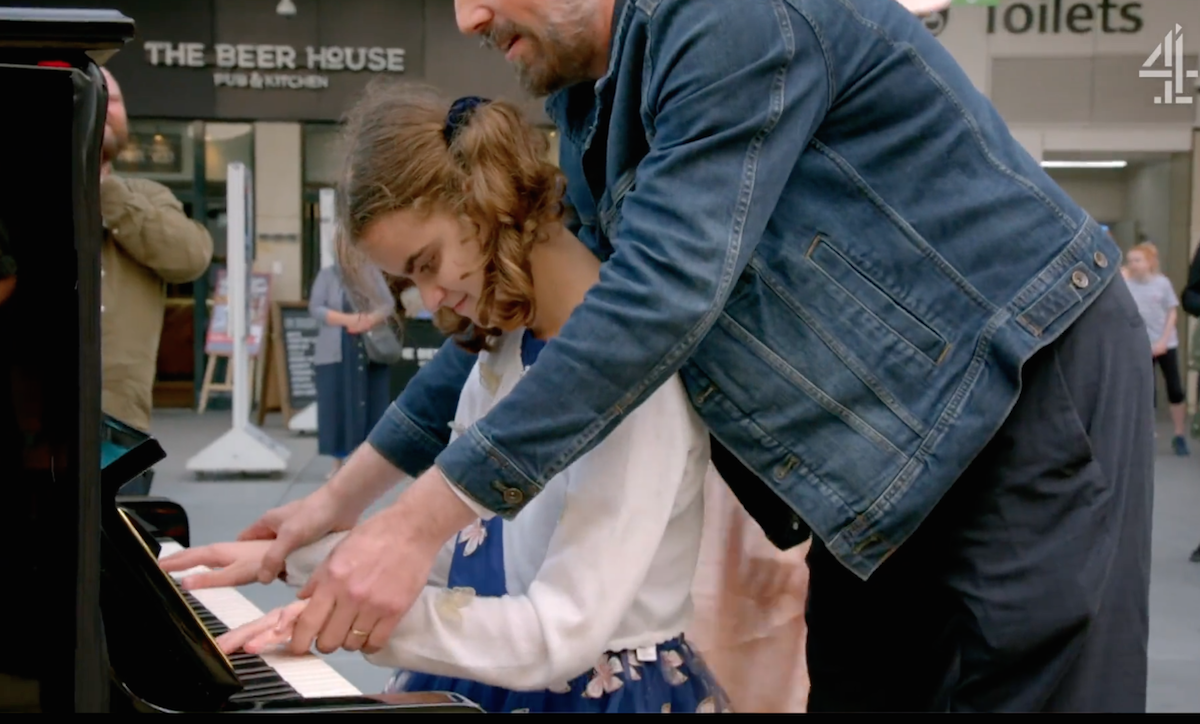 "When she was born she was told that there was something wrong. Lucy was
diagnosed with cancerous tumors in the eyes
. We were in a cancer bubble for a long time, which was horrendous," Lucy's mom Candice said in the full episode of the show, which aired on Feb. 22.
Candice, who recounted trusting the nurses as her daughter experienced pain amid treatment, explained, "As she stands now, she hasn't got any vision at all. On top of that, Lucy has a chromosome 16 duplication. I have it. It can affect mental health it can affect autism traits. She is globally developmentally delayed as well. So she struggles with communication."
"She can't hold a conversation, not really. However, long time ago when she was very little, she had a little tiny keyboard. And we took it into hospital with us and she played Twinkle, Twinkle Little Star, perfectly on it," Candice continued. "And the nurse came over and she thought that it was pre-recorded. And I said 'no Lucy is playing it' … And that's when Daniel came in and started working with her."
This is the incredible moment Lucy, a 13-year-old who is blind and neurodiverse, played a highly-complex Chopin piece, leaving @MikaSounds and @Lang_Lang speechless.

The Piano, presented by @ClaudiaWinkle, starts tonight at 9pm on Channel 4.

Stream Free on All 4. #ThePiano pic.twitter.com/09YFNM2tOh

— Channel 4 (@Channel4) February 15, 2023
Lucy's piano teacher Daniel Bath, who looked on as Lucy played her emotion-evoking public performance, said in the episode, "I do a lot of teaching through Amber Trust which is a charity that helps blind musicians. Our lessons aren't like normal piano lessons, because she can't see what's happening."
As to how he taught a blind pianist, Daniel used the method of putting his student's hands on top of his own while he played the piano "so she could feel which fingers would do what."
"I've never met anybody in my career who has the same depth of understanding of music," he added.
Back in 2013, Daniel told The Amber Trust: Music for Blind Children, "At 5 years old, Lucy is the most musically gifted student with whom I have so far worked."
"Her playing and singing is also communicating a wide emotional range of expression and a lot of humor and fun," he explained. "This awareness of emotional communication through musical performance is a great development in Lucy's overall maturity and it is clear that it has a profound impact on her general communication and inter-personal skills"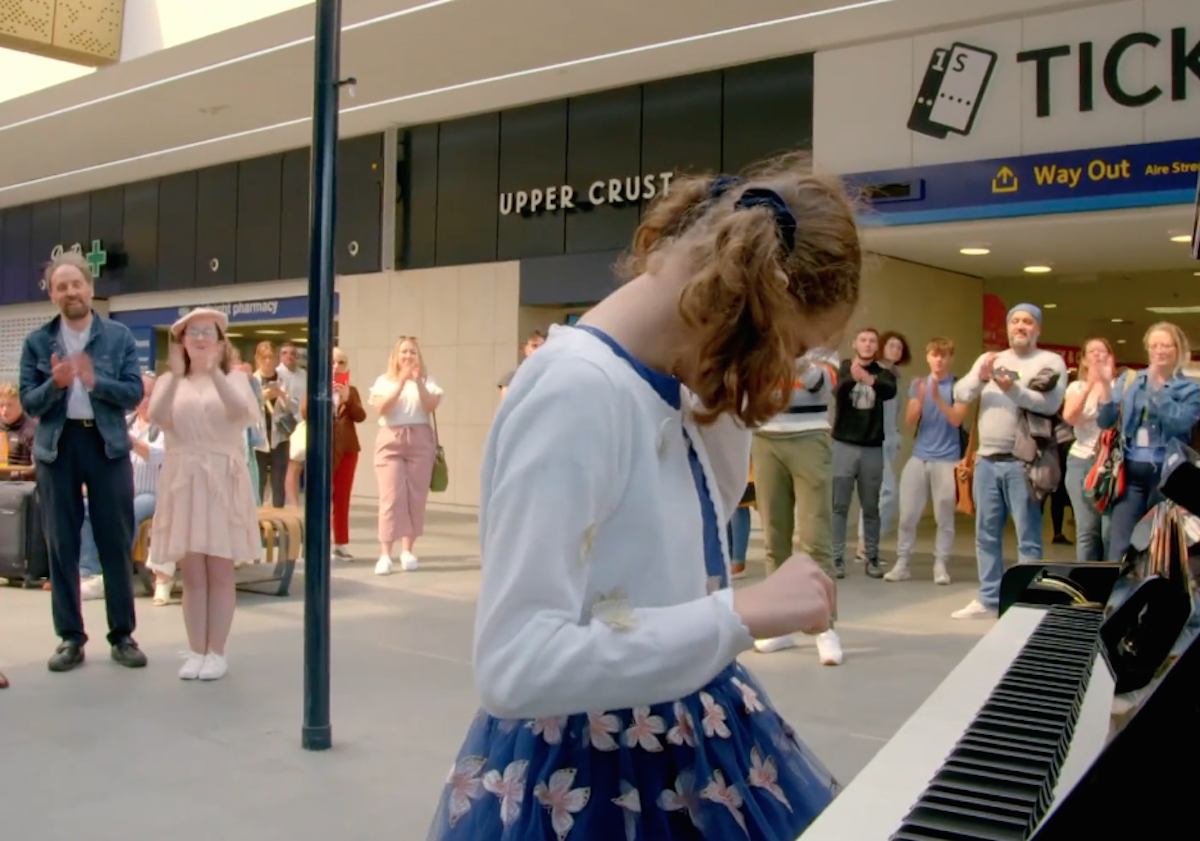 People like Lucy, who incorporate the arts – music, art, theater, and literature – into their daily lives seem to thrive. Surrounding yourself with the arts can improve the quality of your life in many ways. And this blind pianist seems to be a testament to that.
Understanding Childhood Cancer
Treatment advances in recent decades have led to 85% of children with cancer now surviving five years or more, according to the American Cancer Society. This is up from 58% from the mid-1970s.
But according to the National Pediatric Cancer Foundation, more than 95% of childhood cancer survivors have significant health-related issues because of the current treatment options, and only 4% of the billions of dollars spent each year on cancer research and treatments are directed toward treating childhood cancer in the United States.
Since 1980, fewer than 10 drugs have been developed for use in children with cancer while hundreds of drugs have been created exclusively for adults.
Childhood Cancer Survivor Gets Real About Life After Chemo & the New Perspective His Experience Gave Him
Dr. Elizabeth Raetz, director of pediatric hematology and oncology at NYU Langone's Perlmutter Cancer Center, reminded us in a previous interview that there is still reason for hope.
"There are also targeted treatments and different immunotherapies that have been studied in adults and have now moved into clinical trials for children and there has been a great deal of excitement in the community about that," Dr. Raetz told SurvivorNet.
The Resilience of Cancer Warriors
Here at SurvivorNet, we get to share stories of resilience all the time, because there's no shortage of brave cancer warriors holding onto hope in the face of adversity and achieving amazing things.
RELATED: 6 Cancer Survivors Tell Us How They Stay Hopeful During Difficult Times
Danielle Ripley-Burgess, a two-time colon cancer survivor, is another resilient cancer warrior. She was first diagnosed with colon cancer in high school and proceeded to beat the disease not once, but twice.
How to Cope When Recurrence Rattles Your Faith At The Age of 25—Two-Time Colon Cancer Survivor Danielle Ripley-Burgess Shares Her Story
Understandably so, Ripley-Burgess has had to work through a lot of complex emotions that came with her cancer journey. Even still, she's always managed to look at life with a positive attitude.
"As I've worked through the complex emotions of cancer, I've uncovered some beautiful things: Wisdom. Love. Life purpose. Priorities," she previously told SurvivorNet. "I carry a very real sense that life is short, and I'm grateful to be living it! This has made me optimistic.
"Optimism doesn't mean that fear, pain and division don't exist – they do. Our world is full of negativity, judgment and hate. Optimism means that I believe there's always good to be found despite the bad, and this is what my life is centered around."
How a Tough Childhood Helped One Young Man Face His Greatest Obstacle: Late-Stage Lymphoma
She moves through life with a sense of purpose unique to someone who's been faced with the darkest of times. Happily in remission today, she's determined to, one day, leave the world better than she found it.
"We can choose to stay positive, treat others with respect and look for the light in spite of the darkness," she said. "This type of attitude and behavior will lead to the kind of legacies I believe all of us hope to leave."
New Evidence About The Healing Power of Music
Contributing: SurvivorNet Staff
Learn more about SurvivorNet's rigorous medical review process.
---