Menopause & Cancer Risk
In her late 30s, British actress Naomi Watts began experiencing symptoms of early menopause, a normal part of aging which typically happens for women in their 40s and a transition that may actually reduce one's risk of breast cancer, according to a medical director of MD Anderson's Cancer Prevention Center.
Watts, now 54, opened up in a recent interview about how going through early menopause at "such a young age was not easy" due to the lack of information about the condition.
The National Cancer Institute says that early menopause is a condition which causes the ovaries to stop working and menstrual periods to stop before a woman turns 40. It's a transition that can lead to fertility issues and symptoms of menopause, like Naomi Watts experienced.
"Starting menopause after age 55 increases a woman's risk of breast cancer and endometrial cancer. That's probably because she's been exposed to more estrogen," Dr. Therese Bevers, M.D., medical director of MD Anderson's Cancer Prevention Center, said in a recent interview. "During a woman's menstrual cycle, estrogen stimulates the uterus and breast tissue. So the more menstrual periods a woman has, the longer these tissues are exposed to estrogen."
At just 36 years old, British actress Naomi Watts embarked on an emotional and physical rollercoaster as she began experiencing symptoms of early menopause, a normal part of aging which typically happens for women in their 40s and a transition that may actually reduce one's risk of breast cancer, according to a medical director of MD Anderson's Cancer Prevention Center.
Watts, now 54, admitted in a recent interview that going through menopause, otherwise known as premature ovarian failure, at "such a young age was not easy" due to the lack of information about the condition.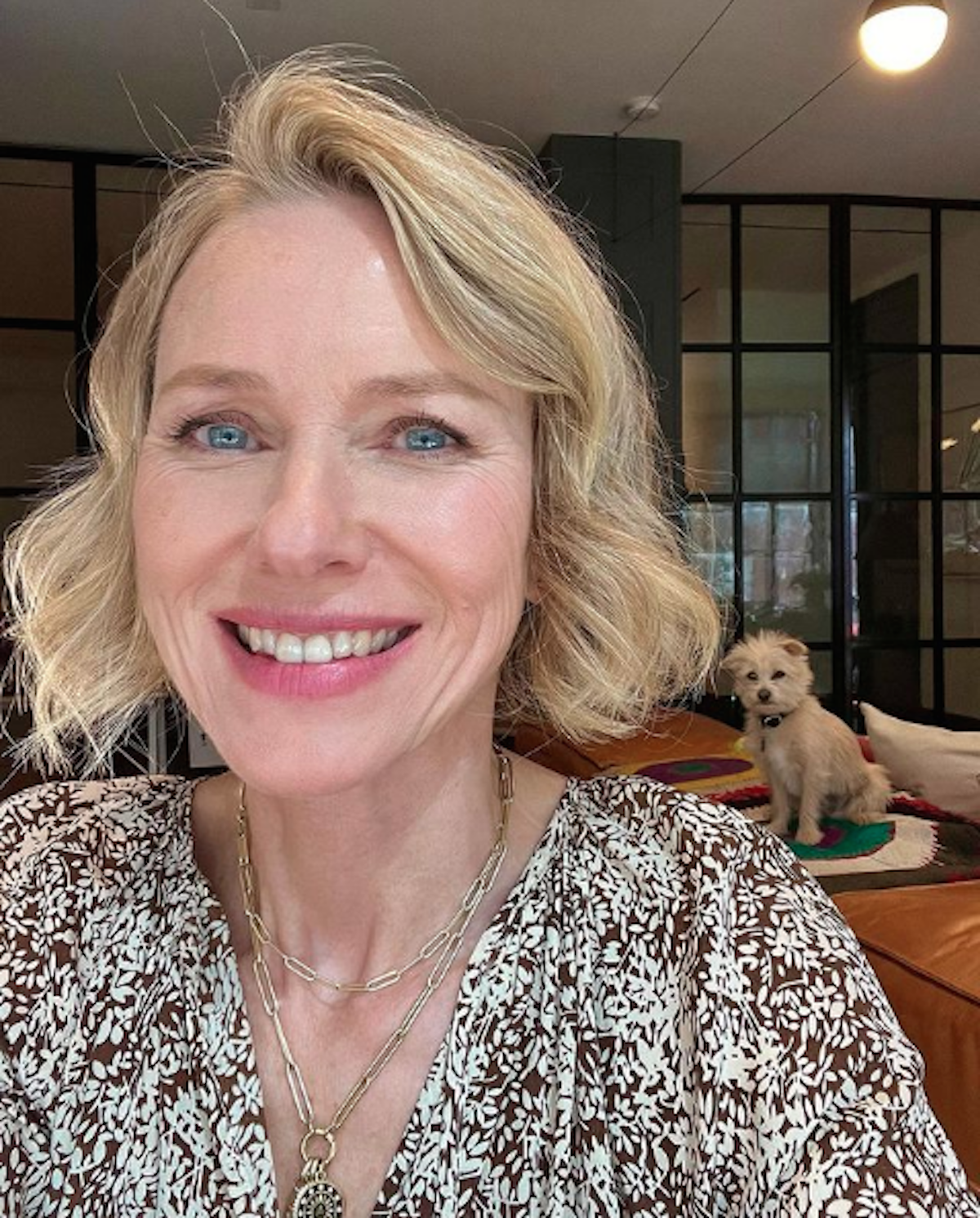 Read More
Speaking exclusively with
Hello! magazine,
Watts said, "Mood swings, night sweats, and migraines…I was feeling like I was spiraling out of control." The mother of one recounted having to become her "own best advocate" to get through the difficult "period of adjustment." "Going through this journey led me to a deeper understanding of myself, and I came out on the other side feeling more authentically me. A lot of freedom came in the self-acknowledgement," she explained.
"I had those voices in the back of my mind reminding me how old women are let out to pasture, but there was a lure to this desire to be authentic, to crawl from behind the invisible wall and just acknowledge for myself something that everyone could have probably guessed."
Watts continued, "I truly believe that if menopause hadn't been such an off-limits topic when I first started experiencing symptoms, I would've had an easier transition.
"I was part of a cycle that desperately needed to be broken. There was a lack of open conversation and resources to help women navigate the changes we go through. That's why I'm now so passionate about raising awareness and encouraging more honest conversations."
As Watts continues to spread awareness for early menopause, she insists that "age" is "in" and "the tides are changing," as she continues to thrive in 50s.
"I'm proud to still be working; when the defining narrative used to be that if you were a hair over 40 you were basically forced into retirement, seeing that shift, that's empowering," she added. "There's growing recognition that women's stories don't end at a certain age."
Early Menopause Comes as a Shock to Ovarian Cancer Survivor, Araceli Rubi
In regard to aging and women in Hollywood, Watts said, "A women's story is interesting at every stage, the longer the life, the deeper it gets and make for interesting stories."
"It's a natural phase of life which half the population is going to go through. The more normalized the conversation can be, is going to present an opportunity for everyone to understand. Let's hope it becomes as easy to talk about this stuff as it's been to talk about periods."
How Early Menopause Affects Cancer Risk
Luckily, for Naomi Watts, and many other women like herself, she may have a reduced risk for breast cancer as she went through early menopause.
In an earlier interview with The University of Texas MD Anderson Cancer Center, Dr. Therese Bevers, M.D., medical director of MD Anderson's Cancer Prevention Center, offered some insight into the link between menopause and how it affects a woman's cancer risk.
Dr. Bevers says menopause doesn't cause cancer, however, as women get older, their risk of developing cancer rises.
RELATED: Eating Mushrooms May Greatly Reduce Breast Cancer Risk Interesting New Research & The Role of Diet
"Starting menopause after age 55 increases a woman's risk of breast cancer and endometrial cancer. That's probably because she's been exposed to more estrogen," Dr. Bevers explains.
"During a woman's menstrual cycle, estrogen stimulates the uterus and breast tissue. So the more menstrual periods a woman has, the longer these tissues are exposed to estrogen."
She noted that women who begin the menopausal transition at a later age "also may have an increased risk of ovarian cancer, possibly because they have had more ovulations."
What Are the Options if You Have a High Risk of Developing Breast Cancer?
Dr. Bevers suggests women try safer alternatives when coping with menopausal symptoms, instead of first trying hormonal therapy, as it's been associated with an increased risk of certain cancers.
Can Hormone Replacement Therapy Increase Your Risk of Cancer? Understanding the Connection
She advises women to make "small lifestyle changes," to reduce symptoms, like avoiding coffee before showering  can make a big difference.
Other safe and health ways to manage symptoms, according to Dr. Bevers, include:
Exercising regularly
Reducing stress
Getting enough sleep
Avoiding hot flash triggers like coffee, tea and alcohol
Quitting smoking
Exercise Can Lower Your Breast Cancer Risk
"The same ways you reduce your cancer risk before menopause: exercise, eat a healthy diet, don't smoke and avoid secondhand smoke, and maintain a healthy body weight," Dr. Bevers adds. "Research shows that gaining weight after menopause increases a woman's risk of breast cancer, but losing weight after menopause can actually reduce your risk."
Your risk for breast cancer comes from a variety of potential places. Some of these are risk factors you simply can't change. Others you can impact by modifying your behaviorsand that's good news for people who want to take an active role in their personal risk reduction.
"Common causes include genetic predispositions, such as BRCA mutations or other mutations that cause breast cancer," Dr. Sarah Cate, assistant professor of surgery Icahn School of Medicine at Mount Sinai, tells SurvivorNet.
WATCH: What is a BRCA mutation?
"Other causes are family history, obesity, radiation to the chest like is used in Hodgkin's lymphoma, alcohol use, never having children, and certain types of abnormal breast biopsies."
RELATED: The Top Breast Cancer Risk Factors and What You Can Do About It
These are factors we can't control, but "what we can control are factors like diet and exercise, as well as alcohol," Dr. Cate explains.
The Difference Between Menopause and Early Menopause
Menopause is described by the National Institute on Aging, as "a point in time 12 months after a woman's last period." Additionally, "The years leading up to that point, when women may have changes in their monthly cycles, hot flashes, or other symptoms, are called the menopausal transition or perimenopause."
The average age women go through the menopausal transition, which usually lasts approximately seven to 14 years, ranges between ages 45 and 55.
"The duration can depend on lifestyle factors such as smoking, age it begins, and race and ethnicity," the institute explains. "The menopausal transition affects each woman uniquely and in various ways. The body begins to use energy differently, fat cells change, and women may gain weight more easily. You may experience changes in your bone or heart health, your body shape and composition, or your physical function."
As for early menopause, the National Cancer Institute says it's a condition which causes the ovaries to stop working and menstrual periods to stop before a woman turns 40. It's a transition that can lead to fertility issues and symptoms of menopause, like Naomi Watts experienced.
Additionally, early menopause is split up into two types, primary and secondary. According to the National Cancer Institute, "There are two types of early menopause, primary and secondary. Primary early menopause means that the ovaries do not function normally. This may be because they have been removed by surgery, or it may be caused by some cancer treatments and certain diseases or genetic conditions.
"In secondary early menopause, the ovaries are normal but there is a problem getting hormone signals to them from the brain. This is usually caused by diseases of the pituitary gland or hypothalamus. Some women with early menopause sometimes have menstrual periods and may be able to have children. Also called ovarian failure, ovarian insufficiency, and premature menopause."
Advocating for Yourself
It's hard to speak up for yourself when you're a young person, especially one who's taught to defer to and trust adults, especially adults who are trained to help people, like doctors. Whether you're a teen or an adult, it's important to speak up for yourself always and advocate for your health.
In a previous interview, Dr. Zuri Murrell, a colorectal surgeon at Cedars-Sinai, told SurvivorNet that people should educate themselves, go into their doctor appointment with a plan, and be pushy if necessary.
Dr. Murrell said, "It's important to know that while we have guidelines OK guidelines, especially in this country are meant to take care and do the right thing for the largest number of people, but it's also with the littlest use of resources. And that's the truth."
'RELATED: Crazy' Misdiagnosis: Doctors Tell Woman, 29, She's Entering Menopause It Was Rare Cancer
Dr. Murrell insisted it's important to pay attention to your body and note if anything feels off.
"The truth is you have to be in tune with your body, and you realize that you are not the statistic. You are not necessarily going to fit into well, I don't have to have a colonoscopy yet because I'm not 50, even though my bowel habits have changed, even though I'm having a lot of blood when I have a bowel movement.
"That's why it's important for you to actually educate yourself and be your own health care advocate. And that's something that I think is really important. You should lead each doctor's appointment with a plan."
Be Pushy, Be Your Own Advocate… Don't Settle
Contributing: SurvivorNet Staff
Learn more about SurvivorNet's rigorous medical review process.
---