Moving On After Loss
Real Housewives of Atlanta star Nene Leakes lost her husband, Gregg Leakes, to colon cancer in September 2021. She's now dating fashion designer Nyonisela Sioh, but she recently received a lawsuit from Sioh's wife.
Grief is an unavoidable and essential part of the healing process following the loss of a loved one to cancer. And one member of the SurvivorNet community tells us that moving forward after the loss does not mean you're necessarily moving on. Things like time, therapy and support groups can help as you navigate the journey of grief.
The term colorectal cancer is used to describe cancers that begin in the colon or the rectum – so some people just use the term colon cancer if that's where the disease began.
Real Housewives of Atlanta
star Nene Leakes, 54, has made headlines yet again. But this time, the topic of discussion is a lawsuit coming from the wife of Nene's first boyfriend since losing her husband, Gregg Leakes, to cancer last year.
Nene Leakes Is Sued
Nene confirmed in December 2021 that she was dating fashion designer Nyonisela Sioh. But a recent lawsuit from Nyonisela's wife, Malomine Tehmeh-Sioh, claims that Nene hooked up with her husband while the two were still in a relationship.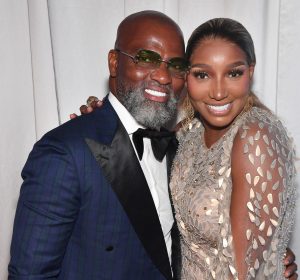 Read More
In the lawsuit obtained by TMZ
, Malomine also claims Nene she suffered emotional distress, mental anguish and a loss of affection as a result of Nene's actions.
And while we don't know how the lawsuit will go, it's hard to imagine that this news won't be upsetting to Nene who's likely still recovering from the loss of her husband in 2021.
Nene Leakes Loses Gregg to Cancer
Nene and Gregg Leakes first married is 1997, but divorced briefly in September 2011. They remarried on Real Housewives of Atlanta in June 2013.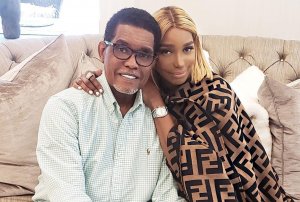 But the couple struggled a few years later when Gregg was first diagnosed with stage 3 colon cancer in 2018 after finally getting a colonoscopy at the urging of his wife. Nene even considered getting another divorce due to his attitude towards her while going through chemotherapy, but she ultimately decided to stick by his side.
Thanks to an aggressive treatment plan, Gregg was able to appear alongside his wife on The Wendy Williams Show in September 2019 where he announced he was cancer-free.
Sadly, however, his health took a turn for the worst and Nene shared that Gregg had been diagnosed with the disease for the second time in June of last year. He ultimately passed on Sept. 1, 2021, after a hard-fought battle with the disease.
In December 2021, Nene confirmed she was dating fashion designer Nyonisela Sioh and a later interview with an unidentified source said she was "absolutely open to marriage again."
"Despite losing Gregg last year, she is really happy and in a great place as she begins starting this next chapter of her life," the insider told PEOPLE.
In an interview with The Shade Room, Nene shared details of the hard conversation Gregg had with his wife before his death about moving on after his passing.
"I will love Gregg forever & ever! Grieving is hard! Even harder & depressing alone," Nene said. "Gregg and I had a very tearful conversation before his passing. His words to me were, 'Be happy, keep smiling and he who finds you, has found a good one.'"
Moving Forward After Losing a Loved One to Cancer
Grief is an inevitable – and essential – part of the healing process after losing a loved one to cancer. And there's definitely no one way to cope, but Doug Wendt shared his thoughts on grief in a previous interview with SurvivorNet after losing his wife Alice to ovarian cancer.
"I Don't Want to Move On; I Do Want To Move Forward": Doug Wendt On Being A Caregiver and Tragically Losing His Wife to Ovarian Cancer
"We're never gonna move on, I don't even think I want to move on, but I do want to move forward," Wendt said. "That's an important distinction, and I encourage anybody who goes through this journey as a caregiver and then has to face loss, to think very carefully about how to move forward."
Everyone's journey of grief looks different, but therapy and support groups can also be wonderful options to explore. It's also important to keep in mind that time does not heal everything, but it certainly helps.
In an earlier interview with SurvivorNet, Camila Legaspi shared her own advice on grief after her mother died of breast cancer. For her, therapy made all the difference.
"Therapy Saved My Life": After Losing A Loved One, Don't Be Afraid To Ask For Help
"Therapy saved my life," Legaspi said. "I was dealing with some really intense anxiety and depression at that point. It just changed my life, because I was so drained by all the negativity that was going on. Going to a therapist helped me realize that there was still so much out there for me, that I still had my family, that I still had my siblings."
Legaspi also wanted to remind people that even though it can be an incredibly difficult experience to process, things will get better.
"When you lose someone, it's really, really, really hard," Legaspi said. "I'm so happy that I talked to my therapist. Keep your chin up, and it's going to be OK. No matter what happens, it's going to be OK."
Understanding Colorectal Cancer
The term colorectal cancer is used to describe cancers that begin in the colon or the rectum – so some people just use the term colon cancer if that's where the disease began.
Colorectal cancer, like all cancers, presents its own unique challenges for patients on the road to recovery. But Dr. Heather Yeo, a surgical oncologist and colorectal surgeon at New York Presbyterian Weill Cornell Medical Center, wants to remind people how far the treatment of this disease has come.
"One of the most exciting things about my job is that we've made a lot of progress on treatment options," Dr. Yeo says in a previous interview with SurvivorNet. "However, patients are still — while they're living longer, they are still living with colon cancer, and so I think it's really important that we talk about how some of the things in your life affect you."
Symptoms
Colorectal cancer might not immediately cause symptoms, but these are possible symptoms to look out for:
A change in bowel habits, such as diarrhea, constipation or narrowing of the stool that lasts for more than a few days
A feeling that you need to have a bowel movement that's not relieved by having one
Rectal bleeding with bright red blood
Blood in the stool, which might make the stool look dark brown or black
Cramping or abdominal (belly) pain
Weakness and fatigue
Unintended weight loss
It is important to note, however, that displaying some of these symptoms does not mean you have colorectal cancer. You could also have colon cancer and not display any of these symptoms. Regardless, it is important to bring up any symptoms to your doctor should they arise.
Screening
Dr. Yeo also emphasizes the importance of colorectal cancer screenings such as colonoscopies because most colorectal cancers can be prevented early with screening.
"You Shouldn't Die From Embarrassment": Colon Cancer Can Be Prevented
"In the United States, on a national level, colorectal cancer has been decreasing for the last 20 years," Dr. Yeo says. "And much of that is thought to be directly due to screening for colon cancer."
RELATED: All Americans Should Begin Colorectal Cancer Screening at Age 45, According to New Guidelines; Previous Age Was 50
Even still, colorectal cancer cases are rising among younger people. And in the United States alone, rates have increased every year from 2011 to 2016 by 2 percent among people younger than 50. Because of this increase, the United States Preventive Services Task Force has recently updated its colorectal cancer screening recommendations to begin at age 45 instead of 50.
RELATED: New Research Shows More and More Young People Ages 20-39 Are Getting Late-Stage Colorectal Cancer; What's Going On?
"We know that colon cancers can be prevented when polyps are found early," Dr. Yeo said. "Lowering the screening age helps somewhat with this. But access to care is a real problem."
And increasing access is crucial to making sure that we don't see racial disparities within the world of colorectal cancer. Whites and Asians are significantly more likely to be up to date with their colonoscopies than African Americans, Latinos and Native Americans.
RELATED: Why Do So Few Black Men Get Colon Cancer Screenings?
Research suggests that tailoring colon cancer screenings to each person's individual risk may be beneficial. If you are not yet 45 but have concerns about your risk, talk to your doctor. Ask about your individual risk based on your lifestyle and family history and find out when screenings would be right for you.
Learn more about SurvivorNet's rigorous medical review process.