New Law Offers Millions Access to Clinical Trials
Until now, state Medicaid was not required to cover the routine care costs that went along with clinical trials.
As part of the FY 2021 Federal budget and the COVID-19 stimulus package, state Medicaid must cover routine care costs of clinical trials.
The new law could help address longstanding inequalities in health care access.
Clinical trials are sometimes the best (and many times the only) treatment option for people with advanced cancers. But, for some 42 million people,
clinical trials
have been out of reach. That changed late last month when federal lawmakers passed the Clinical Treatment Act as a part of the 2021 federal budget and the COVID-19 stimulus package.
"The passage of the Clinical Treatment Act is a major victory for millions of patients with Medicaid coverage," Monica M. Bertagnolli, MD, tells SurvivorNet.
Read More
Dr. Stephanie Gaillard explains how a clinical trial could improve your prognosis.
The bill requires, for the first time, that state Medicaid cover the routine costs of clinical trial participation for its beneficiaries. Until now, Medicaid was the only major payer that did not cover these costs and, as a result, only 12 state Medicaid programs did so voluntarily. The other 38 states, home to more than 42 million Medicaid beneficiaries, did not cover these expenses.
Related: Minorities are Missing Out on Life-Saving Cancer Care & Clinical Trials: 4 Changes Needed to Help Fix This Problem
"The passage of the Clinical Treatment Act is a major victory for millions of patients with Medicaid coverage," Monica M. Bertagnolli, MD, tells SurvivorNet. "By expanding access to clinical trials for Medicaid beneficiaries, patients with life-threatening conditions will have access to the latest technological and scientific advances that often provide the best – and sometimes only – option to treat their disease." Bertagnolli is Board Chair of the Association for Clinical Oncology, an affiliate of the American Society of Clinical Oncology.
What the New Law Means
Clinical trials usually have only enough funding to cover the cost of the experimental drug. That is, whatever new treatment the researchers are studying. But, you get a lot of other care in a clinical trial. A lot of it is routine care that you would get as a part of any type of cancer treatment. For example, you would get medication to treat the nausea that can go along with chemotherapy whether you got the chemotherapy in a clinical trial or not.
Dr. Ted Teknos talks diversity in clinical trials.
"In most states, however, Medicaid will not pay for these routine care costs [if the care is part of a clinical trial]," Grace Mishkin, tells SurvivorNet. "Because of this, patients who are covered by Medicaid have been less likely to enroll in clinical trials." Mishkin is a public health analyst in the Cancer Therapy Evaluation Program at the National Cancer Institute.
This limitation helps explain why cost is a major barrier to clinical trial participation in low-income households.
Related: The Cancer Problem That No One's Talking About — The Cost of Traveling to Clinical Trials
"The new provision will require that Medicaid programs in all states provide their standard coverage for routine care costs for patients on qualified clinical trials," Mishkin adds.
Closing Gaps for Patients
Medicaid covers millions of low-income Americans, many of whom face greater risk of cancer or death from cancer by virtue of their race, zip code, educational level or socioeconomic status.
Related: Close the Gap – Racial Disparities in Cancer Care Are Devastating, Let's Change Things!
"Since Medicaid disproportionately covers people who identify as racial and ethnic minorities, the passage of the Clinical Treatment Act will also help address longstanding health equity issues and help ensure fair access to clinical trials for all patients," Bertagnolli says.
Closing Gaps in Scientific Research
When clinical trials include a diverse group of participants, it's better for science, too. Clinical trials determine how safe and effective medical treatments are. But, drugs can have different effects in different groups of people. Yet, the studies that determine their effects are overwhelmingly made up of white people. Hospitals don't always do a great do a great job of enrolling a diverse mix of people that reflect the population at large in the clinical trials they run.
Dr. Diana English explains why clinical trials need more minority patients.
"Hopefully, by expanding access to clinical trials for people covered by Medicaid," Mishkin says, "this provision will help more patients have the option to participate in clinical trials."
Close the Gap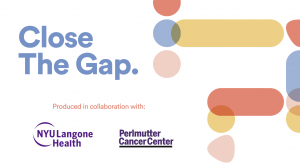 In partnership with NYU Langone and the Perlmutter Cancer Center, SurvivorNet is working to raise awareness about the huge disparities that exist for minorities when it comes to cancer care and survival rates.
Learn more about SurvivorNet's rigorous medical review process.