A Cancer Survivor's Journey to the NFL
24-year-old testicular cancer survivor Nolan Cooney used his drive for athletic success to motivate him during his cancer journey.
He worked his way up the ranks as a walk-on at Syracuse University before breaking records and earning a scholarship his senior year. His tremendous efforts payed off earlier this month when he signed as an undrafted punter for the New Orleans Saints.
Self examinations are incredibly important when it comes to screening for testicular cancer. Men aged 15 to 55 should perform a monthly self-examination to find any changes in the testes that might indicate cancer at an early stage.
Staying motivated during a fight for your life can make all the difference when it comes to a cancer battle. For the rookie New Orleans Saints Punter Nolan Cooney, it was his passion for athletics that pushed him through his battle with testicular cancer and then helped him pursue his dreams.
The 24-year-old's testicular cancer diagnosis came during his junior year of high school after his general practitioner noticed one of his testicles was enlarged. He then had surgery to remove a tumor after an ultrasound found cancerous cells in his testicle, but the cancer had spread to his lungs.
Read More
According to The Daily Orange,
Nolan had nine weeks of treatment, which included over 30 chemotherapy infusions at the Lifespan Cancer Center in The Miriam Hospital. But that didn't stop this three-sport athlete at East Greenwich High School in Rhode Island from setting athletic goals. In a remarkable feat of determination, he made it back to the basketball court in time for the playoffs – just days after finishing his chemotherapy treatments.
During treatment, Cooney visited a local punting and kicking camp per his father's recommendation. As a basketball, baseball and soccer player, Cooney had never punted.
View this post on Instagram
"Who knows what would've happened if I hadn't really stumbled upon this during what would seem for a lot of people to be a tougher time [in my life]?" Cooney told ESPN. "But maybe it was the greatest thing to ever happen."
Cooney's journey to the NFL was anything but typical. He began perfecting his craft by watching YouTube videos. He started regularly attending training camps the summer before his senior year, he even returned to playing soccer in the fall because a local rule wouldn't allow him to compete in football and soccer at the same time.
Cooney received offers to play college baseball at smaller schools by the end of his high school career, but he was set on achieving something else. Instead of going straight to college after high school, he went to a college preparatory school called Bridgton Academy in Maine where he played football for the first time and continued to work on his punting skills.
Trevor Coston, a former NFL safety who coached at Bridgton, spoke to ESPN about Cooney's work ethic and unwavering determination to play football in college.
"It wasn't like a lot of schools were opening doors. He just kept knocking," Coston told ESPN. "And a person like him, if you know him, his story, his background, betting on himself with everything he's gone through, it was pretty easy that he was gonna make it once he had the chance to show anyone what he was gonna do."
His efforts paid off after Syracuse University offered him a walk-on spot on their team. Cooney knew he had to prove himself worthy of the opportunity. He eventually worked his way up the ranks on the team and earned a football scholarship for his senior year. He became a third-team All-ACC punter and broke the school's kicking record by averaging 44.8 yards per kick.
All of his dreams finally came true when the Saints signed him as an undrafted free agent out of Syracuse University earlier this month.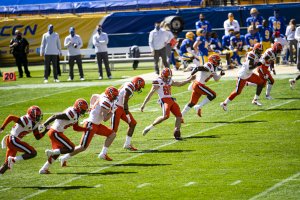 Understanding Testicular Cancer
A testicular cancer diagnosis is rare, but it is the most common form of cancer diagnosed in young men. Depending on the stage, the disease is considered extremely treatable. Treatment options can include chemotherapy and radiation, but often the first line of treatment is surgery to remove the testicle which contains the cancerous cells.
Dealing With the Shame That May Come With Testicular Cancer
Symptoms of testicular cancer can be subtle. Some people may even confuse the early symptoms such as a small mass in their testicle as an injury. But when these signs are dismissed, the cancer can grow and become worse.
RELATED: 10 Things I Wish I Knew Before I Was Diagnosed With Testicular Cancer
"It's not uncommon to see men come in with masses on their scrotum and have inflammation of the scrotal wall; they develop pain as a result. A lump is the most common symptom of testicular cancer," Dr. Edwin Posadas, the medical director of the Urologic Oncology Program at Cedars-Sinai Cancer, tells SurvivorNet.
Dr. Posadas says some men may even notice blood in their ejaculate as a result of testicular cancer. "This symptom is less common, but always bad," he says.
Dr. Posadas urges young men to seek medical care if they are having symptoms. "Most men under the age of 40 tend not to think about seeing a doctor – they need to know to advocate for themselves," he says.
Screening for Testicular Cancer
Testicular self-examination is one way to screen for this disease, says Dr. Posadas.
"It takes less than a minute. Rub testicles through your fingers – looking for any sore areas. Rub the top of the testicle, particularly the delicate epididymis." (The epididymis is a tube at the back of the testicles which stores and carries sperm.)
"Don't squeeze real hard on there," says Dr. Posadas.  "[You should] look for a smoother feel; if you feel a hard nodule on there, you may require blood work from a urologist. [Testicular cancer] is highly curable, even when it's advanced."
If You're Worried – Go to the Doctor
In a previous interview with SurvivorNet, Dr. Bradley McGregor, clinical director of the Lank Center for Genitourinary Oncology at the Dana-Farber Cancer Institute, also emphasized the importance of self-examinations.
"It is recommended that men aged 15 to 55 perform a monthly self-examination to find any changes to help find the cancer at an early stage," Dr. McGregor says. And if someone spots any of the early symptoms, "he should visit his doctor immediately." It's important to be aware of your body and get in touch with a doctor if you notice anything unusual.
"Testicular cancer commonly occurs from ages 20-45, but it can occur at any age," Dr. McGregor continues. "The highest risk factor for testicular cancer is a history of cryptorchidism, an undescended testicle, where the testicle does not move down into the scrotum before birth. Men with a family history of testicular cancer are at increased risk as well. No lifestyle changes have been shown to definitively reduce risk of testicular cancer."
Learn more about SurvivorNet's rigorous medical review process.