Former NFL quarterback Jim Kelly is opening up about his recent cancer battle, how the NFL should handle the ongoing COVID pandemic, and how he mistook the symptoms of squamous cell carcinoma as dental pain before his diagnosis.
The 61-year-old NFL legend, who was first diagnosed with squamous cell carcinoma in 2013, tells SurvivorNet that in addition to battling that disease three times over the past decade, he also learned he had skin cancer earlier this year.
Read More
"A few months back, I got basal cell [carcinoma], so I had to remove parts of my nose, a few places on my neck and face," says Kelly. "But this handsome dude is still here. I have many, many more years to be a difference-maker for people out there, yeah."
That "handsome dude" will be hitting the road this weekend for opening day, where he will be tailgating with other Buffalo Bills fans.
He says he got the Moderna vaccine earlier this year but has no plans to get a booster shot at this time. And even though he could be immunocompromised, he does not think the NFL should mandate whether or not a player gets the COVID vaccine.
"Now everybody has their opinion on the vaccination, now I have not got COVID, and I hopefully never will, but it's everybody's choice," says Kelly. "Some of the Buffalo Bills don't want to get vaccinated. They don't want to. And I'm not a person to tell someone they should or should not."
He continues: "And there are people that are really adamant about making sure everybody on the team is tested and vaccinated. I'm a former player, so to say what I would have done back then, I probably would have [been vaccinated], but I do not look down on anybody that decides they don't want to be vaccinated."
Kelly notes that those who opt out of getting the vaccine need to be "more careful than your typical person."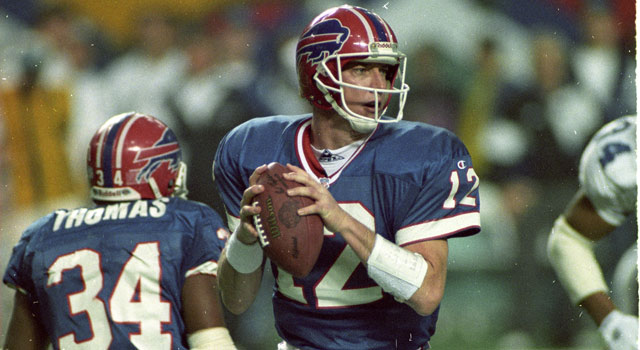 Four Cancer Diagnoses
The five-time Pro Bowler's cancer journey has in many ways been just as unconventional as his career.
He is now helping others like him share their stories as well by teaming up with Merck as part of the Your Cancer Story initiative, which supports individuals at every stage of the cancer journey.
"I've been diagnosed four times. Now, the one time was my first time. The second time was when they gave me a less than 10% chance of living and said I was stage IV. And the third time, well, I have been told to put my foot in my mouth a few times, but I'm never literally put my whole fibula in my mouth," recounts Kelly while detailing his three bouts with squamous cell carcinoma in 2013, 2014 and 2018.
"Gosh, what they did. They took my fibula bone out and in a 12-hour surgery removed my whole upper jaw, broke it into four pieces, and put screws in."
That 2018 procedure also used skin from his arm and an artery from his leg to connect everything in place.
He had  been cancer-free for close to three years after that, until his skin cancer diagnosis earlier this year.
"And here I am today," he says.
There was little optimism and few laughs, however, back in 2013, when Kelly learned he had cancer; a diagnosis made all the more difficult because the family had just lost son Hunter a few years prior.
Hunter passed away at the age of just 8 from globoid cell leukodystrophy, also known as Krabbe disease. It is a rare and  fatal neurological condition found in children who, in most cases, do not live past the age of 2.
"I cannot tell you how hard that was, how hard it was not only for my wife but also for my two daughters, seeing what their brother had to go through and my wife had to see what our son was going through for eight and a half years," explains Kelly.
"And going from that. A few years later, I was diagnosed with cancer. I remember leaving a doctor's office, and while I was on my drive home, I pulled off the side road and just broke down."
'How Am I Going To Tell' My Family?
Those tears, Kelly notes, were not for himself but rather his wife and daughters.
"How am I going to tell my wife and my two daughters who only recently lost their brother and lost their son that they might lose their daddy to cancer," Kelly recalls thinking at the time.
"And that was very, very tough for me because I knew what happened when Hunter was suffering each and every day. But you know what, when I told them, yeah, they cried, but it didn't take very long to realize that we're all in this together as a team."
Kelly also stresses that any mysterious or suspicious pain should be cause to visit the doctor. In his case, that doctor's visit came after many unnecessary visits to the dentist.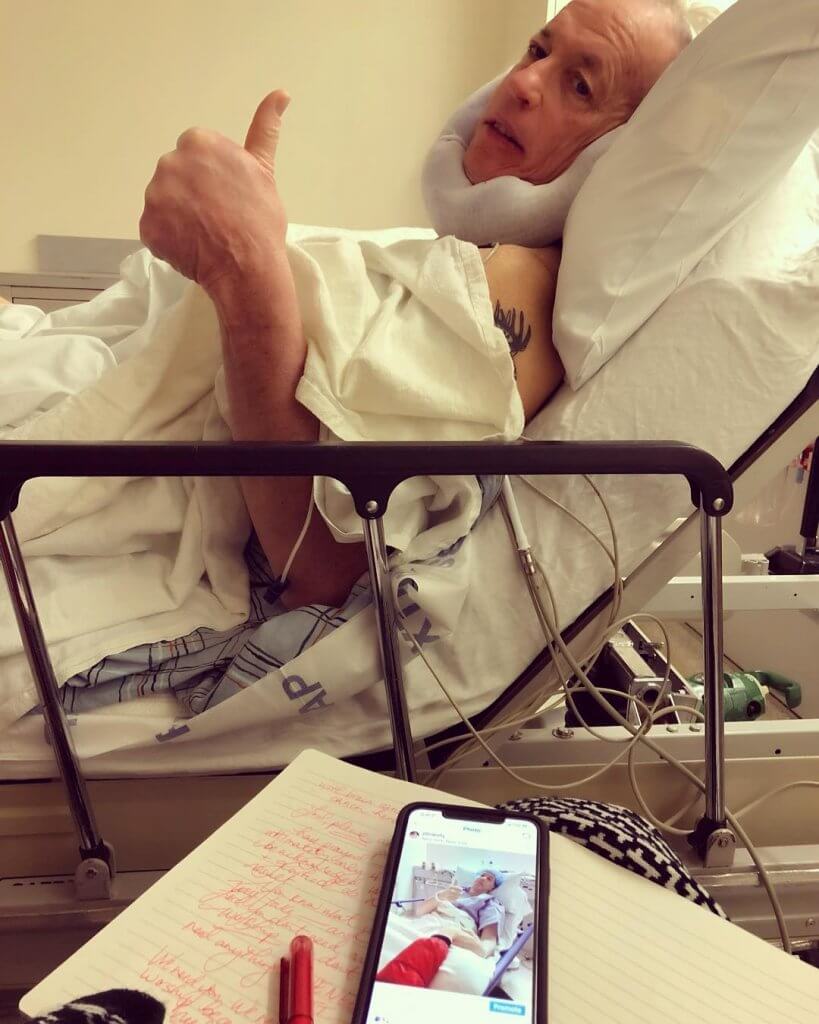 "I was one of those guys, where my mouth was hurt for a while. I thought it was a root canal. Well, I went through like four or five root canals before somebody said I should get a biopsy. I did. Boom. Cancer," says Kelly.
"And just for so many people, men, and women, if something does not feel right, then go and get it checked. Don't wait because it could be the difference between life or death or what you will go through pain-wise."
Kelly notes that he has never smoked or dipped. While others suggest possible behaviors contributing to his cancer, he is not particularly interested in going down that road.
"Some [friends] say it may be from licking my fingers all the time before every snap of the football or playing golf, all the pesticides that they have on golf courses," says Kelly. "I have no idea. Maybe the good Lord has put me out there so I can be a difference-maker for other people. That's what I'm thinking."
Path to the Spotlight
It has been 25 years since Kelly took his last snap as quarterback of the Bills, but he remains that rare player who's a household name.
His path to that spot began in high school when then-revered Joe Paterno offered him a chance to play at Penn State.
However, Kelly, who grew up in nearby East Brady, rejected that offer when he learned that Paterno planned to play him at linebacker and instead accepted the quarterback position at a school with a struggling football program – the University of Miami.
It was during Kelly's tenure at Miami that the school transformed into the national powerhouse it remains today.
Kelly entered the NFL draft in 1983 and was snapped up in the first round by the Buffalo Bills, one of the few teams he had been reluctant to sign with, given his dislike for playing in cold-weather environments.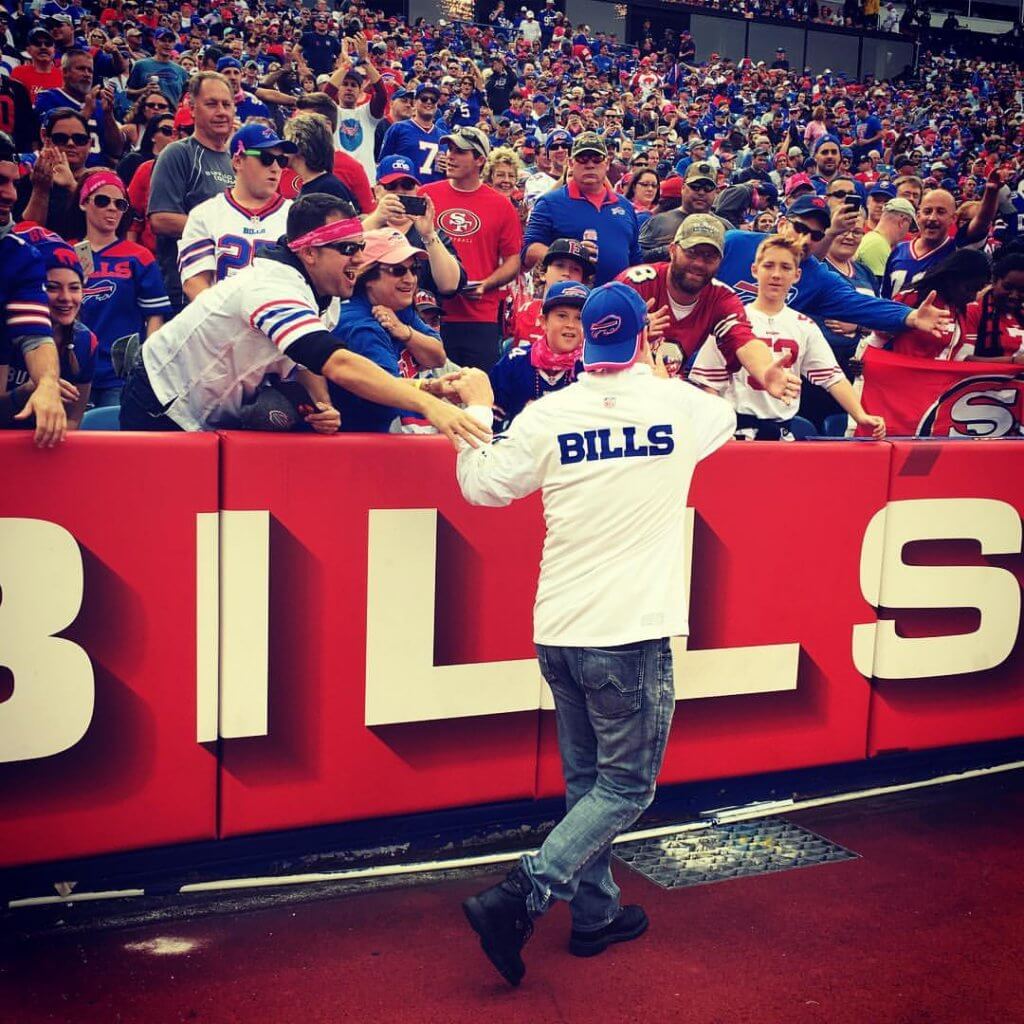 However, that all changed on the day he was meant to sign his contract when Kelly was offered a spot with the Houston Gamblers in the rival United States Football League.
That quarterback-stacked league – which also attracted the likes of Steve Young, Doug Williams, and Doug Flutie – folded after Kelly's second season, and in 1986 he returned to the Bills, who had retained his NFL rights.
Thus began a storied 11-season career in which Kelly took the Bills to four straight Super Bowl appearances and made the post-season eight times.
The team came up short in the big game every time, but Kelly remains the city's most beloved player.
He retired in 1996 and 2002 was inducted into the Football Hall of Fame, where he paid tribute to son Hunter in his speech.
"It's been written that the trademark of my career was toughness," Kelly said while fighting back tears. "The toughest person I ever met in my life was my hero, my soldier, my son, Hunter. I love you, buddy."
Protect Yourself Against Cancer
"I just want people out there, especially men, to know that if you feel something's not right. Get it checked," says Kelly.
He explains how when he was first diagnosed he had no idea what form of cancer he had or how to go about treatment.
"I was all about game plans. You know when you play sports, it's about game plan. And when I was first diagnosed I never heard of squamous cell carcinoma, and my wife Googled it, we tried to figure out who we could find and who to reach out to, we had no clue who to talk to."
He was also surprised to be diagnosed with skin cancer, but glad he was being screened so that he was able to quickly take control of that cancer battle.
Checking for Skin Cancer
Doing regular self-checks on your skin is important to find skin cancer early. If you're high-risk, it's especially vital. Dr. Cecilia Larocca, a dermatologist at Dana-Farber Cancer Institute, recommends looking at your skin once a month for anything suspicious–and using the acronym ABCDE as a checklist:
Asymmetrical moles: if you drew a line straight down the center of the mole, would the sides match?
Borders: irregular, jagged, not smooth; can also stand for bleeding
Colors: multiple distinct colors in the mole
Diameter: larger than 6mm, about the size of a pencil head eraser
Evolution: This may be the most important, anything that is changing over time such as gaining color, losing color, painful, itching, hurting, changing shape, etc.
How To Spot Skin Cancer
Dealing With Grief After Diagnosis
Jim Kelly broke down in tears after learning he had cancer, a very common response from people who are afraid to share the news with their loved ones.
"Grief comes in waves," Dr. Scott Irwin, a psychiatrist and director of supportive care services at Cedars-Sinai Medical Center, previously told Survivor Net.
"They're grieving the change in their life, the future they had imagined is now different."
If that grief does not turn around, like Kelly's did when he and his three girls decided to take on cancer together, individuals should consider visiting a professional to talk about things.
Dr. Irwin reminded patients that some days will be tough, but talk therapy is helpful so it's important to reach out to your doctor, to a therapist or to support groups in your community.
Dealing With Grief After a Cancer Diagnosis
Learn more about SurvivorNet's rigorous medical review process.
---