A Nine-Time Cancer Survivor On Why She Feels Lucky
Jennifer Meador is a nine-time cancer survivor and she's sharing her story with survivors everywhere; she also lost both parents to cancer.
Symptoms of kidney cancer can include blood in the urine, lower back pain, a mass on the lower back, fatigue, loss of appetite, and weight loss.
Many people find comfort in spending time with family and loved ones during a cancer battle.
Kidney cancer survivor Jennifer Meador's life was touched by cancer at an early age, and she is a nine-time cancer survivor. Meador also lost both of her parents to cancer; "my mother died of lung cancer when I was 17, and my father died of colorectal cancer when I was 25," she tells MD Anderson.
She's been a patient at MD Anderson in Houston, Texas, and wrote about her cancer journey for their website.
Read More
Meador stresses the importance of positivity in the face of challenges, saying, "You might think I'd be bitter today because of all that. But
my parents always had really positive attitudes
about things, so I've tried to do the same."
Keeping a positive attitude through a cancer battle can make the world of a difference, experts tell SurvivorNet.
Jennifer's Kidney Cancer & Other Cancer Battles
Meador says that cancer was part of her life from an early age. "I had to have my left kidney removed when I was just 4 months old, after being diagnosed with a Wilms' tumor," she says. Meador has had several recurrences of her kidney cancer since that time, in 1971. She's also had four additional cancer diagnoses: pheochromocytoma, soft tissue sarcoma, melanoma and another type of skin cancer called basal cell carcinoma.
"I choose to live happily."
When she was an adult, her cancer presented again as heart palpitations. "Nobody could figure out why [I was having them]," she says. Eventually, one doctor determined that she had pheochromocytoma, a rare type of neuroendocrine tumor, on her right adrenal gland. "I also had renal cell carcinoma again — on my only remaining kidney," she says.
Her doctor wanted to do a single surgery but was unsure he could remove all the cancer. Meador decided to get treatment and specialized care at MD Anderson. She explains, "At MD Anderson, I met first with urologic oncologist Dr. Christopher Wood (now deceased). He was extremely confident, and said he felt certain he could remove both tumors successfully, if we did it in two separate operations. That sounded a lot better to me than one surgery with someone who wasn't quite sure if he could do it. So, I placed my trust in Dr. Wood. He didn't let me down." Dr. Wood was able to successfully remove both of her tumors in two surgeries.
Throughout her journey, Meador stays focuses on the positives. She says, "It might sound strange, but the truth is, I actually feel kind of lucky. Between my first diagnosis as an infant and my second diagnosis as an adult, cancer granted me a 30-year reprieve. I was able to finish school, get married and even have a child — something I'd been told I'd never be able to do because of the radiation therapy I'd received as a baby."
She continues to say, "Life hasn't always been glorious, of course. And I certainly wouldn't wish my experiences on anyone else. But I do believe that happiness is a choice. So, I choose to live happily."
Understanding Kidney Cancer
Kidney cancers can develop in adults or children. There are two main types of kidney cancer that occur in adults: Renal cell cancer and transitional cell cancer. Chromophobe renal cell carcinoma, forms in the cells lining the small tubules in the kidney.
Related: 'Oh How I Miss You': Actress Denise Richards 50, Writes Touching Tribute to Her Mom on Her Birthday; She Passed from Kidney Cancer in 2007
This year, approximately 79,000 new cases of kidney cancer will be diagnosed. Men have nearly double the risk of kidney cancer compared to women, with approximately 50,000 kidney cancer cases occurring in men, and over 27,000 occurring in women.
Kidney cancer can be treated with surgery, targeted therapy, immunotherapy, or a combination of these different treatments. According to the American Cancer Society (ACS), signs and symptoms of kidney cancer can include the following:
Blood in the urine (hematuria)
Low back pain on one side (not caused by injury)
A mass (lump) on the side or lower back
Fatigue (tiredness)
Loss of appetite
Weight loss not caused by dieting
Fever that is not caused by an infection and that doesn't go away
Anemia (low red blood cell counts)
"When I Die, You'll Have So Many Girlfriends" Ballerina Petra Conti Says She And Her Husband Joked Their Way Through Cancer
Focusing on the Positive Through Cancer & Spending Time with Family
Throughout her health battles, Meador keeps her focus on her family, and out finding the good in hard situations.
The proud mother and cancer survivor says, "I'm also very proud of my son, Zachary. He's 28 now, and a radiation therapist at MD Anderson. Zach was only in the second grade when I was diagnosed as an adult, but we were always honest and spoke in age-appropriate terms with him about whatever was going on."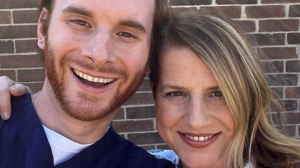 "We also tried to keep his life as normal as possible, so he could go to school just like any other day on the mornings when I had surgery. I think that's why he wanted to study something related to cancer when he went to college. While we didn't let cancer become a little dark cloud hanging over us, he couldn't help but notice its effects on our family. I'm really proud that my experiences inspired Zach to help others."
Related: Stay Positive, It Matters
Meador also says that modeling for her son Zach how people can live happy lives, even when they have cancer, was important. "Because none of us gets through life unscathed. We might not be able to control what happens to us, but how we handle those things is entirely up to us."
Many people find that spending time with loved ones, like their children or partners or other family members, is helpful during a cancer battle. In an earlier interview, ovarian cancer survivor Beverly Reeves stresses how critical it is to have a supportive, loving community guiding you during your cancer battle.
Reeves tells SurvivorNet, "f I had one piece of advice for someone who had just been diagnosed with ovarian cancer, it would be to get a strong support group together. Get your close friends. If you're connected to a faith community, get your faith community."
"Get your family," says Reeves. "Let them know what's going on and let them help you. And sometimes that's the most difficult thing to do, but just know that they are there. If they love you, they're there to help you. And don't be embarrassed."
She continues, "Because this is a cancer that not a lot of people want to talk about. But it's real and we need to talk about it, and we do need that help. So talk to your family and your friends and your faith community, and get that network together so they can support you and be there for you."
'Faith, Family, and Friends' Helped Beverly Reeves Get Through Ovarian Cancer Treatment
Learn more about SurvivorNet's rigorous medical review process.