A county judge in Florida said Tuesday that she can't make a decision yet in the painful tug of war over a toddler boy with acute lymphoblastic leukemia whose parents do not want him to undergo chemotherapy.
The judge said she needs to hear from more doctors about the child, Noah McAdams, 3, whom the state has taken from his parents, before she renders a decision on his care.
Noah has already received two chemo treatments at Johns Hopkins All Children's Hospital, according to family members. But his parents, Joshua McAdams and Taylor Bland-Ball, say he has not responded well to the therapy and want him treated with organic and homeopathic medicine instead, including marijuana.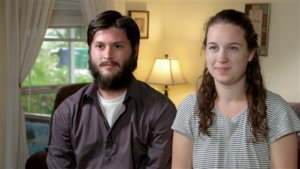 The family says that's what they were doing when they fled Florida last Monday with Noah, prompting a multi-state manhunt during which authorities said Noah was in need of urgent, "lifesaving medical care". They were eventually caught in Kentucky and Noah was taken from his parents, who have lost custody temporarily. Noah is now living with his grandparents and his parents are suing in court to get him back.
Hillsborough County deputies accused the parents of denying Noah medically necessary care, something his parents deny. Doctors strongly disagree with Noah's parents that the boy should be treated holistically. They argue that the accepted medical treatment for acute lymphoblastic leukemia, which involves two and a half years of chemotherapy, has become very effective and has a 90 percent cure rate.
But Noah's parents are undeterred.
"I want my son home and for him to be treated with a treatment that is not going to damage his little body so much," said Noah's mom. "I want my son home and for him to be treated with a treatment that is not going to damage his little body so much."
"As of yesterday you can tell that he is severely traumatized by all of this, by being separated from us," she continued. "He has never been separated from us this long and been restricted to when he can and cannot see his parents. In my opinion if he stays separated from us whether they follow through with traditional, modern medicine for him or not then he is just going to be completely stressed out and honestly it is going to kill him," Bland-Ball said.
Noah was first diagnosed with leukemia by Johns Hopkins doctors on April 4,  after his parents said he was "sluggish" and "not himself." They initially agreed Noah should undergo chemo, but after a week they felt he was responded poorly and wanted a second opinion.
Read More
The ensuing events and clash with the state led to the family fleeing the state with Noah.
The attorney representing Noah's parents, Michael Minardi, said "These parents are absolutely not looking to let their kid suffer, they're going to treat this child," s
The parents want to treat Noah's cancer with vitamins, marijuana and a strict diet.
The irony in the dispute over Noah's care is that ALL is one of the most treatable types of cancer. It's a cancer in which the bone marrow makes too many of what's called "immature lymphocytes," a type of white blood cells. "Acute" means that the leukemia can progress quickly, and if not treated, would probably be fatal within a few months. Signs of childhood ALL include fever and bruising, and the disease can be detected using tests that examine the blood and bone marrow. Over time, there has been a lot of improvement in treatments for childhood leukemia.
"We understand now that aggressive treatment of childhood leukemia has led to a remarkable change in the way kids do, who have leukemia," Dr. Tom Lynch, physician and chief scientific officer of Bristol Meyer Squibb told SurvivorNet prior to Noah's case coming to light. "Now, if you're diagnosed with childhood leukemia, you have an outstanding chance of cure."
The judge in Noah's case is likely to call more doctors Wednesday morning.
Learn more about SurvivorNet's rigorous medical review process.