A Competitive Spirit
New York Giants' Nate Solder chose to opt out of the 2020 football season to avoid any risk to his 5-year-old son during the pandemic.
Solder talks to SurvivorNet about opting out to keep his son safe and how he'll be rooting on his team as they face off against their rivals The Philadelphia Eagles.
The football star battled testicular cancer in 2014, and had surgery for treatment.
New York Giants'
Nate Solder
, 32, may be regarded as a remarkable offensive tackle, but he's a father first. The NFL star
opted out of the 2020 football season
in order to avoid possibly exposing his 5-year-old son, who is fighting
kidney cancer
, to
COVID-19
. Despite not taking the field, Solder tells
SurvivorNet 
that he's as competitive as ever and is eagerly anticipating this weekend's big rivalry game against the Philadelphia Eagles.
"I'm pumped for the Giants," Solder tells SurvivorNet when asked if he'll be tuning into the game on Sunday. He went on, "I think as this division is going right now, it's like anyone can win it. We beat the Washington football team twice. It's like, let's win this division man and put it to the Eagles. Absolutely I'll be watching."
Read More
Related: These NFL Players With Cancer in their Family Opt-Out of Season: 'With Fear & Trembling, We Struggle to Keep Our Priorities in Order'
While Solder, a cancer survivor himself, made the decision to put his family's health before his desire for a celebratory Gatorade dunk, that doesn't make him any less anxious about the upcoming game. It's in his blood. Prior to joining the New York Giants, Solder played for the New England Patriots (rivals to his current team) from 2011 to 2017, so he understands a good rivalry.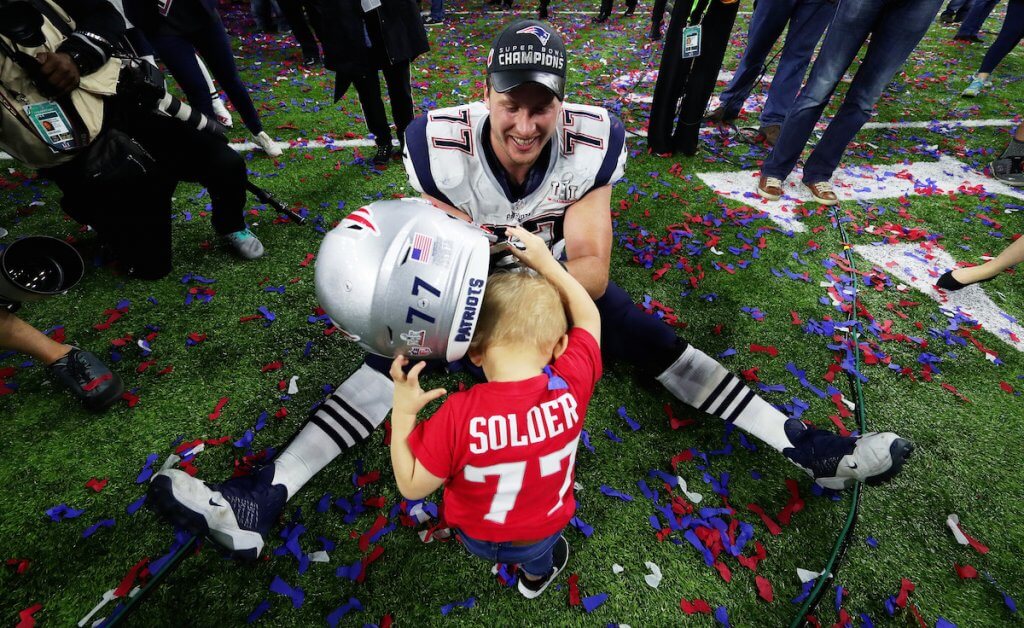 Playing it Safe
Solder knows first-hand how important precautions are while fighting cancer. In 2014, while playing for the Patriots, Solder went through surgery after he had been diagnosed with testicular cancer. Luckily he managed to catch the disease early, and was declared in remission. However, after clinching the Super Bowl trophy in 2016 with the Patriots, Solder's son, Hudson, had been diagnosed with two tumors in his kidneys at just 3-months-old. Hudson, now 5, is currently still fighting kidney cancer.
Related: 43 Children Are Diagnosed With Cancer Every Day in the U.S. — 90% Survive but That's Not Enough
Although the decision to opt out was likely not an easy one to make, and as an impressive athlete, it may be difficult sometimes to focus on anything except your next game. However, thanks to this time off, Solder says it's allowed him to step back and really focus on his values and appreciate what he has.
"It's in my DNA, my personality is to be over obsessed with performance and over obsessed with activity," Solder says. "And so it's been really good to not even be able to do those things. Just to take a step back and realize my values and other things, besides my performance as an athlete. So that's been really healthy for me."
Breast cancer survivor Dana Donofree says cancer made her slow down and reevaluate priorities
Still Hitting the "Gym"
Despite not hitting the field with his team, Solder isn't taking time off from training. While opting out of the season, Solder still makes sure he's in top shape. Plus, he's got three kids to chase after — Hudson (5), Charlie (3), and Emerson (6 months). So, as any parent can attest, that's exhausting.
Related: Zero Booze is Best For Cancer Prevention & Five Hours Per Week Of Exercise! New American Cancer Society Prevention Guidelines
"I'm doing workouts. That was one of the things that was really bothering me. I was like, I'm not actually going to be able to sit around and see if I may or may not have an opportunity to play again," Solder says. "Should I just not be ready for it? I was able to reach out to some trainers and they're giving me workout programs I can do virtually and everything. I can stay on top of that for the most part."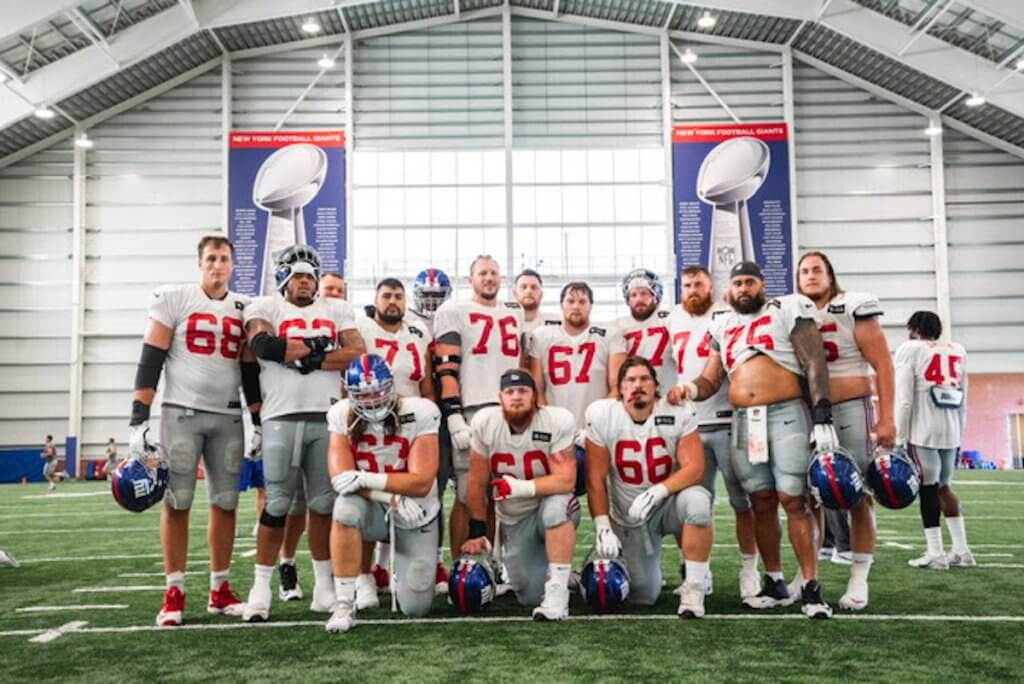 Solder plans to tune into Sunday's much anticipated Eagles-Giants game, but from the comfort of his own home. "I wish I could reach out to them more, but I feel like I'm bothering them," Solder says. "So I kind of want them to stay focused on their business."
But distance won't stop him from standing with his team – in spirit – as they head into this weekend's big game.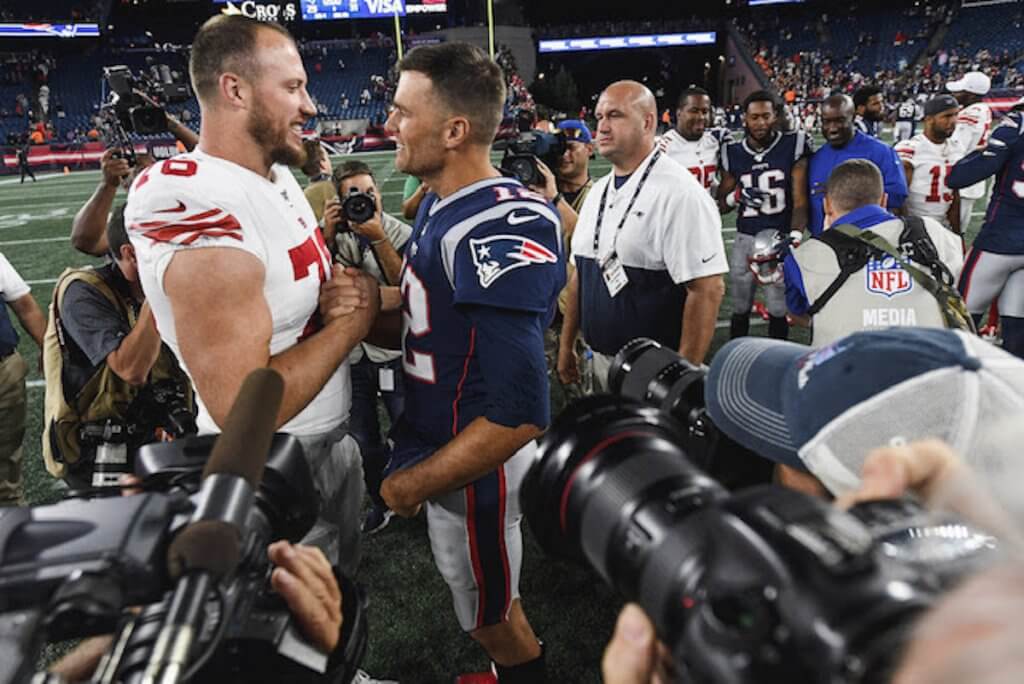 Learn more about SurvivorNet's rigorous medical review process.