Thriving As A Cancer Survivor
Stanley Tucci, 61, was diagnosed with tongue cancer in 2017 and finished treatment in 2018. Today, he is cancer-free and enjoying life as he spends time with family, cooks delicious meals and stars in his cooking show.
We do not know the cause of Tucci's cancer, but we do know that there can be a link between tongue cancer and HPV. The human papillomavirus (HPV) infection is an extremely common virus spread through sexual activity that nearly every sexually active person will get at some point in their lives. Thankfully, we have the HPV vaccine.
A cancer diagnosis can change your life. But as we've seen in the case of Salas, you can thrive on the other side of treatment.
Actor Stanley Tucci, 61, is living his best life after beating tongue cancer in 2018. Most recently, the beloved food connoisseur shared a video of him doing what he loves with the people he loves most.
Tucci lives in London with his wife of 10 years Felicity Blunt (the 40-year-old sister of actress Emily Blunt, 39). The couple have been married for ten years, and Tucci has openly said how much she helped him through his cancer battle.
Read More
"Felicity's undying attention, affection and encouragement got me through it,"
he told PEOPLE
.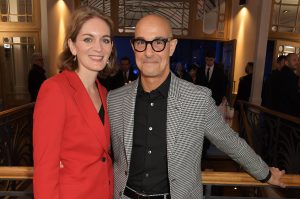 And beyond having a loving wife by his side, Tucci is also reveling in the fact that his career and passion for cuisine have officially intertwined. The iconic actor now has a food and travel series called Searching for Italy with CNN.
"[Food] means everything to me. It's sort of all I can think about," he told TODAY host Al Roker. "CNN came to me and asked me to do this series a few years ago, and we've been able to make it happen…It's been a lifelong dream of mine to explore the regional cooking of it in as much detail as possible."
And in his most recent Instagram post, Tucci shared a special cooking moment with his beloved parents, Stanley Tucci, Sr. and Joan Tucci. The three were working on a veal milanese recipe in a sweet video.
View this post on Instagram
"Home cooking with a lot of my loved ones," he wrote in the caption followed by a recipe for the meal.
Needless to say, Tucci seems to be doing well on the other side of his cancer journey and enjoying time spent with family and good food.
Stanley Tucci's Connections to Cancer
Unfortunately, Stanley Tucci watched a loved one battle cancer before receiving a diagnosis of his own. His first wife, Kate Spath-Tucci, died in 2009 after a battle with breast cancer at age 47.
Then, in 2017, Tucci was diagnosed with tongue cancer when a three-centimeter tumor was found on his tongue. Two years prior to his diagnosis, he was living with severe jaw pain. For treatment, he underwent radiation and chemotherapy.
"They couldn't do surgery because the tumor was so big," Tucci said. "It's a miracle that it didn't metastasize. It had been in me so long."
Sadly, he lost his appetite as a result of cancer treatments. But Tucci's treatments ended in 2018, and today the cancer-free Hunger Games actor says he's enjoying food more than ever before since beating tongue cancer.
"My sense of taste and smell are almost heightened and more than they were before, oddly enough," he told fellow cancer survivor Al Roker.
Tongue cancer, in general, is a form of cancer that begins in the cells of the tongue, but several different types of cancer can affect the tongue. Most often, tongue cancer begins in the thin, flat squamous cells that line the surface of the tongue, according to the Mayo Clinic.
RELATED: 'I'm Incredibly Lucky:' Stanley Tucci Praises His Second Wife Whose 'Undying Attention' Sustained Him During Cancer Fight
Treatment for the disease depends upon what type of cells are involved with each case of tongue cancer as well as where the cancer actually occurs on the tongue. Tongue cancer can occur:
In the mouth: here, it is tends to be diagnosed when the cancer is small and more easily removed through surgery and it may be more easily seen and felt (oral tongue cancer).
In the throat, at the base of the tongue: here, it may develop with few signs and symptoms (hypopharyngeal tongue cancer) and it is usually diagnosed at an advanced stage when the tumor is larger and the cancer has spread into the lymph nodes in the neck.
Tongue cancers that occur at the base of the tongue are being "increasingly" associated with human papillomavirus (HPV). Thankfully, we have the HPV vaccine.
Why the HPV Vaccine Is So Important in Preventing Cancer
Dr. Susan Vadaparampil, the associate center director of community outreach, engagement and equity at Moffitt Cancer Center, previously told SurvivorNet there are few medical strategies that totally prevent against getting cancer in the first place, but she emphasized that data from countries with high rates of vaccine coverage show decreases in HPV-related pre-cancer and cancer – particularly so in the case of cervical cancer.
RELATED: The Vaccine No One is Talking About: Who Should Get It?
"We have a safe and effective vaccine to prevent HPV-related cancer," Dr. Vadaparampil previously told SurvivorNet. "It is widely available, and costs are typically covered by private or public insurance."
When people talk about HPV and cancer risk, they tend to focus on cervical cancer. And while it's true that nearly all cases of cervical cancer are caused by HPV, people should also be aware that HPV puts both men and women at risk of developing several other cancers as well, like oral cancer, as well as cancers of the vagina, penis, anus and throat.
According to the CDC, the HPV vaccine is recommended for all preteens (both girls and boys) 11 to 12 years old in two doses administered between six and 12 months apart. The series of shots can also be started as early as 9 years old.
Should I Give My Kids the HPV Vaccine? A Leading Doctor On Why She Says "Yes!"
That being said, the CDC also says that teens and young adults through age 26 who didn't start or finish the HPV vaccine series also need the vaccine. And people with weakened immune systems or teens and young adults who start the series between the ages of 15 and 26 should get three doses instead of two.
Additionally, the HPV vaccine is sometimes administered in adults up to 45 years old, but it is not recommended for everyone older than 26. Still, a person older than 26 might decide to get vaccinated after talking to their doctor about possible benefits even though it is less effective in this age range since more people have already been exposed to HPV by this time.
But why are people hesitant to protect themselves and their children? One reason may be that there is a myth that that the HPV vaccine can cause autism.
"The HPV vaccines do not cause autism, there's always a risk of some vaccine-related side effects … local site injection pain, some redness, some swelling," says Dr. Jessica Geiger, a medical oncologist at Cleveland Clinic Cancer Center. "There are no syndromes such as autism or other neurologic symptoms that have been linked to the HPV vaccines."
Dr. Geiger also wants people to remember that, although you might not want to think about it, your children will likely participate in sexual activities at some point in their lives. Refusing to vaccinate your children denies them available protection from HPV-linked diseases, and that should be more important than not wanting to think about your kids ever having sex.
"The fact is that the majority of us are going to participate in sexual activity at some point in our lives … it's unreasonable to think that just because your child isn't engaging in sexual activity now that they won't later in life."
Thriving after Cancer
A cancer diagnosis can change your life. But as we've seen in the case of Stanley Tucci, you can thrive on the other side of your cancer journey.
Take Marecya Burton, for example. She was diagnosed with ovarian cancer at just 20 years old. Burton was a college student-athlete looking forward to graduation at the time, but all that had to change when she was forced to move home to start treatment.
Former College Cheerleader Reinvents Herself After Surviving Ovarian Cancer
"That was definitely challenging for me," Burton said in a previous interview with SurvivorNet. "I was looking forward to graduating."
She also had planned on pursuing a law degree after graduation – another dream she had to give up.
"I really had to, in a sense, put my life on hold," she said. "Sometimes I look at where I am, and I can't help but wonder, would I be further had I not had my diagnosis?"
But instead of law school, Burton found a new passion: teaching. She became a high school teacher in Baltimore, Maryland, and she's since made peace with her new direction in life.
"I wouldn't change my career for the world," she says. "It's so fulfilling."
Learn more about SurvivorNet's rigorous medical review process.