An Option For Ovarian Cancer Recurrence: The Drug Elahere
Elena Costello, an 80-year-old survivor of advanced ovarian cancer, is spreading awareness for the disease and the new drug Elahere that helped her despite limited treatment options.
Elahere (molecular name mirvetuximab) is a new FDA-approved drug that is showing encouraging results for people with platinum-resistant ovarian cancer who test positive for a molecular factor called folate-receptor alpha (FRα).
While many ovarian cancers test positive for the folate receptor, to be eligible for Elahere, you must have very high levels (>75%) of the folate receptor-alpha (FRα).
Your doctor can order a test that will biopsy your tumor to check your levels of the folate receptor.
Elahere is one of the first truly new options to be approved for ovarian cancer treatment in many years.
As National Ovarian Cancer Awareness Month is upon us, Elena Costello, an 80-year-old survivor of advanced ovarian cancer spreading awareness for the disease and a new drug called Elahere that has helped her despite limited treatment options.
Costello, who enjoys spending time in her suburban Philadelphia garden after being diagnosed with cancer four years ago, opened up about her fight with the disease in a recent interview with CBS News Philadelphia.
Read More
"I went around for seven months trying to find out what was wrong with me. My symptoms were discomfort and distention in my stomach," Costello explained. "It wasn't a strong thing, I mean it wasn't something that said 'oh my God.' It was really just unrecognizable." Her doctor, Dr. David O. Holtz of Maine Line Health, labels ovarian cancer as "tremendously frustrating" and pointed out to the news outlet how
there are still not enough treatment options for the disease.
"Having this as a brand new avenue of treatment is very exciting," Dr. Holtz said. "The five-year survival for patients with advanced ovarian cancer has greatly improved over the last 20 years."
"This accelerated approval of mirvetuximab soravtansine for recurrent, platinum resistant, folate receptor alpha positive recurrent ovarian cancer is incredibly meaningful for patients who have this cancer," Dr. Ursula A. Matulonis, chief of the Division of Gynecologic Oncology at Dana-Farber, and Co-Principal Investigator of the the study that led to the approval for Elahere, told SurvivorNet. "There have been no approved therapies for platinum resistant ovarian cancer since 2014, so today's action by the FDA is a very significant milestone."
Costello, whose hair has started growing back since undergoing chemo, is incredible grateful for her health being able to improve, a promising example of what the drug Elahere has to offer.
"I'm very encouraged about it and my CA 125 has gone down, which is fabulous," she said, referring to the new drug working for her.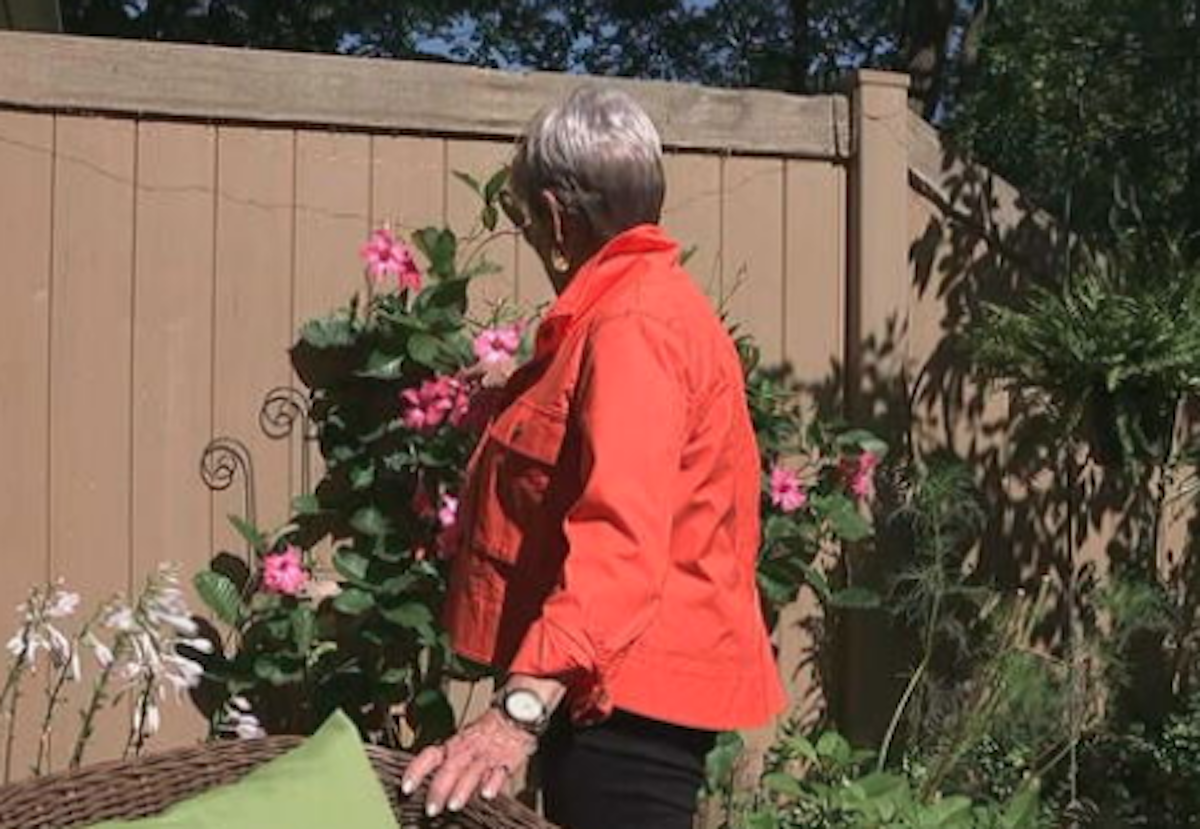 Costello was provided much needed hope after taking the recently FDA-approved drug Elahere (generic name mirvetuximab soravtansine), which has shown a 33% improvement in survival for platinum resistant ovarian cancer (a cancer that comes back within six months of treatment with a platinum-based chemotherapy, like carboplatin and cisplatin), according to the Chief Medical Officer of ImmunoGen.
Prior to Elahere, effective treatment options did exist for platinum-resistant ovarian cancer, but the response rates were typically lower. But Elahere, which was given accelerated FDA-approval in November 2022, has shown really hopeful results for those platinum resistant patients who have high levels of the folate receptor alpha (FRα) protein.
"It is incredibly exciting to have a targeted therapy for platinum-resistant ovarian cancer that has relatively limited treatment options," Dr. Helen Eshed, a gynecologic oncologist at Texas Oncology in Austin, told SurvivorNet in an earlier interview.
RELATED: For San Antonio Ovarian Cancer Patients, Learn About A Newly Approved Treatment Providing Hope After Chemo Stops Working
WATCH: Ovarian Cancer Warning Signs Can be Subtle
Since taking the medication Costello insists, "So far, everything, I feel is OK. I'm doing OK and I'm very hopeful about it."
She's now enjoying life in her garden, in addition to the support she's receiving from the Sandy Rollman Foundation.
RELATED: The First Major New Treatment Option For Ovarian Cancer In A Decade: ImmunoGen's Chief Medical Officer Dr. Anna Berkenblit On Bringing More Hope To Women
Learning About Ovarian Cancer & Treatment
According to the National Institute of Cancer, it's estimated that the U.S. will see 19,710 new ovarian cancers in 2023. The disease has been called the "cancer that whispers" as women often don't experience symptoms until their cancer has already reached its late stages, making treatment more difficult.
RELATED: Elahere for Ovarian Cancer: How to Manage Side Effects
But promising advancements have been offering new hope to patients that typically haven't had many options.
Chemotherapy can be one of the most effective tools for fighting ovarian cancer. However, advanced ovarian cancer has a tendency to come back. And the cancer can become resistant to the chemo drugs designed to target and kill them.
MORE: Treating Recurrent Ovarian Cancer
Cancer that comes back within six months of treatment with a platinum-based chemotherapy drug is called platinum-resistant. If the cancer returns after six months following platinum-based chemotherapy is finished, it is called platinum-sensitive.
Women with these hard-to-treat tumors were left with not very many options for their advanced cancer.
However, in one of the first major advancements in ovarian cancer treatment in a decade, a new drug called Elahere (molecular name mirvetuximab soravtansine) was given accelerated approval by the Food and Drug Administration (FDA) for certain patients with platinum-resistant disease that had received one to three previous treatments.
Dr. Anna Berkenblit, Chief Medical Officer at ImmunoGen, previously explained to SurvivorNet what Elahere, an antibody-drug conjugate, did for patients in a pivotal trial called MIRASOL.
"We have longer progression-free survival, which means the patients are living longer without their cancer progressing. And most importantly, we have demonstrated that patients are living longer," she said.
WATCH: Investigating New Ovarian Cancer Treatments
Elahere targets the folate receptor alpha (FRα) protein, which is located on the surface of the tumor cell. And that's a critical point, as it offers effective treatment for a large population of women with advanced ovarian cancer.
"It is approved now for patients with high folate receptor alpha level expression, and that's about 35% to 40% of all ovarian cancer patients," Berkenblit explained.
The drug is expected to be given full approval in the U.S. after the promising new data from MIRASOL was released this year.
"Available therapies for these (platinum-resistant) patients are typically single-agent chemotherapies. And now we've shown that Elahere is better than the available therapies," Berkenblit said.
The MIRASOL trial looked at how Elahere performed compared to giving chemotherapy alone in patients with folate receptor alpha (FRα)-positive platinum-resistant ovarian cancer.
In the trial, more than one-third of patients (36%) receiving Elahere (who had previously been treated with the targeted therapy bevacizumab) experienced improved progression-free survival (how long a patient goes without their disease worsening) and more than one-fourth (26%) experienced improved overall survival (how long the patient lives).
In another, smaller group of patients who had not previously been treated with bevacizumab, progression-free survival was 34% better, and overall survival was 49% better than when patients received standard chemotherapy.
How Does Elahare Work?
Elahare is an antibody drug conjugate. This kind of new anti-cancer drugs, known as "biological missiles," is leading a new era of targeted cancer therapy.
Dr. Yasmin Lyons, assistant professor in the division of gynecologic oncology at The University of Texas Health Science Center at San Antonio, previously told SurvivorNet, "What that means is that the antibody part of the drug conjugate binds to the folate receptor on the tumor cells, and then that gets taken up into the tumor cell.
"And then the drug that is conjugated with is the part that actually kills the tumor cells, by affecting the tumor cells ability to divide."
To summarize:
Elahare attaches to the outside of the cancer cell.
After binding to FRα, Elahare is taken into the cell
Elahare releases a strong cancer-killing drug inside the cancer cell
The cancer-killing drug can also impact other nearby cells that may be cancerous
Questions for Your Doctor
If you have been diagnosed with ovarian cancer and are interested in learning if these new treatments are available to you, ask your doctor a few questions.
What stage is my ovarian cancer in and what type do I have?
Will genetic testing help determine what treatment may be best for me?
Are there other tests, like for the folate receptor alpha protein, that I can take?
What are my treatment options based on my results?
What side effects should I expect from the available treatments?
If my ovarian cancer is platinum-resistant, what treatment options can I explore?
Will insurance cover these new cancer drugs?
Contributing: SurvivorNet Staff
Learn more about SurvivorNet's rigorous medical review process.
---