One of the most devastating news a parent can hear is that their child has cancer. But for the Bordens, who live in Reno, Nev., the news that their baby girl Lillian Grace Borden had a brain tumor has just had a happy ending.
The 4-month-old, with some help from her parent's, rang the hospital's bell celebrating her victory over the disease, as seen in a video on "Good Morning America."
Read More
RELATED: This Inspiring Girl with Brain Cancer 'Absolutely Loving' the Cake-Smash Challenge Raising Money for Her Treatment
"We are so grateful to everyone here for everything you did," mom Leann Borden said choking back tears of joy at the bell ringing. "We would have lost everything. I've never met such amazing people in my whole life."
Lillian Grace's Cancer Journey
The family's GoFundMe page explains that after Lily was born, a nurse noticed she wasn't moving her limbs as expected for a newborn. An MRI showed "an ominous spot on her brain stem." The doctors consulted with UCSF Benioff Children's Hospital Oakland and then she was flown there on a transport plane.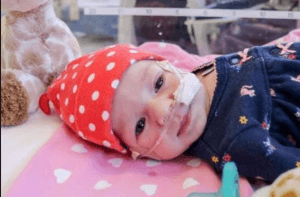 The tumor now ran from her brain stem down her spinal cord to below her shoulders, and a biopsy indicated the tumor was an aggressive stage 3-4 malignant glioma. "A tiny ray of hope existed in a recently approved targeted chemotherapy for tumors of a certain genetic makeup. But they needed to act fast if there was to be any chance of saving Lily," they wrote.
RELATED: This Little Girl with Cancer Just Got Her Wish to Meet a Unicorn — A Small Town Rallies to Make a Dream Come True
Lily also underwent general chemotherapy in hopes of slowing or stopping the growth while insurance approved the needed treatment, and then they went ahead with targeted therapy.
"Her first MRI three weeks after use of the targeted therapy showed NO SIGN OF THE TUMOR," they wrote.
About Pediatric Brain Cancer
Pediatric brain cancer is the second-most common type of cancer in children, according to the American Childhood Cancer Organization (ACCO) accounting for about 15% of pediatric cancers. These cancers vary in terms of symptoms and survival rates, depending on the location of the tumor in the brain and the severity. But one commonality is that they're incredibly challenging to treat.
Surgery to remove the tumor is not always possible, according to the ACCO, either because the tumor is inaccessible or because surgical removal of the tumor would damage critical parts of the developing brain. Inoperable areas of the brain include the brain stem, thalamus, motor area, and deep areas of gray matter.
Operating on a child's still-growing brain can have a life-long impact on cognition and brain and body function. Radiation and chemotherapy can be options as well, but the long-term effects can be severe.
RELATED: This 8-Year-Old Boy Battling Brain Cancer Lands Dream 'Job' at Taco Bell — 'We're Making Every Day Count'
There's a pressing need for new treatment advances in pediatric brain cancer. And new treatments require new research, which requires funding.
According to the National Pediatric Cancer Foundation, only 4% of federal government cancer research funding goes to study pediatric cancer. This puts a major responsibility on foundations, from major, national ones such as Alex's Lemonade Stand, to smaller, family-run foundations such as the Team Jack Foundation.
Learn more about SurvivorNet's rigorous medical review process.
---