Members of the Butler County Sheriff's Office in Ohio showed enormous heart this week when they went above and beyond the call of duty to give a little girl with brain cancer a dream surprise: A ride on a unicorn.
RELATED: A Little Bit Of Joy — The 11-Year-Old Who Beat Brain Cancer and Got to Announce a Dodgers Game — Our guide to Making Dreams Come True for Kids With Cancer
Read More
As seen on a video on the Butler County Journal-News website, 8-year-old Naomi Short shrieked when she pulled off a blindfold to find a white horse dressed up with a horn, pink flower decorations and silver sparkles on its hooves.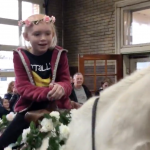 Meeting a unicorn, Naomi told the Journal-News, was on her bucket list. They're "magical, colorful and fart rainbows," she said.
Naomi was diagnosed with stage 4 brain cancer reported the publication, and has undergone 30 rounds of radiation and four surgeries. She is set to begin chemotherapy.
The Secret Plan
The Butler County Sheriff's Office contacted Naomi's mom about setting up the surprise, the Journal-News wrote.
RELATED: A Magical Send-Off — This 5-Year-Old Boy Leaving for Cancer Treatment Gets a Unicorn Ride
Because of bad weather, the surprise was moved from Naomi's home to the Hamilton Division of Fire Station 26.
Naomi rode the horse around the fire station's bay. When asked whether she was scared of riding the horse, Naomi retorted, "It's a unicorn."
Part of a Larger Town Effort
While the unicorn was a special treat, the whole town has rallied around Naomi since her diagnosis. Teachers and kids are wearing blue in solidarity, CBS Evening News reported a little over a week ago, "fundraisers have been held and jars dot business counters to pitch in with medical bills."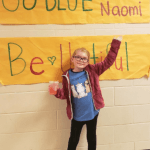 "My dream is to just get like every treatment over with and to just hang out with my friends again," Naomi told the network.
Information About Childhood Brain Cancer
A childhood brain tumor occurs when there is a genetic alteration to normal cells in the brain, according to the Children's Hospital of Philadelphia (CHOP), and may be "low grade," less aggressive, or "high grade," more aggressive. The most common type of brain tumors at all ages are what are known as "gliomas."
Sixty percent of childhood brain tumors are found in what is called the "posterior fossa," which is the small area in the brain found near the brainstem and cerebellum, says CHOP. The other 40% of childhood brain cancer tumors are in found in the cerebral hemispheres of the brain.
RELATED: "I Want Little Girls With Cancer To Feel Pretty" — The 7-Year-Old Girl Who Started Her Own Boutique Clothing Store And Used It To Donate To Kids With Cancer
Symptoms of childhood brain tumors vary, but can include headaches (usually worse in the morning), nausea or vomiting, changes in speech, vision or hearing problems, problems balancing or walking, changes in mood, personality or ability to concentrate, problems with memory, muscle jerking or twitching (seizures or convulsions), and numbness or tingling in the arms or legs.
Diagnosis, CHOP notes, often includes a combination of neurological examinations, CAT scans, MRI, X-Ray, bone scan, angiogram — an imaging test using dye to visualize blood vessels int he brain — and spinal tap.
Learn more about SurvivorNet's rigorous medical review process.
---