Parents of children with cancer often work overtime to make their children's lives as normal as possible — and, when possible, to make their dreams come true.
The family of David Turner, an 8-year-old boy with brain cancer in Louisville, Ky., did just that after he asked his mother how old you need to be to work at Taco Bell, according to a report from Louisville station WDRB-TV.
Read More
"I told him 15," said his mother, Elizabeth Turner. "He told me, 'That's ridiculous because I could make tacos.' And then he went on to explain a 10 year old could make tacos and mind you, he is 8."
David was diagnosed with brain cancer in 2018. The family recently learned the tumor is progressing and their focus, said Elizabeth, is to make every day count for him. So she reached out to a local Taco Bell, and franchisee Judd Wishnow was glad to help.
"It's exciting because unfortunately he may not be 15 and have a first job with the type of diagnosis he has," his mother, Elizabeth Turner, told the station. "It's just exciting to see him so happy."
RELATED: Dreams Come True — Teen Cancer Survivor Plays with the Philadelphia Orchestra and Gets a Brand New Cello
The fast-food restaurant didn't hold back on the tasks. David reportedly took orders, worked the drive-thru, and helped in the kitchen.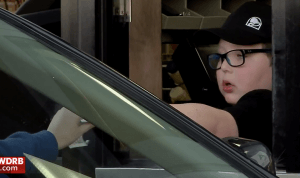 David, it turned out, had a talent for the job. "David was the kind of kid who clearly knew how to work the audience," Wishnow told the outlet. "He was very good at upselling and doing stuff on his own. You have to be impressed."
When she was in high school, David's mom worked at the same Taco Bell.
Information About Childhood Brain Cancer
A childhood brain tumor occurs when there is a genetic alteration to normal cells in the brain, according to the Children's Hospital of Philadelphia (CHOP), and may be "low grade," less aggressive, or "high grade," more aggressive. The most common type of brain tumors at all ages are what are known as "gliomas."
RELATED: The Impact of a Childhood Cancer Diagnosis on the Whole Family — Jayne Wexler Shares Her Story
Sixty percent of childhood brain tumors are found in what is called the "posterior fossa," which is the small area in the brain found near the brainstem and cerebellum, says CHOP. The other 40% of childhood brain cancer tumors are in found in the cerebral hemispheres of the brain.
RELATED: "I Want Little Girls With Cancer To Feel Pretty" — The 7-Year-Old Girl Who Started Her Own Boutique Clothing Store And Used It To Donate To Kids With Cancer
Symptoms of childhood brain tumors vary, but can include headaches (usually worse in the morning), nausea or vomiting, changes in speech, vision or hearing problems, problems balancing or walking, changes in mood, personality or ability to concentrate, problems with memory, muscle jerking or twitching (seizures or convulsions), and numbness or tingling in the arms or legs.
Diagnosis, CHOP notes, often includes a combination of neurological examinations, CAT scans, MRI, X-Ray, bone scan, angiogram — an imaging test using dye to visualize blood vessels int he brain — and spinal tap.
Making Dreams Come True for Children with Cancer
If you know a child with cancer and want to make their dreams come true, there are a few organizations that do so every day. The biggest is the Make-A-Wish Foundation. You can refer a child between the ages of 2 1/2 and 17.  After you refer the child, the foundation will work with physicians to determine whether they qualify for the program.
The Granted Wish Foundation is similar to the Make-A-Wish Foundation, but serves children ages 5 to 25 years of age.
The Dream Factory provides a similar service as an all-volunteer driven children's wish-granting organization that does not limit its mission to children who have life-threatening illness. Children must be between 3 and 18 years old to be eligible, and a doctor must affirm that the child has a chronic illness.
The Sunshine Foundation also focuses on wish granting, and it's "sole purpose is to answer the dreams of chronically ill, seriously ill, physically challenged and abused children ages three to eighteen, whose families cannot fulfill their requests due to financial strain that the child's illness may cause," according to its website.
Learn more about SurvivorNet's rigorous medical review process.
---