Celebrating Life Despite Loss
Actor Pierce Brosnan posted pictures to celebrate his son Sean's birthday.
Brosnan and his son have been through a lot together after losing Cassandra, Brosnan's first wife and Sean's mother, and Charlotte, Brosnan and Cassandra's daughter and Sean's sister, to ovarian cancer.
Ovarian cancer is often referred to as the "cancer that whispers" because of its subtle symptoms. One of our experts recommends women look out for a variety of possible symptoms. When in doubt, consult your doctor if something feels off.
James Bond actor Pierce Brosnan is back on screen as King Rowan for the new adaptation of
Cinderella
, but he made a point to stop the movie promotion for what matters most – family.
The former Agent 007 has suffered heartbreaking loss from ovarian cancer, but he's always seemed to cherish what he has. In a touching post to Instagram Monday, the 68-year-old actor shared a series of photos to celebrate his son Sean's birthday.
View this post on Instagram
Read More
"Happy birthday Sean, we have traveled far together my dear son," he wrote in the caption. "I am so proud of the man and father you have become and the son that I hold in my heart always. Love, Dad"
They've "traveled far" but, unfortunately, the father and son have suffered a lot.  Brosnan's first wife and Sean's mother, Cassandra, died of ovarian cancer in 1991 when she was just 43. She was diagnosed in the late '80s and faced four hard years of treatment which included eight surgeries and over a year of chemotherapy. While she was alive, Brosnan's family consisted of two children, Charlotte and Christopher, from Cassie's previous marriage, and one son Cassie and Pierce shared, Sean.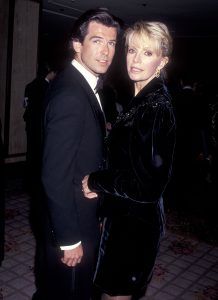 Then Charlotte lost her own battle with the same disease at the age of 41. Sadly, she likely carried a genetic predisposition to the disease from her mother. But despite all the loss, Brosnan always seems to keep his family close to his heart.
Understanding Ovarian Cancer
Ovarian cancer is when the ovaries – which produce the sex hormone, estrogen, as well as eggs – become cancerous. Women have two ovaries, one on either side of the uterus.
The fallopian tube, which brings the egg from the ovary to the uterus for fertilization, is actually where many ovarian cancers begin. First, a few cancerous cells develop on the fallopian tubes, then these cells stick to the ovaries as the fallopian tubes brush over the ovary. From there, the cancerous cells grow to form a tumor.
Taking Control of Your Ovarian Cancer Risk
Dr. Beth Karlan, a gynecologic oncologist at UCLA Medical Center, says the term ovarian cancer refers to a number of different tumors that reside in the ovary. She also says that ovarian cancer can be difficult to recognize as its symptoms may be subtle.
"Ovarian cancer does not have any specific symptoms," Karlan said in an earlier interview with SurvivorNet. "It's often referred to as the cancer that whispers, in that it has symptoms that are really very vague…and nothing that may bring your attention directly to the ovaries."
Ovarian Cancer: The Cancer That Whispers
Dr. Karlan advises women to keep an eye out for a variety of possible symptoms.
"The symptoms include things like feeling full earlier than you usually would when your appetite is strong," she said. "Feeling bloated," is another symptom, she added. "Some changes in your bowel habits. Some pain in the pelvis. These are symptoms women may have every month. These are not very specific. But what we've found from multiple studies, it's this constellation of symptoms."
Learn more about SurvivorNet's rigorous medical review process.