Which Presidents Were Diagnosed with Cancer?
U.S. Presidents Reagan and Carter both battled and beat cancer.
President Reagan had colon cancer and treated it with surgery; it was detected via a routine colonoscopy, the screening method for colon cancer.
President Carter was diagnosed with melanoma, an aggressive form of skin cancer. Despite having advanced melanoma, he was disease-free months after he shared his diagnosis publicly. Carter treated his disease with a combination of surgery, radiation, and an immunotherapy drug called pembrolizumab (Keytruda).
Today on President's Day in the U.S., we pay homage to our nation's presidents – including presidents, like President Reagan, who battled cancer – and all the ways they've served our country.
A number of presidents have battled cancer – some even while in office. President Reagan had colon cancer and President Carter beat melanoma. 22nd and 24th President Grover Cleveland had a cancerous growth removed from his mouth in 1893. 18th President Ulysses S. Grant died of throat cancer. And President Lyndon B. Johnson, the 36th president, was diagnosed with skin cancer and had surgery to remove it.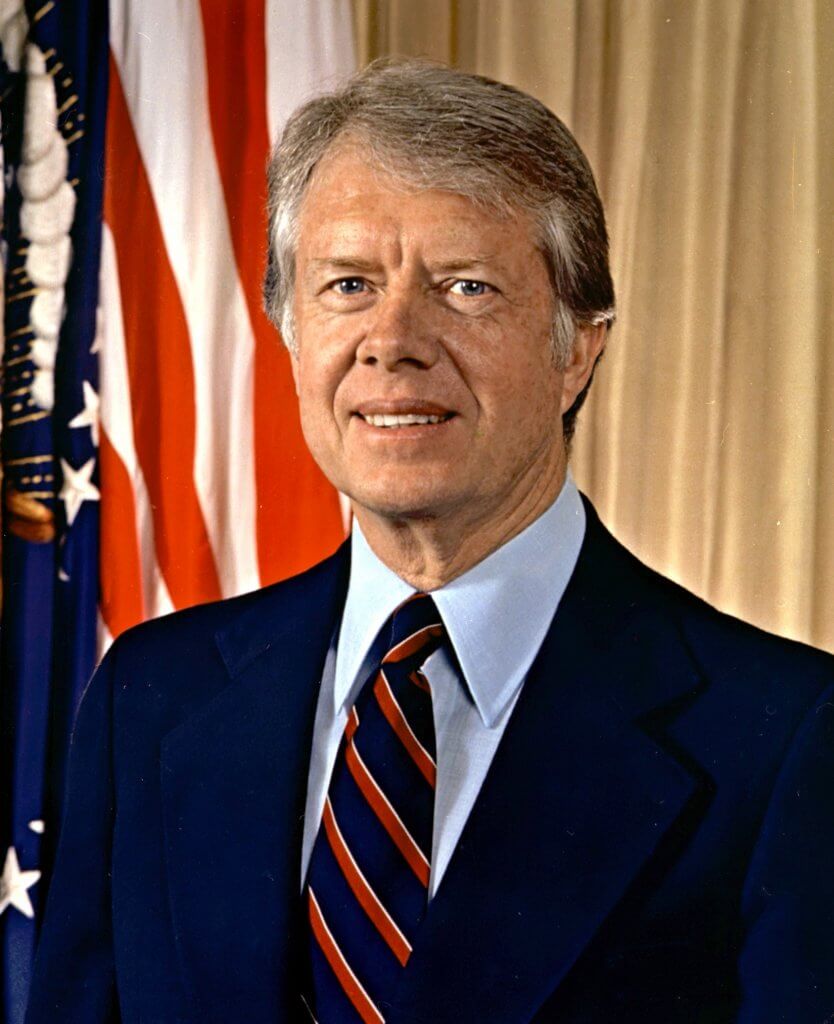 President Reagan's Colon Cancer Battle
Read More
When Ronald Reagan was in the fourth year of his presidency in 1985, he took a brief break from running the country to have a cancerous polyp removed from his colon. Then, the former actor got right back to work.
Related: Did You Know Ronald Reagan Had Colon Cancer Surgery While in Office? A Reminder About the Importance of Screening
Reagan's cancer was discovered during a routine colonoscopy, according to Politico, and it serves as a reminder — especially as March, which begins next week, is #ColorectalCancerAwarenessMonth — about just how important screening is.
"Well, I'm glad that's all out." – President Reagan, after colon cancer surgery
At the time of the President's surgery, which was performed at Bethesda Naval Medical Center in Maryland, Reagan was the oldest serving President at age 74. Still, he only took a week off before returning to work. Reagan didn't speak much about the brush with cancer, simply stating, "Well, I'm glad that's all out," after his surgery — still, his experience and speedy recovery serve as a reminder that colon cancer screening is incredibly important and it does save lives.
Related: "Do Not Say The President Has Cancer" — How Ronald Reagan's Doctors Were Told to Reassure the Public After His Colon Cancer Surgery
Dr. Steven Rosenberg of the National Cancer Institute, who has spoken to SurvivorNet in-depth in the past about the promise of the immunotherapy revolution for cancer treatment, said at the time (accurately) that there was a good chance that the then-President would be completely cured, since the cancer stayed in the colon and had not penetrated the bowel wall or any surrounding nerves or lymph nodes. To this day, for colon cancers that are diagnosed in stage one — meaning cancer has not penetrated deeper layers of the colon and has not spread — surgery is the best and most effective option.
Dr. Rosenberg's prediction turned out to be correct. Reagan went on to live to be 93 years old, before passing away in 2004.
The Promise of Immunotherapy for Cancer Treatment
Screening for Colon Cancer
During a colonoscopy, which screens for colon cancer, the doctor is looking for polyps – small white growths – in the colon. Polyps can turn into cancer, and 95% of them are precancerous. When they're found during a colonoscopy, the polyp may be sent to a lab for testing to see if it indicates a risk of the presence of – or future development of – colon cancer.
Related: Actress Kristen Bell, 41, Details 'What I Wish They Would've Told Me' Before Her Recent Elective Colonoscopy
While experts don't currently know exactly what causes colon cancer, they do point to certain risk factors. Risk factors for this disease may include one's diet, smoking tobacco, and drinking alcohol. Having a family history of colorectal cancer can also increase the risk.
People with an average risk of developing colon cancer – meaning, no history of colon cancer in the family and no history of Lynch syndrome (an inherited syndrome that increases your colon cancer risk) – should begin getting colonoscopies at age 45. People with a family history of colon cancer should begin screening before 45.
How Does a Colon Polyp Turn into Cancer?
President Carter's Melanoma Battle
Skin cancer is the most commonly diagnosed cancer in the U.S., and President Jimmy Carter battled a form of skin cancer called melanoma. At the time of the former president's melanoma diagnosis in 2015, immunotherapy was a new and promising method for treating advanced cancer. Carter was diagnosed with metastatic melanoma, meaning the disease had already spread to other parts of the body by the time of diagnosis.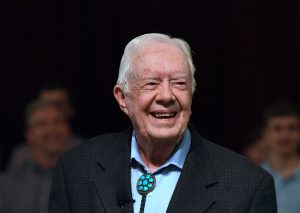 Yet, just months after Carter went public with the diagnosis, he announced that an MRI showed no evidence of disease in December 2015. This was likely due to the groundbreaking treatment the former president was given — a combination of surgery, radiation, and an immunotherapy drug called pembrolizumab (Keytruda).
Related: Jimmy Carter, 96, Is the Longest Living US President, Beating Cancer That Spread to His Brain
Early-stage melanoma that's close to the skin's surface may be treated with Mohs surgery. This type of surgery is a microscopically controlled procedure that removes skin cancer by conservatively cutting along the entire margin until the surgeon reaches clear tissue. It's most often used to remove other skin cancers like basal cell and squamous cell carcinomas.
Surgery is the Best Option for Melanoma
Protecting Yourself from Skin Cancer
Protecting your skin by wearing sunscreen and getting skin checks is so important. You can protect yourself and lower your skin cancer risk by taking prevention steps. In an earlier interview, dermatologist Dr. Dendy Engelman outlines five easy ways to protect your skin, and lower your skin cancer risk. She tells us:
Avoid sun during peak hours. This means from 10 a.m. to 2 p.m. It doesn't mean you should never go outside during the middle of the day, but make sure you're protected when you do venture outdoors.
Cover your skin and eyes. A wide brim hat and sun glasses will protect your face, the top of your head, your ears, and the delicate skin around your eyes.
Wear an SPF of 30 or higher. Plenty of facial moisturizers have SPF built into them. Reapply often.
Get an annual skin check. You can check your own skin for anything that looks out of the ordinary, but you should still get a yearly check to make sure you didn't miss anything. If you do happen to notice anything out of the ordinary in between checks, schedule an appointment to talk to your doctor about it ASAP — it is always worth it to make sure.
Avoid tanning beds. "There's absolutely no benefit to going to a tanning bed," Dr. Engelman says.
SurvivorNet reporter Laura Gesualdi-Gilmore contributed to this article.
Learn more about SurvivorNet's rigorous medical review process.