First Chemo Round
Golfer John Daly, 54, has started chemotherapy for his bladder cancer, and might have to continue treatment for the next seven years.
Bladder cancer is one of the most common types of among men, and smoking is a leading cause of the disease.
Most patients will go through surgery for treatment, but immunotherapy has also shown promising results.
Larger-than-life pro Golfer John Daly, 54, has officially started chemotherapy for bladder cancer, and according to him, it's already wearing on him. We all know Daly for his rock star lifestyle of cigarettes, booze, and junk food, but for the next seven years, he's going to have to straighten up his act.
Daly announced that he had been diagnosed with bladder cancer in September, and now he's diving into the next part of his journey: treatment. According to the golfer, his first round of chemotherapy has already been extremely hard, but he's going to have to continue this treatment for the next five to seven years. However, he's staying positive throughout it all.
Read More
"The only positive is this cancer is treatable, but I'm probably
looking at chemo for the next five to seven years
," Daly tells
Golfweek
. "The first chemo kicked my butt. I'm just praying maybe they got it."
Related: Bladder Cancer & Still Hitting Hole In Ones: John Daly Gets 11th Ace While Barefoot
A Change in Lifestyle
When you think of a golfer's lifestyle, Daly isn't what you'd expect. Despite being an incredible athlete, his diet isn't the epitome of healthy. He's been a life-long chain smoker (inhaling about 40 cigarettes a day), a Diet Coke fiend, and loves a good stiff drink. All of these things can increase a person's cancer risk, and Daly says his favorite foods are the cause of his disease.
"Everything I love to eat and drink causes the stones that causes the cancer," Daly says. "Alcohol. Beef. Milk. Diet drinks. I've tried to cut back on the smokes. Thank God I don't like energy drinks because they're the worst."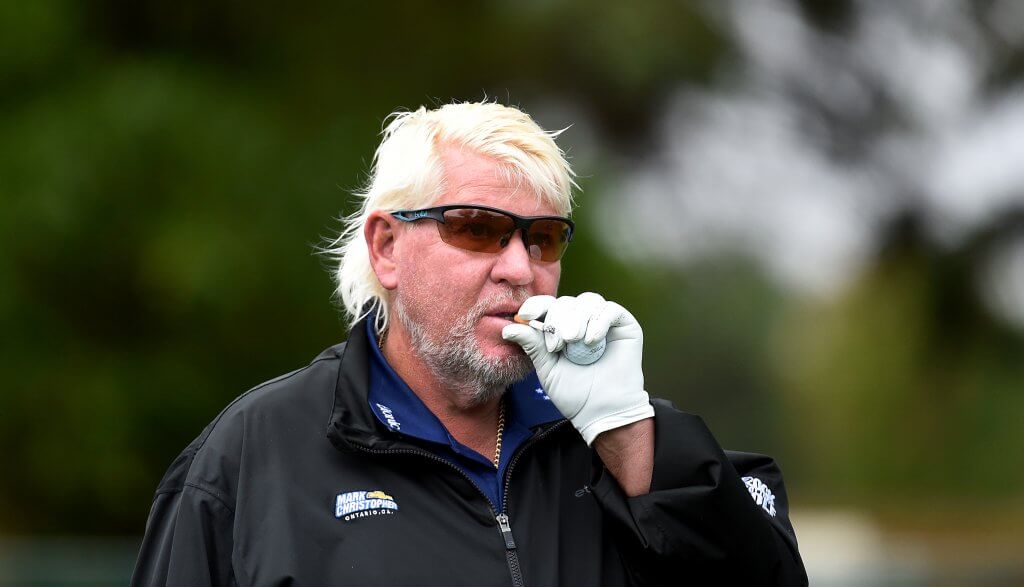 Bladder Cancer: Treatment Options
Bladder cancer is caused when cells that make up the urinary bladder start growing out of control, which can develop into tumors and over time, if not caught, spread to other parts of the body. The disease is the fourth most common cancer among men, and one of the leading causes of bladder cancer is smoking. In fact, smokers are three times more likely to be diagnosed than non-smokers.
Daly has chosen chemotherapy has his treatment route, but has said there's an 85% chance the disease will return. Typically, surgery is usually the most common treatment option. However, up to 70% of people diagnosed with advanced bladder cancer may not be able to have the cancer fully removed from surgery, and not everyone is eligible for chemotherapy. In those cases, immunotherapy is a promising option, which harnesses power of the patients' own immune system to fight off the cancer cells.
Related: Carson Daly Lost His Dad To Bladder Cancer When He Was Just 5 Years Old, But His Memory Lives On In Touching Tribute
What's happened over the last decade is the development of these drugs called immune checkpoint inhibitors," Dr. Arjun Balar, director of the genitourinary medical oncology program at NYU's Perlmutter Cancer Center, tells SurvivorNet. "Specifically, the checkpoint in question here is a checkpoint called PD-1, and we're finding out that they're particularly active in bladder cancer, and what these drugs do is reinvigorate the immune system and unleash the immune system against cancer."
Dr. Arjun Balar explains how immunotherapy can help treat advanced bladder cancer
So far, five immunotherapy drugs have been approved by the Food and Drug Administration (FDA) for advanced bladder cancer, which includes avelumab, pembrolizumab, atezolizumab, nivolumab, and durvalubam.
Related: FDA Approves the First Major New Alternative to Surgery for Bladder Cancer in 20 years
It's worth noting that like any treatment, immunotherapy comes with its own side-effects. According to Dr. Balar, these side-effects can include diarrhea, shortness of breath, a cough, and other organs being impacted by the treatment. However, side-effects can be managed, and physicians work with patients to try to minimize them as much as possible.
Dr. Arjun Balar explains how side-effects of immunotherapy can be managed
Learn more about SurvivorNet's rigorous medical review process.