Late actor Robert Reed, known for playing logical patriarch Mike Brady on The Brady Bunch, died from colon cancer 31 years ago at 59 years old.
The TV dad of six only had one child in real life, Karen Baldwin, now 65, with his ex-wife, Marilyn Rosenberg, his college sweetheart.
Read More
Related: Why Are More Younger People Getting Colon Cancer? The Theories on Inflammation & Gut Bacteria
Following his death, fans found out that Reed was keeping a secret throughout his entire life: that he was gay. He had also contracted HIV, human immunodeficiency virus, which weakens the immune system by destroying good cells that fight disease and infection.
According to the Associated Press, who obtained a copy of Reed's death certificate, the immediate cause of death was colon lymphoma with the HIV infection listed among ″significant conditions contributing to death,″ wrote Dr. H. Rex Greene, Reed's doctor.
Behind the Scenes
In a 2000 ABC interview, Reed's TV wife—the adored Mrs. Carol Brady played by the late Florence Henderson—spoke out about Reed's sexuality, saying she had known he was gay since filming the pilot episode.
"Here he was, the perfect father of this wonderful little family, a perfect husband. Off camera, he was an unhappy person — I think had Bob not been forced to live this double life, I think it would have dissipated a lot of that anger and frustration," she said. "I never asked him. I never challenged him. I had a lot of compassion for him because I knew how he was suffering with keeping this secret."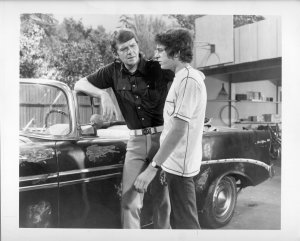 She also said that she didn't think The Brady Bunch could have existed at that time with the public knowing that Robert Reed was gay. "I just don't think they would have bought it."
Henderson died of heart failure in 2016 at 82 years old.
The Brady Bunch first aired on Sept. 26, 1969, and concluded on Aug. 30, 1974. Although the show had been canceled, the reruns lived on for many generations to enjoy.
Remembering Beloved 'Bewitched' Star Elizabeth Montgomery Who Died from Colorectal Cancer at 62
TV and pop culture journalist Kimberly Potts, who wrote The Way We All Became the Brady Bunch told the New York Post that Reed went out of his way to be a good TV dad and off-screen parental figure for the six kids: Barry Williams, Maureen McCormick, Christopher Knight, Eve Plumb, Mike Lookinland and Susan Olsen who played Greg, Marcia, Peter, Jan, Bobby, and Cindy Brady.
"He took his responsibility as the TV dad seriously," Potts said. "He famously took the kids on a trip to England because he wanted to expose them to culture and Shakespeare. He also famously gave them Super 8 cameras for Christmas. He wanted to help them the same as a father would."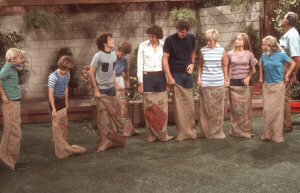 Related: Colon Cancer Screening is Extremely Important; Guidelines Now Say to Start at Age 45 if There Is No Family History
Reed was nominated for three Emmy Awards; two in 1976 and one in 1977, but none for The Brady Bunch. He played a transsexual doctor on Medical Center, a playboy in the TV miniseries Rich Man, Poor Man, and a plantation owner in Roots.
The Chicago-born actor was classically trained. He studied drama at Northwestern University, where he met his wife, and then went to the Royal Academy of Arts in London.
He took the job on The Brady Bunch to make ends meet, but he really wanted to be doing something more rich, and wound up teaching Shakespeare later in life at UCLA. He also performed in some off-Broadway Shakespeare classics like Romeo and Juliet and A Midsummer's Night Dream.
Learning About Colon Cancer
Since the actor was private, it is unclear the exact details of his cancer battle, treatment plan or symptoms.
Symptoms of colon cancer, according to the American Cancer Society, include:
A change in bowel habits, such as diarrhea, constipation, or narrowing of the stool, that lasts for more than a few days
A feeling that you need to have a bowel movement that is not relieved by having one
Rectal bleeding with bright red blood
Blood in the stool, which might make it look dark brown or black
Cramping or abdominal pain
Weakness and fatigue
Losing weight without trying
Since all of these issues can also be common symptoms for other illnesses, and sometimes aren't always a cause for concern, it is generally best to see a doctor to be on the safe side.
Dr. Heather Yeo, a colorectal surgeon at Weill-Cornell Medical Center, discusses the top two myths associated with colon cancer and getting checked, and sets the facts straight with SurvivorNet.
Myth #1: Colonoscopies are the only way to detect colon cancer.
The verdict: Not true. Though colonoscopies are the best way, there are a lot of other methods — like fecal occult blood tests (which look at a sample of your stool) and fecal immunochemical tests (FIT). "The [tests] have different roles and you should talk to a medical provider about what's best for you, but there are a lot of options," Dr. Yeo says.
Myth #2: Only people with a family history can get colon cancer.
The verdict: Not true. "In fact, the majority of people who get colon cancer have no family history," Dr. Yeo says. "The reason I do the specialty is because if we screen patients early, cancers can be prevented. We can have really good survival outcomes and so I tell that to a lot of my patients. It's important to have a positive outlook for that."
Colon Cancer Introduction to Prevention and Screening
Learn more about SurvivorNet's rigorous medical review process.