Here Comes the Story of the 'Hurricane'
Boxer Rubin Carter spent 19 years behind bars for a 1966 triple murder he didn't commit, and eventually died from prostate cancer in 2014 at age 76.
Nicknamed 'The Hurricane,' Carter and his story inspired the hit song by Bob Dylan and also a film with Denzel Washington playing the role of Carter.
Carter dedicated his life as a free man to helping other wrongfully-accused men.
Boxer Rubin Carter spent 19 years behind bars for a 1966 triple murder he didn't commit. Although the athlete got into trouble growing up, he was wrongfully accused just for being in the wrong place at the wrong time.
"They can incarcerate my body but never my mind," Carter had told The New York Times.
Read More
When the conviction (made by an all-white jury) was finally overturned after multiple appeals, Carter dedicated the rest of his life to passionately helping others in his position until he died at his Toronto home from prostate cancer in April 2014.
Related: Prostate Cancer Survivor Rod Stewart, 76, Cheekily Encourages Men to Get Their PSA Tests: 'One Up the Bum, No Harm Done'
In Canada, he founded the nonprofit Innocence International, which aimed to free wrongly-convicted prisoners.
Carter's case attracted worldwide attention inspiring activists to fight for the New Jersey-born sparrer, whose career was cut short.
Bob Dylan wrote his 1975 hit song "The Hurricane" about Carter, inspired by the then-inmate's book, The Sixteenth Round: From Number 1 Contender to Number 45472.
The lyrics in these four lines of the song sum up Carter's brutal story.
Here comes the story of the Hurricane, The man the authorities came to blame
For somethin' that he never done
Put in a prison cell, but one time he could-a been
The champion of the world
Denzel Washington played Carter in a 1999 film based on his life, also titled The Hurricane. Washington paid tribute to the late hero shortly after he died. "God bless Rubin Carter and his tireless fight to ensure justice for all," he said.
When Washington won his Golden Globe for Best Actor in a Motion Picture Drama in 2000, he brought Carter up on stage with him and made the moment about him. "This man right here is love," he said. "He's all love. He lost about 7,300 days of his life, and he's love. He's all love."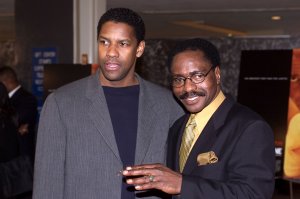 Luckily, Carter made up for his lost time through his service during the last quarter of his life, unfortunately cut short by cancer. "If I find a heaven after this life, I'll be quite surprised," he said before he died in one of his final pleas to help an inmate. "In my own years on this planet, though, I lived in hell for the first 49 years, and have been in heaven for the past 28 years."
Preventing Prostate Cancer
Prostate cancer is typically a slow-growing cancer that is easily treated if caught early, so the best thing you can do is get in for early screening, which experts recommend doing around 40 or 45 years old, depending on your family history.
Dr. James Brooks discusses PSA, which is prostate-specific antigen, a protein produced by cells of the prostate gland. "If a man has an elevated PSA, he has somewhere around a 20% to 40% chance of having prostate cancer," he explains to SurvivorNet. "I would recommend that they get a PSA at age 45."
Experts also say that men of African descent are typically more at risk of developing prostate cancer.
Dr. Edwin Posadas, director of translational oncology and the medical director of the urologic oncology program at Cedars-Sinai, tells SurvivorNet: "For example, the incidence of prostate cancer in African-American men is 60 percent higher, and they are two to three times more likely to die from the disease," he says.
Staggeringly Higher Prostate Cancer Rates for Black & Latino Men
Learn more about SurvivorNet's rigorous medical review process.