Remembering Dr. Seuss
Sept. 24, 2021, marks 30 years without Theodor Seuss Geisel, better known as Dr. Seuss.
Staying positive during cancer treatment can help you achieve better health outcomes. So, whether that means continuing to work, taking up a new hobby or making time for friends, it's important to prioritize your mental health.
We do not know the cause of Geisel's cancer, but we do know that there is a link between oral cancer and HPV. The human papillomavirus (HPV) infection is an extremely common virus spread through sexual activity that nearly every sexually active person will get at some point in their lives.
Today marks 30 years without the wondrous mind of Dr. Seuss. And while you might be able to name Theodor Seuss Geisel's iconic characters and recite his most poignant lines, you might not know about his battle with oral cancer.
Although his exact cause of death is unclear, we know that he had battled oral cancer, undergone chemotherapy and radiation and even lost part of his jaw to the disease before he died in 1991.
Read More
But in his 87 years of life, Geisel left quite a legacy as he became one of the most prolific children's authors of our time. His books were full of fantastical characters and whimsical illustrations often born of his childhood experiences at the zoo his father, who ran the parks system, expanded in his home town of Springfield, Massachusetts.
"I used to hang around there a lot," Geisel recalled in an interview for The New York Times. "They'd let me in the cage with the small lions and the small tigers, and I got chewed up every once in a while."
Once the drawings came to mind, the story followed. His zany illustrations of his eccentric characters led the narratives that followed. He would pin them up on a board and then search for the perfect rhymes after.
"He wrote from a graphic point of view," Janet Schulman, publisher of the children's book division at Random House and his personal editor, told The Los Angeles Times. "He would leave his drawings up there on the wall, and, if he was blocked, he'd move on to another story."
Geisel's career included the publication of more than 60 books. Over the decades, his stories have sold more than 160 million copies, and many movie and TV adaptations have followed. He was even awarded a Pulitzer Prize citation in 1984 for his contribution to children's literature.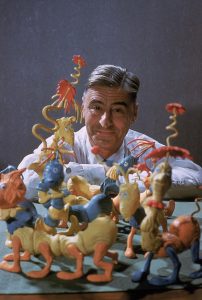 But that's not to say that Giesel's legacy is pristine. Before he became the ever-present Dr. Seuss, Geisel drew political cartoons – some of which used harmful stereotypes of Japanese and Japanese-Americans – from 1941 to 1943. "Embarrassed" by the cartoons decades later, he said they were "full of snap judgments that every political cartoonist has to make."
Moreover, his first book, And to Think That I Saw It on Mulberry Street, along with five other books were under scrutiny in recent years for offensive imagery and racism. In his 1937 debut as Dr. Seuss, for example, a character described as "a Chinaman" in his earlier editions – later changed to "a Chinese man" – is depicted with lines for eyes sporting a pointed hat while carrying chopsticks and a bowl of rice. In If I Ran the Zoo, two characters resembling monkeys from "the African island of Yerka" are shirtless and shoeless. On March 2, 2021, Dr. Seuss Enterprises released a statement saying it had decided last year to stop selling those books.
Nevertheless, his classics like The Cat in the Hat and Green Eggs and Ham are still on shelves today. And it's probably safe to say that the Whos from Whoville, the mustached Lorax and Yurtle the Turtle will continue to entertain children for years to come.
Staying Positive During Treatment
Cancer can be both a mental and physical battle. Keeping spirits high when possible can make a huge difference, but how you do that is totally up to you. When Theodor Seuss Geisel was undergoing cancer treatment in his early 80s, he turned to what he does best to get him through.
You're Only Old Once! is the memoir-esque tale of an old man going through all the hassles of hospital care. Geisel worked on the book while he was undergoing treatment and sketched all the machines around him. The story came to fruition in 1986.
"It was self-help and self-defense at the same time," Judith Morgan, a longtime friend, told The Washington Post. "He didn't want to go through the treatment, he wanted to stay home and draw."
So draw, he did. Despite the return of his cancer and his death about four years after its publication, the book gave readers a positive message with the old man saying he's "in pretty good shape, for the shape [he is] in!"
RELATED: Stay Positive, It Matters
Just because you're undergoing cancer treatment does not mean you should stop doing what you love. In fact, experts recommend quite the opposite. Studies have shown that patients who are able to stay upbeat and positive often have better treatment outcomes. It doesn't really matter what you do, but experts like Dr. Dana Chase, a gynecologic oncologist at Arizona Oncology, recommend doing whatever makes you happy. And if that means continuing to write whimsical, uplifting books, then that's exactly what you should do.
Dr. Dana Chase encourages those facing cancer to find moments of joy during treatment
"We know from good studies that emotional health is associated with survival, meaning better quality of life is associated with better outcomes," Dr. Chase told SurvivorNet in a previous interview. "So working on your emotional health, your physical well-being, your social environment [and] your emotional well-being are important and can impact your survival. If that's related to what activities you do that bring you joy, then you should try to do more of those activities."
Oral Cancer and HPV
We do not know the cause of Theodor Seuss Geisel's cancer, but we do know that there is a link between oral cancer and HPV. The human papillomavirus (HPV) infection is an extremely common virus spread through sexual activity that nearly every sexually active person will get at some point in their lives, according to the CDC. In addition to its link to oral cancer, HPV can also cause cervical, head and neck, anal and penile cancer.
Oral and throat cancers are both on the rise in young, non-smoking adults, and Dr. Allen S. Ho, an oncologist at Cedars-Sinai Medical Center, says HPV is the cause.
"The fastest-growing segment of the people developing oral cancers are young non-smokers," Dr. Ho told SurvivorNet in a previous interview. "HPV, a very common virus, one responsible for the vast majority of cervical cancers, is now identified as a cause of this rapid rise of oral cancers."
Luckily, we have the HPV vaccine which was first approved for girls and young women aged 9-26 in 2006, according to ASCO. Then in 2011, HPV vaccination recommendations were extended to boys aged 11-12 years.
Why the HPV Vaccine Is So Important in Preventing Cancer
So why are people hesitant to protect themselves and their children? One reason may be that there is a myth that that the HPV vaccine can cause autism.
"The HPV vaccines do not cause autism, there's always a risk of some vaccine-related side effects … local site injection pain, some redness, some swelling," says Dr. Jessica Geiger, a medical oncologist at Cleveland Clinic Cancer Center. "There are no syndromes such as autism or other neurologic symptoms that have been linked to the HPV vaccines."
Dr. Geiger also wants people to remember that, although you might not want to think about it, your children will likely participate in sexual activities at some point in their lives. Refusing to vaccinate your children denies them available protection from HPV-linked diseases, and that should be more important than not wanting to think about your kids ever having sex.
"The fact is that the majority of us are going to participate in sexual activity at some point in our lives … it's unreasonable to think that just because your child isn't engaging in sexual activity now that they won't later in life."
Learn more about SurvivorNet's rigorous medical review process.