Mourning a Footwear Legend
Sarah Jessica Parker is mourning the loss of George D. Malkemus lll – a longtime friend and business partner – after his long battle with cancer.
Malkemus made Manolo Blahnik a staple of American fashion and co-founded SJP Shoes with Parker.
Losing someone you care about to cancer can cause immeasurable pain, but there are ways to cope. Seeking out help through resources like therapy and remembering all the ways in which the person enriched your life can help you move forward.
We all know what it's like to lose someone we care deeply about, and Sarah Jessica Parker is no exception. After losing her business partner George D. Malkemus III to a lengthy battle with cancer, Parker is processing her emotions and coming to terms with life without a longtime friend.
Malkemus, 67, fought a long battle with cancer before he died, although we're unsure on the details of his diagnosis. He was best known for helping to launch and grow the luxury shoe brand Manolo Blahnik in the United States. Then, after the shoes became a staple for Sarah Jessica Parker's Sex and the City character Carrie Bradshaw, Malkemus partnered with Parker to co-found her SJP shoe brand in 2013.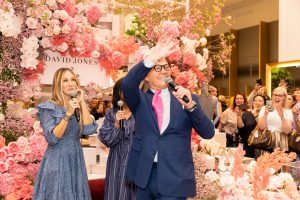 Read More
In a recent Instagram post, Parker shared a picture of a metal cuff engraved with "WWGM3D?" meaning "what would George D. Malkemus III do?" Although she felt like she didn't have all the words at the time, she opened up about the grief she's been feeling.
View this post on Instagram
"George D. Malkemus lll / February 23rd, 1954-September 16th, 2021 / I cannot summon the words for a fitting tribute," she wrote. "He deserves prose I don't yet have. / I have to gather my thoughts. Today I can only say I'm utterly heartbroken. / RIP dearest partner, elegant gentleman George. / Til we meet again, I will spend the rest of my days asking "what would GM3 do?" / I'm going to miss you so "F'in'" much. / Forever. / X, Your SJ."
RELATED: 'We Have Heavy Hearts This Morning': Breast Cancer Survivor Robin Roberts Mourning Her Cherished ABC Colleague Who Passed From Lung Cancer
In a separate statement, Parker explained that she had planned to work with Malkemus "for as long as women wear shoes."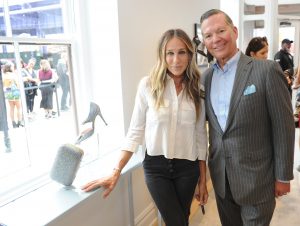 "I feel profoundly honored by the years we spent in business, but more so the years we spent as friends," she wrote. "He was both inspired and inspiring. He was grace, exquisite taste, principled, and unabashedly in love with his work, his life in the shoe business, and all things beautiful. He brought passion and knowledge and delight to the office every day and we were all better for being in his company. My heart goes out to his beloved husband, Tony. The gentleman that was George Malkemus III will be deeply missed by all those he loved and all those who had the great privilege to call him friend and partner."
How to Cope with Loss
Losing someone you care about for any reason, including cancer, can cause immeasurable pain. Allowing yourself the time and space to mourn is essential, and one place to start can be seeking out independent support resources such as therapy.
In an earlier interview with SurvivorNet, Camila Legaspi shared her own advice on grief after her mother died of breast cancer. For her, therapy made all the difference.
"Therapy Saved My Life": After Losing A Loved One, Don't Be Afraid To Ask For Help
"Therapy saved my life," Legaspi said. "I was dealing with some really intense anxiety and depression at that point. It just changed my life, because I was so drained by all the negativity that was going on. Going to a therapist helped me realize that there was still so much out there for me, that I still had my family, that I still had my siblings."
"When you lose someone, it's really, really, really hard," Legaspi said. "I'm so happy that I talked to my therapist. Keep your chin up, and it's going to be OK. No matter what happens, it's going to be OK."
Remembering all the wonderful ways the person you've lost enriched your life can also help you move forward, as Sarah Jessica Parker can surely attest to. In a previous interview with SurvivorNet, Caleb Farley talked about his mother's battle with breast cancer and how much she impacted his life. He also discussed how he opted out of his position as a cornerback for the Virginia Tech Hokies due to COVID-19 concerns. Having lost his mom to breast cancer in 2018, he knew he wanted to be extra careful during the pandemic.
Farley announced the news of his opt-out in an Instagram video saying, in part, "I cannot afford to lose another parent or loved one… Though the competitor in me badly wants to play this season, I cannot ignore what's going on in my heart, and I must make the decision that brings me the most peace."
2021 NFL Draft Prospect Caleb Farley Tells SurvivorNet His "Mom Was Like a Superhero" Before She Lost Her Battle with Breast Cancer; Here's What Got Him Through
Farley trained for the NFL draft instead of playing for Virginia Tech, and his efforts paid off. He was selected by the Tennessee Titans as the number 22 overall pick in the first round of the 2021 NFL draft.
Farley's mother fought two battles with cancer. He watched as she went through multiple rounds of chemotherapy while still working and taking care of her family. Although his "superhero" mother will not get to see him play in the NFL, Farley will take many lessons he learned from her and apply them to whatever challenges he faces in life moving forward.
"My mother raised me to be very religious, very God-conscious. That's been everything to me, and my life. That's like the building blocks of my, of my life," Farley told SurvivorNet. "Anything that's happened to me, any adversity, any good times, any bad times, I've always kind of stood on that rock of faith. I can't thank her enough for how she raised me and because it was her who gave me all of that, um, spiritually, she, she just filled my heart with love and joy. I've had a happy life because of her."
Learn more about SurvivorNet's rigorous medical review process.
---