For American tennis star Nicole Gibbs, a routine trip to the dentist has led to a surprise cancer diagnosis and her pulling out of the prestigious French Open. She's now expected to skip the rest of Europe's "clay-court season".
Gibbs, who's only 26, learned she has a rare cancer of the salivary glands called mucoepidermoid carcinoma, which her dentist discovered. She will undergo surgery on Friday.
Read More
"About a month ago, I went to the dentist and was alerted to a growth on the roof of my mouth," she wrote in a letter she posted on Twitter for her 30,000 followers. "The biopsy came back positive for a rare cancer called mucoepidermoid carcinoma (salivary gland cancer). Fortunately, this form of cancer has a great prognosis and my surgeon is confident that surgery alone will be sufficient treatment. He even okayed me to play an extra couple of tournaments these past few weeks, which served as a nice distraction."
Quick update ???????????????? pic.twitter.com/NkODqVreVI

— Nicole Gibbs (@Gibbsyyyy) May 13, 2019
On Thursday, Gibbs will appear on NBC's "Today" show where she'll discuss her cancer journey with the television personality Natalie Morales. She's seizing on this opportunity to advocate for everyone to engage in proper dental hygiene and visits to the dentist. An often unrecognized benefit of dental visits is accumbent screening for oral, tongue and salivary cancers.
BTS smiles with @NMoralesNBC ahead of tomorrow's @TODAYshow where we discuss the importance of preventative health care, & why you should ALWAYS go to your annual dentist appointment! ???? pic.twitter.com/P9O6FFUEkY

— Nicole Gibbs (@Gibbsyyyy) May 15, 2019
Gibbs, a graduate of prestigious Stanford University who's now based in Santa Monica, Calif., says her goal is to be "ready for Wimbledon qualifying at the end of June."
"We are told to expect a 4-6 week recovery period, but I will be doing everything possible to shave that down and get back to full health as soon as possible," she wrote. "I am feeling extremely grateful for the UCLA health network that's been taking care of me and for the rock solid friends and family who are helping me every step of the way. See you back on the court soon."
She's also been assuring her worried fans on Twitter that she has excellent medical coverage and will be well taken care of. At the same time,  Gibbs has been publicly saying that no one should have to go without medical coverage.
Gibbs won NCAA singles and team titles at Stanford and is ranked 116th in the world. Her career-best ranking is 68th and she reached the third round at the 2014 U.S. Open and 2017 Australian Open.
Mucoepidermoid carcinomas are the most common types of salivary cancers, according to the American Cancer Society. Women are more likely to get the disease than men, and the cancer usually presents itself in patients in their 50s.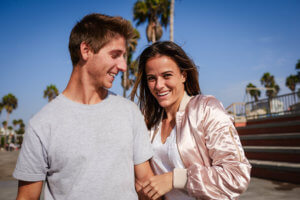 According to the Oral Cancer Foundation, the cancer forms as a painless, slow growing tumor. Symptoms can include tenderness in the mouth, difficulty swallowing, lockjaw, and a discharge from the ear — but often the cancer is imperceptible early on to the patient. Most cancers of this type are low grade, like Gibbs', and have a good prognosis for treatment. Some salivary gland cancers however can be more aggressive.
Gibbs told her fans that her doctors have assured her that surgery will be sufficient and that they don't expect her to need chemotherapy or other, more aggressive forms of treatment.
Gibbs reached the third round at the 2014 US Open and 2017 Australian Open. Her career-best ranking was 68th in 2016.  Ever a romantic, she got engaged last year to her longtime boyfriend Jack Brody who proposed to her on the Stanford campus.
Learn more about SurvivorNet's rigorous medical review process.