Learning About Ovarian Cysts
Selling Sunset star Chrishell Stause, 41, is urging her followers not to ignore "bad unexplained cramps" after undergoing surgery to have a "large ovarian cyst" removed.
According to the Ovarian Cancer Research Alliance (OCRA), ovarian cysts like the one Hailey has — which are common for women with regular menstrual cycles — are fluid-filled as opposed to ovarian tumors which are solid masses.
These types of cysts, which can go away naturally or be removed through surgery, may only cause symptoms when they become large enough to feel, twist, or rupture.
Selling Sunset's
Chrishell Stause revealed on Wednesday evening that she had just undergone surgery to remove a "large ovarian cyst" in hopes to inspire others to get checked when something doesn't feel quite right.
The 41-year-old TV star, who lost her mother to stage 4 lung cancer in July 2020 and her father to the same disease in April 2019, shared a photo of herself in the hospital on her Instagram story.
Read More
Alongside the photo of herself wearing a hospital bracelet, a scrub cap, and a face mask (which was partially removed to show more of her face),
Stause wrote
, "Had minor surgery today and had a large ovarian cyst removed." "Thank you Dr. Hakakha for taking such good care of me," she continued. "Feeling good and being looked after by my [love]."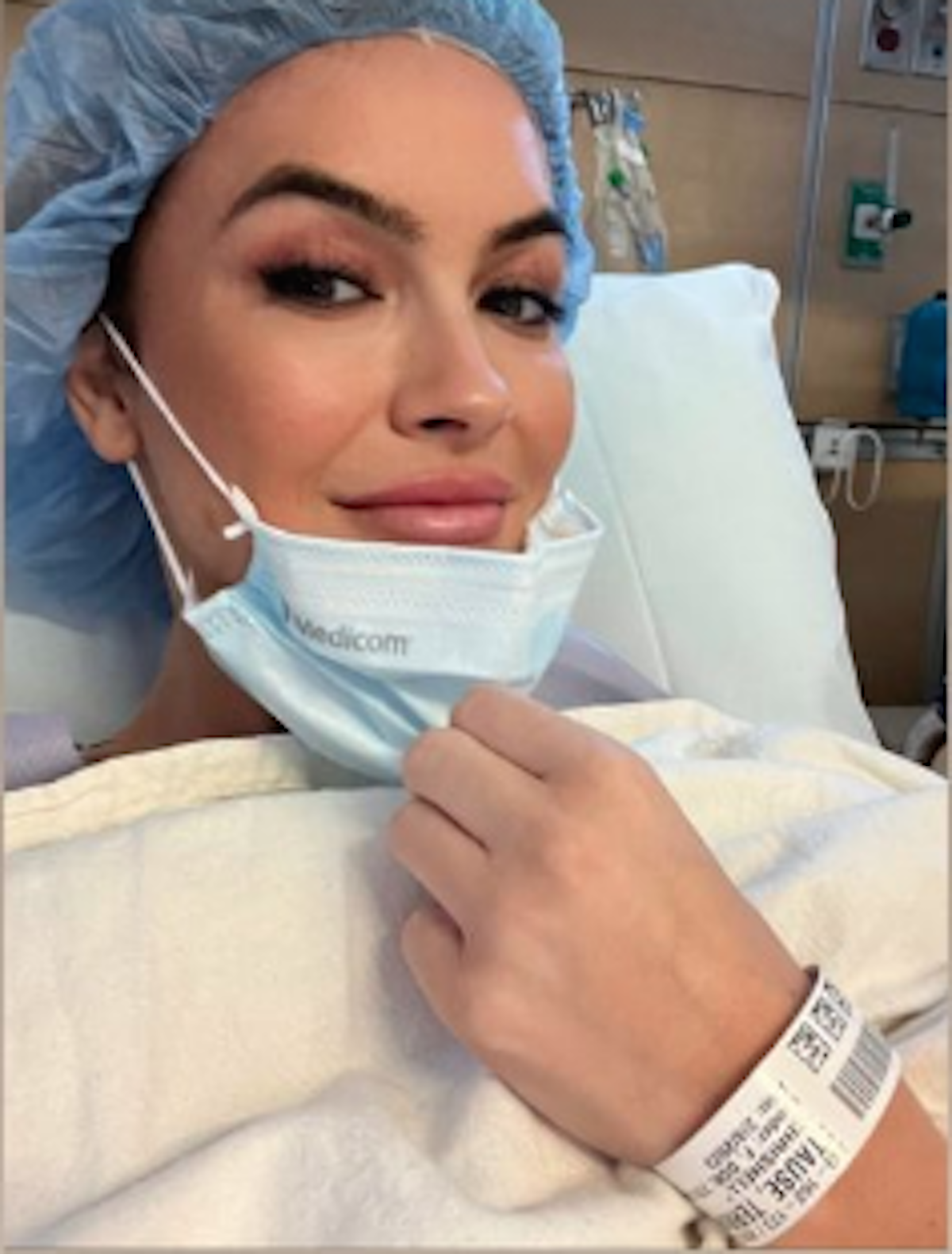 The actress and real estate agent, who has more than 3.6 million followers on Instagram, concluded by urging her fans to get checked if they have unusual symptoms.
"If you have bad, unexplained cramps, don't ignore it," she wrote.
Stause appears to be taking care of her health following the death of her parents and a very public divorce with actor Justin Hartley in November 2019, which was shown on Netflix's Selling Sunset.
'Dancing With The Stars" Chrishell Stause Says Losing Both Parents to Cancer Gave Her New Perspective On Divorce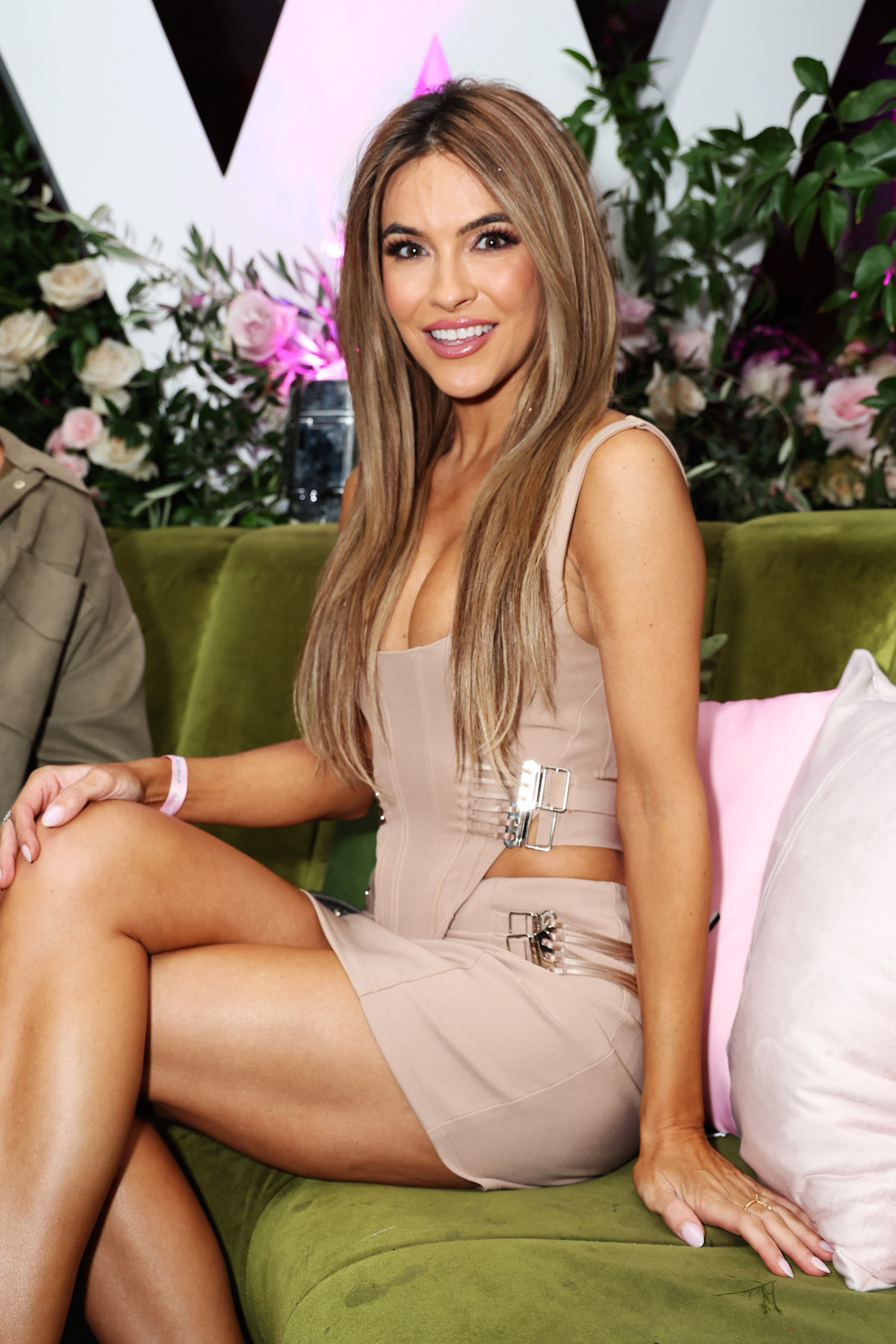 Now, she has her partner Georgia Claire Flipo, a non-binary Australian singer known as G Flip, by her side.
Just last week, Stause shared a photo of her and G Flip sitting on a couch during a recent photo shoot with Vogue Australia.
"Thank you to @vogueaustralia for taking the time to listen and for allowing us to feel comfortable in opening up. Feb 6th is the Vogue Australia Pride issue to celebrate #WorldPride and I could not possibly have more pride in the person next to me in these photos," she captioned the post. "To the ones having a hard time understanding, please take the time to read the article before you comment."
Last month, the loving couple opened up to PEOPLE magazine about their relationship.
They told the news outlet, "I think we have a very good emotional maturity. I feel like that's really important to have in order for a pair to connect. And I think we have our own paths. And then we meet, our love is met in the middle."
G Flip praised her and Stause for having "this really good love and bond for each other," calling Stause "the most beautiful human in the world."
What are Ovarian Cysts?
According to the Ovarian Cancer Research Alliance (OCRA), ovarian cysts like the Stause had removed— which are common for women with regular menstrual cycles — are fluid-filled as opposed to ovarian tumors which are solid masses.
"Most ovarian cysts are not harmful, don't cause symptoms and are not indicative of risk for future ovarian cancer, though some complex ovarian cysts may raise the risk," the OCRA explains. "Ovarian cysts are common in women with regular menstrual cycles, and less common in post-menopausal women.  Approximately 8% of pre-menopausal women develop large ovarian cysts that require treatment."
These types of cysts, which can go away naturally or be removed through surgery, may only cause symptoms when they become large enough to feel, twist, or rupture.
Symptoms of ovarian cysts can include: abdominal pain or ache, bloating, pain during intercourse, facial or body hair growth, menstrual changes, and frequent urination.
Emergency surgery is needed in rare instances when a cyst has ruptured, causing intense pain in the abdomen, fever, and nausea.
"Some women have surgery to remove cysts (called cystectomy), and only a small percentage of these cysts are cancerous.  Surgery may be used to rule out ovarian cancer, confirm the diagnosis of an ovarian cyst, or remove a cyst that is causing symptoms and/or is very large," OCRA adds.
"It may be utilized if an ovarian mass that has been watched through ultrasound for several months does not go away; if there are masses on both ovaries; if an ovarian mass is present and you have never had a period, have gone through menopause, or use birth control pills (excepting low-dose progestin-only pills or if you have missed a pill, which would make an ovulation-related functional cyst more likely), or if the cyst is causing pain."
Ovarian Cysts or Cancer? How to Tell The Difference
Benign ovarian cysts — which commonly develop during a woman's menstrual cycle — can sometimes be hard to differentiate from ovarian cancer. "We know that women, during the course of their lives, have a lot of ovarian cysts," says Dr. Colleen McCormick of Compass Oncology.
How to tell the difference between ovarian cysts and cancer.
"Most of the time, they're benign, but unfortunately, we don't have a way of telling whether a cyst is benign or cancerous," Dr. McCormick explains.
According to Dr. McCormick, the best available tools that doctors have for assessing ovarian cancer risk are:
Ultrasounds
Family history
Symptom evaluation
Ovarian Cancer Overview
Ovarian cancer has been called the "cancer that whispers," because women often don't experience symptoms until their cancer has already reached its late stages. The symptoms that do appear at first are hard to identify as cancer. This subtlety of symptoms makes it essential for women to know the warning signs, and report them to their doctor, SurvivorNet's experts warn.
The term ovarian cancer refers to a number of different tumors that grow in the ovary. The ovaries produce the sex hormone, estrogen, as well as eggs. Every woman has two ovaries, one on either side of her uterus. The fallopian tube picks up the egg from the ovary and carries it to the uterus for fertilization.
Diagnosing ovarian cancer and making a treatment plan. 
Many ovarian cancers actually begin in the fallopian tubes. A few cancerous cells first grow on the fallopian tubes and then, as the fallopian tubes brush over the ovary, these cells stick to the ovaries and eventually grow to form a tumor.
There isn't just one ovarian cancer; there are many different types that occur at different stages of life. In fact, researchers have identified over 30 types, but these three are the most common:
Epithelial. About 90% of ovarian cancers are epithelial, which means the cancer cells are located on the outer layer of the ovary. Most epithelial tumors are not cancerous, but when they are cancerous, they can spread before they're detected.
Stromal. This rare type of tumor forms in the connective tissue that holds the ovary together and produces estrogen and progesterone.
Germ cell. These tumors, which develop in the cells that produce the eggs, are more likely to affect a single ovary, rather than both ovaries. When a teen or young woman is diagnosed with ovarian cancer, it's usually the germ cell type. The good news is that most women with these types of ovarian cancers can be cured.
Signs of Ovarian Cancer
In regards to ovarian cancer's hard-to-detect symptoms, Dr. Beth Karlan, a gynecologic oncologist at UCLA Medical Center, previously explained in an interview, "What we've found from multiple studies, it's this constellation of symptoms."
"If that's really happening and you're experiencing it every day, and they seem to be crescendo-ing, getting worse, even if that goes on for only two weeks, you should call your doctor."
Ovarian cancer symptoms may include:
Feeling full earlier/decrease in appetite
Feeling bloated
Changes in bowel habits
Pain in the pelvis
Urinary symptoms, such as an urgent need to go
Extreme fatigue
Abdominal swelling
Pain during sex
Ovarian Cancer: The Cancer That Whispers
Contributing: SurvivorNet Staff
Learn more about SurvivorNet's rigorous medical review process.
---