"We're shooting the final days of my life."
Those are the first words out of the mouth of actress Selma Blair in the trailer of a new documentary that will give viewers an intimate look at the actress' life.
Read More
The documentary filmed Blair in 2019, one year after the actress revealed her multiple sclerosis diagnosis to the world.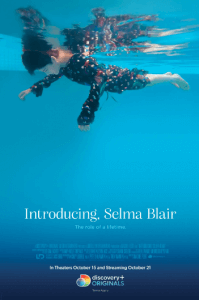 At the time, the autoimmune disease was wrecking havoc on her body and with medications doing little to improve her condition, Blair opted for a stem cell transplant.
In the documentary, viewers see as Blair says a tearful goodbye to her son and flies to Chicago for a months-long and potentially fatal operation.
The trailer gives a preview of what that experience was like for Blair, as she went off her medication to prepare herself for the aggressive series of chemotherapy treatments needed to wipe her immune system clean before she received the transplant surgery.
A very vulnerable Blair was then forced to spend weeks recovering in her hospital with little to no human contact to avoid infection.
Things went well until she returned home and a medical emergency threatened the actress' life.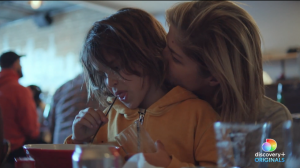 Related: Selma Blair Bonds With Cancer Warrior Nightbirde as Madonna's Manager Praises The 'America's Got Talent' Star
"Honestly, [this is] my first real starring 'role,'" Blair said in an interview with Vanity Fair.
The supporting star of such beloved films as Cruel Intentions, Legally Blonde, and Hellboy has been open about her MS battle on social media ever since she was diagnosed, and is hoping this documentary might reach even more people.
"I had the conviction of thinking I had something to share. You keep opening windows or closing doors and finding tools," said Blair.
"I hope my little life gives someone who needs it some hope or a laugh or more awareness of ourselves. I hope the film shows that MS varies. That people's strengths and weaknesses vary. All the emotions of life make healing variable too. For all of us."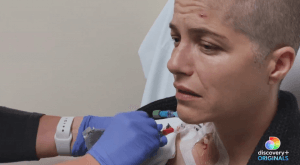 Blair has also been a source of support for others battling MS, a group that grew to include her Sweetest Thing co-star Christina Applegate earlier this week.
After Applegate tweeted her diagnosis, Blair wrote: "Loving you always. Always here. As are our kids. Beating us up with love."
Applegate responded by writing: "I love our two weirdos. They are so fun."
Introducing, Selma Blair will stream on Discovery+ starting October 21 after a one-week theatrical run.
Related: MS Fighter Selma Blair, 48, Graces the Cover of Town & Country Magazine and Shows off Her New Cane
Selma Blair Documentary Shows Chemo Side Effects
Blair has used chemotherapy to treat her MS. Chemo often has some unpleasant side effects. The American Cancer Society (ACS) cites the following as possible chemo side effects:
Fatigue
Hair loss
Easy bruising and bleeding
Infection
Anemia (low red blood cell counts)
Nausea and vomiting
Appetite changes
Constipation
Diarrhea
Mouth, tongue, and throat problems such as sores and pain with swallowing
Peripheral neuropathy or other nerve problems, such as numbness, tingling, and pain
Skin and nail changes such as dry skin and color change
Urine and bladder changes and kidney problems
Weight changes
Chemo brain, which can affect concentration and focus
Mood changes
Changes in libido and sexual function
Fertility problems of chemotherapy
Not Your Parents' Chemotherapy: New Solutions for Nausea, Hair Loss, and Other Chemo Side Effects
Coping with a Difficult Diagnosis
For people diagnosed with a life-changing illness like MS or cancer, it can feel like your world is turned upside down. Some people who are diagnosed with cancer may experience depression, grief, anxiety, and fear. These are all perfectly understandable emotions.
Related: Stay Positive, It Matters
Taking care of your emotional health is just as important as caring for your physical health. Being positive increases the strength of the immune system and can also make cancer treatments more effective, our experts tell SurvivorNet. So, if you're struggling after a diagnosis, reach out for help – speak with a therapist, oncological social worker, or a support group, to assist you in getting to a healthier emotional place.
Treating Depression After a Cancer Diagnosis
Contributing: Anne McCarthy
Learn more about SurvivorNet's rigorous medical review process.
---