Shannen is Living Life To The Fullest
Actress Shannen Doherty, 51, took to Instagram over the weekend to share some "epic" footage from Nashville, revealing she's still living her best live with cancer.
Doherty was first diagnosed with breast cancer in 2015 after finding a lump in her breast which turned out to be cancerous. Her cancer later returned and spread to her lymph nodes.
The actress is grateful for her community, and represents how having a good support system can help you thrive with cancer.
51-year-old Shannen Doherty is spending her time doing the things she loves and showing fans that life can be lived fully despite battling cancer.  This year, she's been gardening, traveling, horseback riding, and even dancing. More recently, the Hollywood star has been living it up in the Music City.
The beloved actress, who is known for playing Brenda Walsh on Beverly Hills, 90210, took to social media over the weekend to share some "epic" footage from Nashville, Tennessee.
Read More
Doherty posted a video of two guitarists and a drummer amid a
Rock & Roll jam session
, in a room filled with electric guitars and music paraphernalia. She captioned the post: "#thisisgibson. Nashville with the Do Epic S**t crew."
The footage, presumably taken by Doherty, starts out by showing an engraved nameplate with the words: "Do Epic S**t." She then proceeds to pan the camera across the room to reveal she was surrounded by musicians. It's unclear who exactly she was recording, but it sure is evident Doherty is making the most of her life.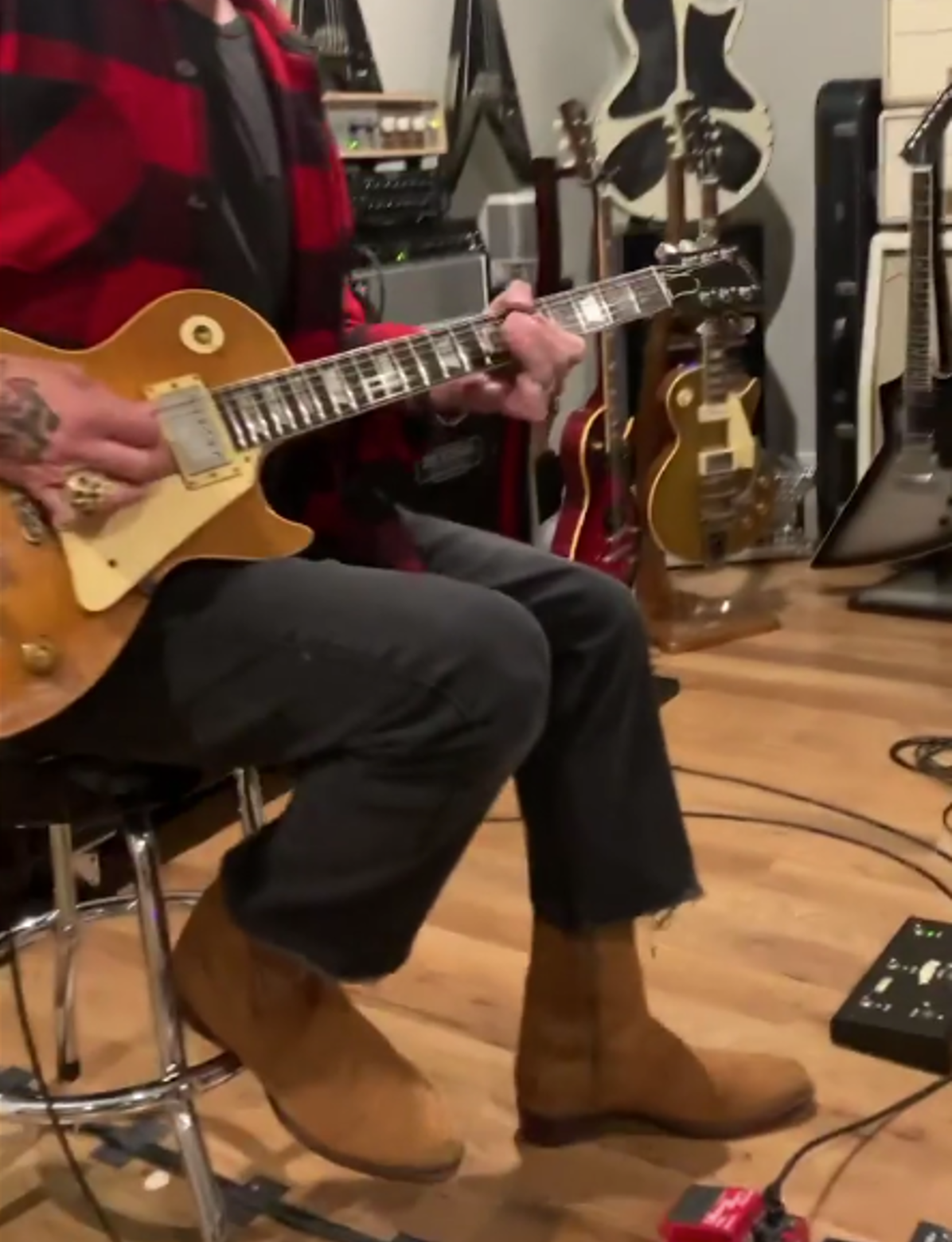 Fans immediately praised Doherty for being so "awesome" and agreed the music session was truly "epic." One fan commented, "Now that's what I call music. We need more rock n roll. Love it," while another said, "This sounds good! And I think 'Do epic s**t' could be a great phrase."
Doherty's Nashville hangout comes just weeks after she shared a heartwarming video of her and her mom, Rosa Elizabeth Doherty, dancing at home.
Shannen's Breast Cancer Battle
Shannen Doherty was first diagnosed with breast cancer in 2015 after finding a lump in her breast which turned out to be cancerous. She had hormone therapy to fight her cancer, but it was ineffective and the cancer had spread to her lymph nodes.
Doherty underwent a single mastectomy and also had chemotherapy and radiation. After going into remission, she announced in February 2020 that her cancer returned, and this time it had spread to other parts of her body.
Surgery, like the kind Shannen Doherty had (a single mastectomy), is a common treatment path for many people fighting breast cancer. In an earlier interview, an oncologist at the Dana-Farber Cancer Institute explains the path to surgery.
When To Consider a Mastectomy?
She says, "So when I talk to a woman who comes to me and she has breast cancer, I evaluate what the standard options for treatment for her are, which typically include cutting out the cancer – which is either a lumpectomy if you can get it all with just a little scooping around of the area that's abnormal or a mastectomy for some women meaning taking the full breast because sometimes these lesions can be very extensive in the breast."
Understanding Metastatic Breast Cancer
When breast cancer spreads, it most commonly goes to the bones, liver and lungs. It may also spread to the brain or other organs.
Currently, there is no cure for metastatic breast cancer, but new treatments have been improving survival rates.
"What we find is that everyone comes to acceptance in their own time with support—and some people never really reach acceptance," Marshall Gold, a psychiatric mental health nurse practitioner at the Johns Hopkins Hospital in Baltimore, tells SurvivorNet.
He reminds us that battling cancer is a very personal experience and there's no right or wrong way to grieve.
"I think the ways we can support these women are just to honor really how horrible the diagnosis is and the uncertainty that lies ahead and to try to reframe what is most important to you," Gold says. "What do you continue to live for? What brings you joy? To try to see that little silver lining in a horrible situation."
In this case, the silver lining is Doherty finds more meaningful purpose in her own life and is fighting for something other than herself and her own battle. Though the subject matter is intense, passion and a will to live can go a long way.
Having a Strong Support System
We love how Doherty is keeping an attitude of gratitude and remaining grateful for her community. Having a strong support network through cancer is so important.
Ovarian cancer fighter Beverly Reeves shares in an earlier interview how she thinks having a strong community during cancer is critical. She tells SurvivorNet, "If I had one piece of advice for someone who had just been diagnosed with ovarian cancer, it would be to get a strong support group together. Get your close friends. If you're connected to a faith community, get your faith community."
She continues, "Get your family. Let them know what's going on and let them help you. And sometimes that's the most difficult thing to do, but just know that they are there. If they love you, they're there to help you."
'Faith, Family, and Friends' Helped Beverly Reeves Get Through Ovarian Cancer Treatment
Contributing: SurvivorNet Staff
Learn more about SurvivorNet's rigorous medical review process.
---