Understanding Kidney Cancer
Eugene Finney, of Massachusetts, learned he had a tumor on his kidney after getting attacked by a shark in July of 2015. The then-39-year-old was swimming off the coast of California when the shark "hit him like a ton of bricks." His chest pains and difficulty breathing led him to get checked, resulting in the discovery of a tumor.
According to one of our experts, kidney cancer is most often found when doctors are performing scans for a reason other than suspected kidney cancer.
Kidney cancer develops when cells in the kidneys, a pair of bean-shaped organs each about the size of a fist, begin to grow out of control.
Eugene Finney, of Fitchburg, Massachusetts, had a frightening encounter with a shark in July of 2015, an incident that likely saved his life. The then 39-year-old was swimming off the coast of Huntington Beach, California when he felt something strike him from behind.
The father-of-two, who was having a beach day with his girlfriend and children, was swimming with his daughter when something collided with him, giving him "instant whiplash." When he got out of the water, he realized his back was bleeding. However, Finney didn't get checked at a hospital until he began feeling lingering pain from the shark hit. That was when a CAT scan located a small tumor on his kidney.
Read More
Finney dubbed the attack as "life-saving," referring to it as "a message from Mother Nature." He told
The Washington Post
, "That's what started this series of events that brought me to the hospital to let me know about this."
"Otherwise I would never have gone in, and they wouldn't have caught it. … The only real way I would have found out was the tumor growing so large it was metastasizing and spreading," he explained. "And then, I would have the symptoms of stage four cancer. I would have started losing weight and getting sick and at that point, it would have been too late."
Seemingly joking, Finney added, "If I could find this shark and give it a hug, I would."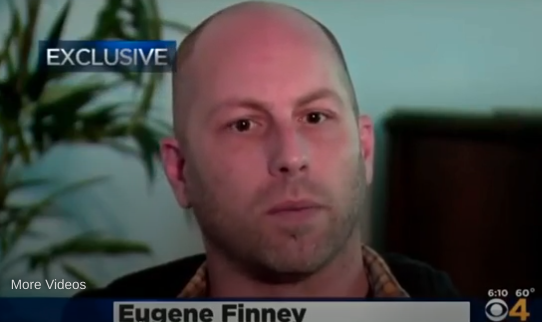 At first, when Finney was struck under the water, he didn't know it was a shark. "I would say it's like being hit by a ton of bricks, or like whiplash from a car, but it's not that," he recounted. "I've never been hit like that before." It was until after he went to the showers to clean off his wound that sharks were spotted in the water, prompting lifeguards to clear the beach.
Related: Father, 44, Thought Stomach Pain Was From Job Stress or an Infection; He Had Kidney Cancer
Following his trip, Finney went to the emergency room at St. Elizabeth's Medical Center in Brighton, Massachusetts where he learned the chest and back pain he was feeling was "caused by interior bruising of the thoracic cavity due to blunt force trauma" he told CBS Boston.
Meanwhile, it was then he learned of the walnut-sized tumor on his kidney, which was eventually removed through minimally invasive robotic surgery.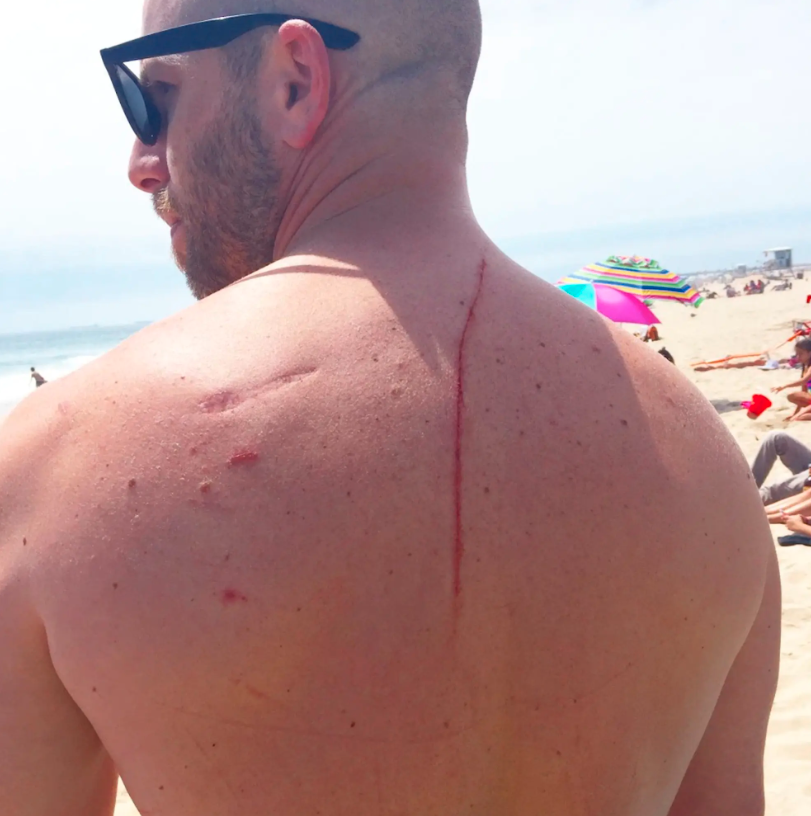 Understanding Kidney Cancer
Kidney cancer develops when cells in the kidneys, a pair of bean-shaped organs each approximately the size of a fist, begin to grow out of control. Renal cell carcinoma is the most common type of kidney cancer. In fact, about 9 out of 10 kidney cancers are RCCs.
It's estimated that about 79,000 new cases of kidney cancer (50,290 in men and 28,710 in women) will be diagnosed in the United States in 2022, so here are some signs of the disease to look out for:
Blood in the urine (hematuria)
Low back pain on one side (not caused by injury)
A mass (lump) on the side or lower back
Fatigue (tiredness)
Loss of appetite
Weight loss not caused by dieting
Fever that is not caused by an infection and doesn't go away
Anemia (low red blood cell counts)
According to UCLA Health, kidney cancer can metastasize, or spread, to any part of the body through the blood or lymphatic system. When that happens, the first signs of cancer may not be specific to your kidneys.
Symptoms of metastatic kidney cancer (like what Katie is fighting) may cause symptoms in the newly affected areas of the body including:
The lungs, causing cough and shortness of breath
The bones, resulting in bone pain or fracture
The brain, presenting as headaches, confusion or seizures
That being said, all of these signs don't necessarily mean you have cancer. Still, you should always bring up any changes to your health with your doctors.
Related: 'When I Die, You'll Have So Many Girlfriends' — Ballerina Petra Conti Says She And Her Husband Joked Their Way Through Cancer
"Traditionally, kidney cancer was diagnosed in people coming in with blood in the urine, a mass (in the) belly that was big enough that you could feel, or pain on that side," Dr. Geoffrey Sonn, a urologic oncologist with Stanford Hospital and Clinics, previously told SurvivorNet.
"More recently — because of the great increase in the use of imaging with ultrasound, CAT scans, MRI — most kidney cancers (are) diagnosed incidentally, meaning a scan is done for another reason," he added.
Dr. Sonn said that doctors finding a mass seen on imaging done for another reason is "the most common presentation" of the disease. Some patients without symptoms might discover their cancer through scans done for unrelated reasons, and others might discover cancer after a scan to investigate abdominal pain, like Finney.
Either way, it's important to stay up-to-date on checkups and speak with your doctors about any possible signs of something being wrong.
"For localized kidney cancer, for relatively small masses that have not metastasized, most often patients feel nothing, and this is found on a scan done for another reason," he said.
"For larger masses of the kidney they may have pain on that side, they may see blood in the urine or a routine urine test may show a microscopic amount of blood in the urine that's not enough to be seen visually but still will prompt further testing with imaging that shows the kidney cancer."
Contributing: Abigail Seaberg
Learn more about SurvivorNet's rigorous medical review process.
---