Understanding Kidney Cancer
A young woman is speaking out to share her story about being diagnosed with a rare form of kidney cancer after doctors repeatedly dismissed her symptoms.
Kidney cancer develops when cells in the kidneys, a pair of bean-shaped organs each about the size of a fist, begin to grow out of control.
Renal cell carcinoma is the most common type of kidney cancer, and the type Katie Coleman was diagnosed with. In fact, about 9 out of 10 kidney cancers are RCCs.
A young woman is speaking out to share her story about being diagnosed with a rare form of
kidney cancer
after doctors repeatedly dismissed her symptoms, highlighting the importance of advocating for yourself.
Katie Coleman was 29 years old when she was diagnosed with a rare type of renal cell carcinoma, called a metastatic oncocytoma, in 2020.
Read More
"I knew something was wrong with my body — I just knew it deep down,"
Katie, who lives in Austin, Texas, told TODAY
. "I had sustained high blood pressure and a rapid heart rate, so I went to eight different doctors, did all kinds of tests and everybody just kept telling me I had anxiety. Two doctors told me I was too young for cancer when I asked. It made me feel like a hypochondriac."
Related: Be Pushy, Be Your Own Advocate… Don't Settle
Katie said she's had anxiety her whole life, but this was different. Even though she told this to her doctors over and over again, her symptoms were still dismissed.
"When I couldn't get anybody to take me seriously, I started to intentionally lose weight to try to see if that could make my health better and solve the problem," she wrote. "I lost 50 pounds by walking two to 10 miles a day and eating healthy. When I lost that weight, I started to feel a hard mass in my upper right abdomen."
But, the mass wasn't a lump.
"The best way that I can describe it is it felt like I had six-pack abs on that side, but I don't have a six-pack in any way, shape or form," she explained. "I wasn't getting pain from it, I could just feel it. So I went to an urgent care and the nurse practitioner assured me that it was a perfectly valid reason to go to the ER."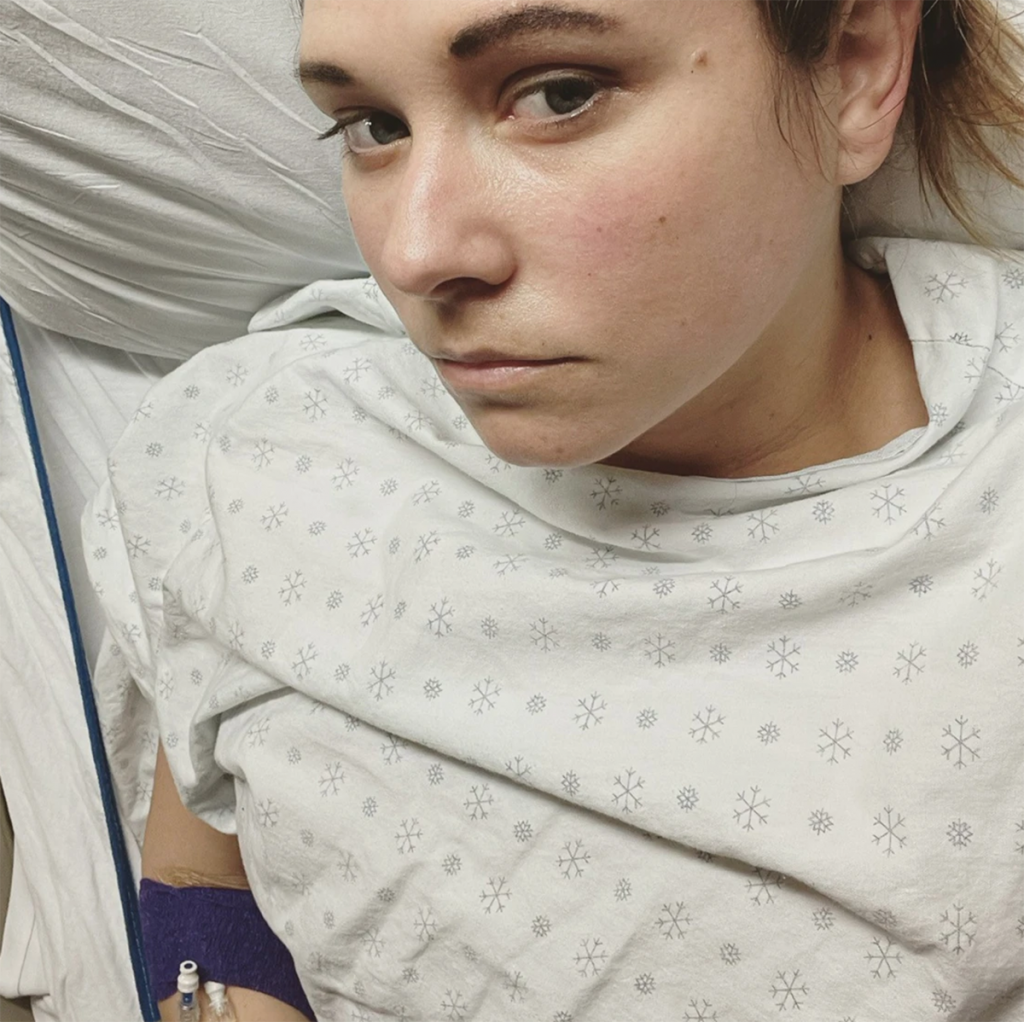 Once at the hospital, Katie had an ultrasound and a CT scan, which revealed an almost 5-inch mass on her kidney, as well as several other tumors in my liver. She was diagnosed with metastatic oncocytoma.
"Oncocytomas are never supposed to spread," Katie said, "but mine went to my liver and that's what turned it into stage 4 kidney cancer."
"When a doctor came in to deliver the news (that she had cancer) on New Year's Eve, my husband instantly started crying," Katie wrote. "We had just gotten married in October (2020). We were newlyweds. Nobody expects that kind of diagnosis to come two months after you get married."
While receiving a cancer diagnosis is scary, Katie explained that it was almost a relief because she finally had an answer to what was wrong with her.
"I almost felt a sense of relief because for once, I had somebody sitting across from me who believed me and there was a reason for why I had been feeling terrible," she said.
In June of last year, Katie had her right kidney removed, as well as several wedge resections of her liver (when pieces are cut out).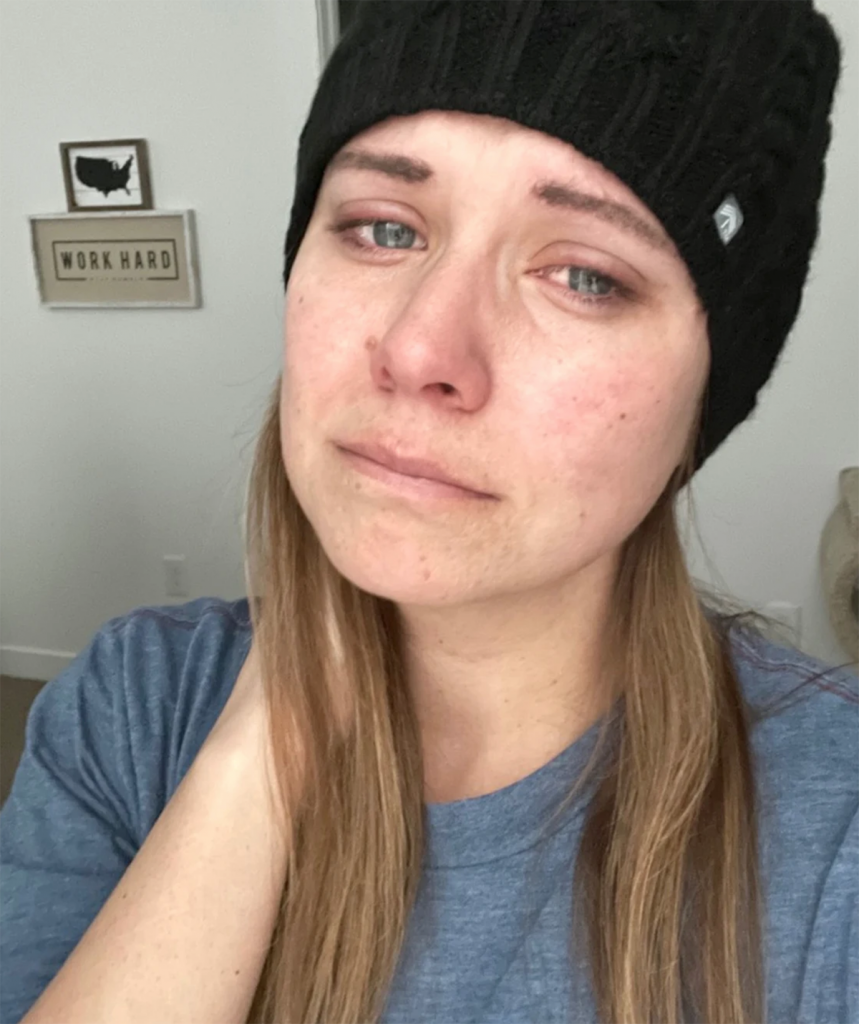 "I've just been on active surveillance ever since," she said. "I still have tumors left in my liver, but they've been stable for quite a while. I have scans at the end of June."
"My cancer is so rare that there's not really (a) prognosis," she continued. "Nobody knows what to expect. I don't blame the first doctors for their comments before my diagnosis — to them, I just looked like an anxious patient. They were going off of their training and the box that I fell into at the time."
"Today, I'm feeling great. I actually feel the best I've felt in my entire life, which is really weird to say with stage 4 cancer. I'm very appreciative for however long a period of time I get to feel this way."
Understanding Kidney Cancer
Kidney cancer develops when cells in the kidneys, a pair of bean-shaped organs each about the size of a fist, begin to grow out of control. Renal cell carcinoma is the most common type of kidney cancer. In fact, about 9 out of 10 kidney cancers are RCCs.
Related: 'When I Die, You'll Have So Many Girlfriends' — Ballerina Petra Conti Says She And Her Husband Joked Their Way Through Cancer
It's estimated that about 79,000 new cases of kidney cancer (50,290 in men and 28,710 in women) will be diagnosed in the United States for 2022, so here are some signs of the disease to look out for:
Blood in the urine (hematuria)
Low back pain on one side (not caused by injury)
A mass (lump) on the side or lower back
Fatigue (tiredness)
Loss of appetite
Weight loss not caused by dieting
Fever that is not caused by an infection and doesn't go away
Anemia (low red blood cell counts)
According to UCLA Health, kidney cancer can metastasize, or spread, to any part of the body through the blood or lymphatic system. When that happens, the first signs of cancer may not be specific to your kidneys.
Symptoms of metastatic kidney cancer (like what Katie is fighting) may cause symptoms in the newly affected areas of the body including:
The lungs, causing cough and shortness of breath
The bones, resulting in bone pain or fracture
The brain, presenting as headaches, confusion or seizures
That being said, all of these signs don't necessarily mean you have cancer. Still, you should always bring up any changes to your health with your doctors.
"Traditionally, kidney cancer was diagnosed in people coming in with blood in the urine, a mass (in the) belly that was big enough that you could feel, or pain on that side," Dr. Geoffrey Sonn, a urologic oncologist with Stanford Hospital and Clinics, previously told SurvivorNet.
"More recently — because of the great increase in the use of imaging with ultrasound, CAT scans, MRI — most kidney cancers (are) diagnosed incidentally, meaning a scan is done for another reason," he added.
Dr. Sonn said that doctors finding a mass seen on imaging done for another reason is "the most common presentation" of the disease. Some patients without symptoms might discover their cancer through scans done for unrelated reasons, and other might discover the cancer after a scan to investigate abdominal pain, like Katie.
Either way, it's important to stay up-to-date on check ups and speak with your doctors about any possible signs of something being wrong.
"For localized kidney cancer, for relatively small masses that have not metastasized, most often patients feel nothing, and this is found on a scan done for another reason," he said.
"For larger masses of the kidney they may have pain on that side, they may see blood in the urine or a routine urine test may show a microscopic amount of blood in the urine that's not enough to be seen visually but still will prompt further testing with imaging that shows the kidney cancer."
Contributing: Abigail Seaberg
Learn more about SurvivorNet's rigorous medical review process.