Sometimes when a person reaches the end of their cancer journey, their family reaches for the spiritual as a means of both solace and celebration of their life. That's how Duane "Dog the Bounty Hunter" Chapman, 66, is comforting the many fans of his recently departed wife, the celebrated TV crime fighter Beth Chapman, who passed away just days ago at the tender age of 51 after a long battle with lung cancer. In his latest touching tribute to Beth, Dog on Tuesday used to social media to put forth a beautiful vision of Beth as an angel in heaven, at the same time as he gave important new details about her second memorial service, this time in the continental U.S., in Colorado. Beth's previous memorial was in Hawaii, stomping grounds of the tight knit Chapman clan.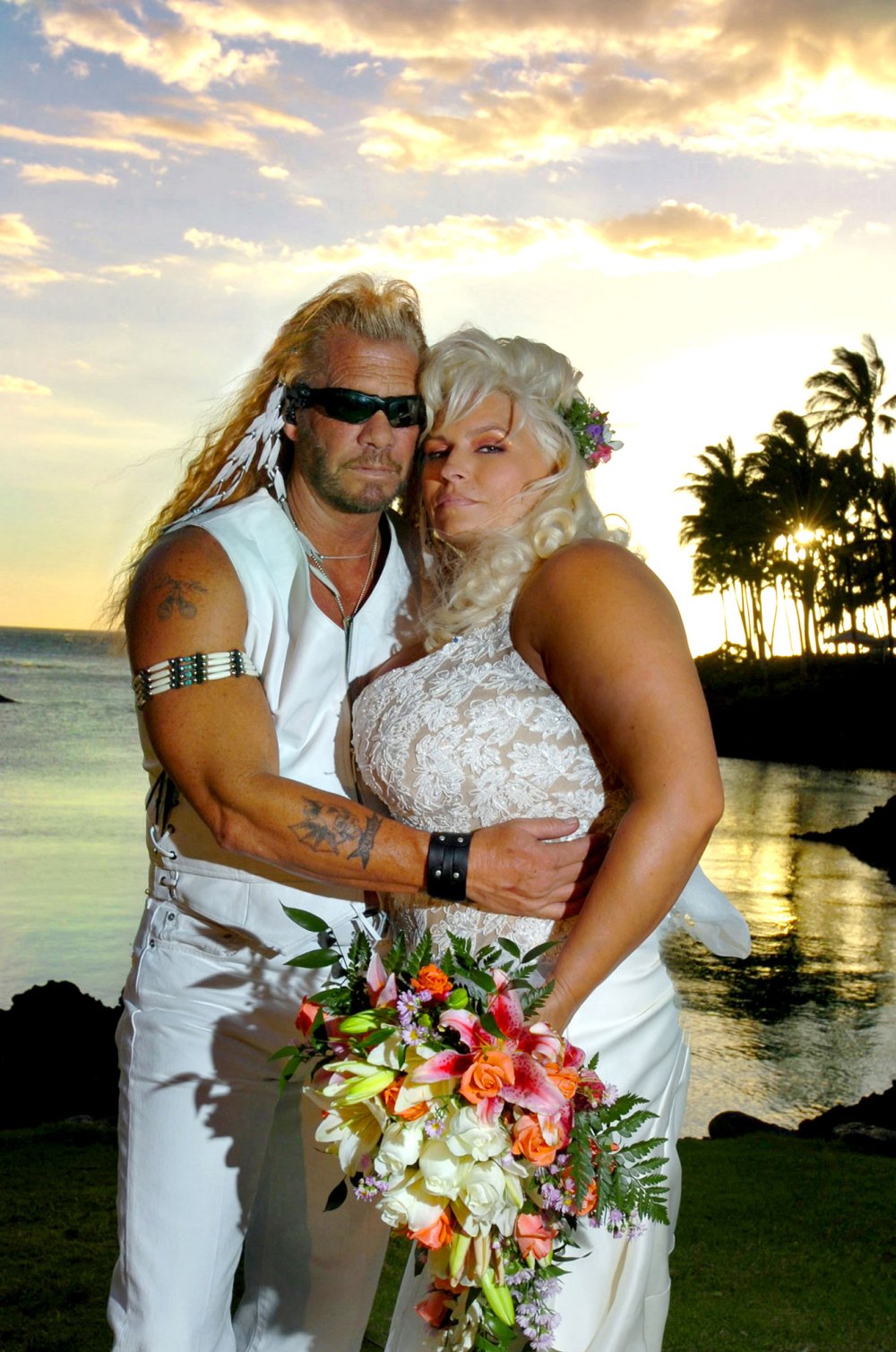 Dog posted on Twitter a photo of Beth sprouting angel wings while wrapping her arms around Duane, who is throwing flower petals into the wind. The meme reads "Goodbye (for now)" at the top and "In loving memory of Beth Chapman," at the bottom. The posting also included details for Beth's Colorado memorial, "July 13, 2019 – Heritage Christian Center, 14401 E. Exposition Avenue, Aurora, Colorado 80012 – Doors open at 1:00 Service starts at 2:00."
July 13, 2019 –
Heritage Christian Center
14401 E. Exposition Avenue
Aurora, Colorado 80012 – Doors open at 1:00 Service starts at 2:00 pic.twitter.com/Htw4SKxDDl

Read More

— Duane Dog Chapman (@DogBountyHunter)

July 1, 2019

Supporters were quick to become spiritual as well, envisioning Beth living on beyond this world. "Duane, why are you saying Goodbye to Beth? She maybe gone in body, but her strong spirit will never be gone. She is with each of you and she will be with you until you leave this world to join her in heaven. Love that strong never dies or leaves!"

"RiP #MrsDog may she rest in heavenly peace as she is watching us and reminding us to behave and keep staying positive and strong as she was. Much love to The Chapman Family," one supporter commented.

"R.I.P Beth, she'll be watching over you from above," said another.

And some gave a more christian interpretation of the post. "@DogBountyHunter my prayers are with you and your beautiful family. Your lovely wife @MrsdogC impacted so many lives by sharing the love the grace of Christ as you do," wrote one person who has been inspired by the family.

"I know she is in heaven but I wish I could be there to say goodbye! I miss her and it's hard to believe I will never hear from her again. I'm glad she won't be hurting anymore and is with God keeping things running smoothly! God Bless you Dog and your family and friends," said another.

Information about faith and cancer

A lot of people in the SurvivorNet community have talked to us about the role of faith during their cancer journeys. Breast cancer survivor Sharonda Vincent told SurvivorNet that she leaned on faith to help her through. "I knew that if I just put my faith and trust in God, that I would be okay," said Vincent about her cancer journey.

Beth's daughter, Bonnie, and step-daughter, Lyssa, both posted a photo of this memorial meant to honor Beth "Hawaii style."

Sharonda discovered a lump in her left breast the day before her thirtieth birthday, with just over a month to go until her wedding. Her doctor initially dismissed her concerns, but follow-up tests confirmed that it was stage 2B breast cancer. "It was hard for me. I felt as if I was being punished," she says.

Breast Cancer survivor Sharonda Vincent on the role of faith in her cancer journey

But after chemotherapy, radiation, and then hormone replacement, Sharonda is doing well. She's currently a social service advocate at the Public Defender's Office in Philadelphia.

Sharonda's message: Don't give up hope. Educate yourself — and live every day to the fullest. "Breast cancer is no longer the end of the world," she says.

Learn more about SurvivorNet's rigorous medical review process.