A loving wife, a mother, and half of the bounty hunting duo that inspired millions. The world will surely miss "Dog the Bounty Hunter" star Beth Chapman.
Beth was full of life, even near the end as she was battling stage four lung cancer, she seemed to be active, happy, and surrounded by those she loved the most. Beth sadly lost her battle to cancer early Wednesday morning in the family's home-state, Hawaii. She was 51 years old.
Read More
As Beth bravely battled cancer over these past few months, fans came out in huge numbers to tell the reality star
just how inspirational she was
to face such adversity with such bravery and confidence. And all that praise is warranted, Beth was definitely an impressive woman.
The reality star worked as a bounty hunter for decades, and inspired a huge number of women by succeeding in a field that we just don't see many females working in. Beth became a licensed bail bondsman at age 29, the youngest woman to do so in Colorado history at the time. Her relationship with her loving husband and business partner Duane "Dog" Chapman began in the 1980s. The two met when Beth was just 19 years old (Dog was in his early 30s) and began an on-again-off-again relationship that went on for nearly a decade. In 1995, the couple committed and blended their families (including several children from previous marriages). They didn't marry, however, until 2006.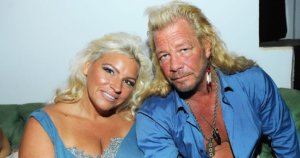 The bounty hunting love birds gained national attention (and many fans) when they were working on a case, hoping to capture notorious fugitive Andrew Luster in Peurto Vallarta, Mexico. After Luster's capture, Dog did a 2003 interview with truTV — and captured the attention of A&E. Shortly thereafter, Dog and Beth became household names when "Dog the Bounty Hunter" debuted in 2004. The series, which starred the couple as well as several of the Chapman children, ran for 8 seasons until 2012. Dog and Beth also starred in "Dog and Beth: On The Hunt," which debuted in September 2012, with Dog's son Leland Chapman. They were also in the process earlier this year of filming a new show, which will air on WGN America, called "Dog's Most Wanted." Though with Beth's health issues, it's unclear how much of the show the Chapman clan was actually able to film. WGN America has not yet announced a release date.
During Beth's first cancer battle, the couple documented the experience in an A&E special called "Dog & Beth: Fight of Their Lives."
Beth's first bout with cancer came in 2017. She was diagnosed with throat cancer, but she underwent treatment and was declared cancer-free a few months later. However, she was faced with cancer again at the end of 2018 — and this time it had progressed to stage four lung cancer. Beth had been really open with fans about the challenges of going through cancer in the public eye. She had to deal with both family and business drama, but through it all, she kept a really positive attitude that inspired her countless fans.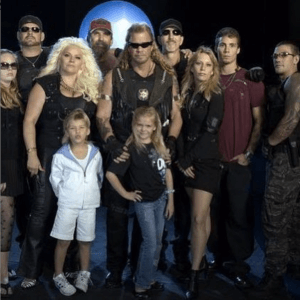 Earlier this year, Beth gave a heartfelt Mother's Day speech at the Source Church in Bradenton, Florida, where she explained that during this bout with cancer she would not be undergoing chemotherapy — she would instead let her faith guide her through the journey.
"This is the ultimate test of faith," she said in the speech. "It is the evidence of things hoped for, and it is the substance of things not known. And although chemotherapy is not my bag, people, sorry, that's not for me. So for me, this is the ultimate test of faith."
Choosing to forgo conventional treatment is an extremely difficult and personal decision. We don't know what, if any, alternative treatments Beth may have been pursuing for her cancer. Typically, the treatment for this advanced disease can involve extensive chemotherapy or radiation, or targeted therapy if the patient has a certain genetic mutation.
Even though she remained relatively mute about which treatments she was pursuing this time around, Beth was really forthcoming about other challenges she faced during her cancer battle. She recently had a very public spat with her stepdaughter, Lyssa Chapman — which apparently stemmed from an alleged Mother's Day snub. Beth accused Lyssa of forgetting to wish her a happy Mother's Day, failing to invite the couple to Dog's granddaughter's graduation ceremony, and blocking both Dog and Beth on social media.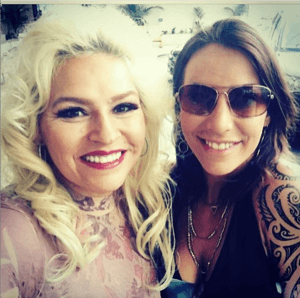 The two engaged in a bit of a back-and-forth on social media in the following weeks. However, after Beth's health took a turn, it seems the drama has been forgotten. Replying to a fan on Twitter on Monday, Lyssa said "I've been with [Beth] since she was back in Hawaii. Our family isn't perfect but we're family." Lyssa also posted a heartwarming photo of herself with Beth on Sunday, after news broke that the reality star was put into a medically-induced coma in a Hawaii hospital.
Dog announced that his wife had tragically passed on Twitter early Wednesday morning. "It's 5:32 in Hawaii, this is the time she would wake up to go hike Koko Head mountain. Only today, she hiked the stairway to heaven. We all love you, Beth. See you on the other side," he wrote.
Learn more about SurvivorNet's rigorous medical review process.
---