Losing a Loved One to Cancer
Singer and actor Michael Lee Aday, better known as Meat Loaf, died of an undisclosed cause on Thursday.
You might know him by his movie appearances or his iconic rock albums, but did you know he had to cope with the loss of his mother to breast cancer before beginning his career?
Grief is an unavoidable and important part of healing following the loss of a loved one to cancer. But therapy can also be a valuable tool when dealing with grief.
The world of rock and roll lost another iconic singer when Michael Lee Aday, better known as Meat Loaf, died of an undisclosed cause on Thursday. But did you know the 74-year-old singer and actor's lengthy career came after overcoming very intense trauma at a young age? Much of which came as the result of losing his mother to breast cancer.
Meat Loaf's career spanned six decades, according to the Facebook post from the rockers account announcing his death. In that time, he sold over 100 million albums worldwide and starred in over 65 movies including Fight Club, Focus, Rocky Horror Picture Show and Wayne's World. And his cult-favorite album, Bat Out of Hell, still holds its spot as one of the top 10 selling albums of all time.
Read More
But his path to stardom was not always pretty. In fact, his initial move to Los Angeles to begin seeking out a career in show business came after a series of tragic events that included the death of his mother after "a long battle with breast cancer" when he was still a teenager in 1966. He was even so distraught at her funeral that he reportedly grabbed her body and screamed at the undertakers, "You can't have her!"
As if that weren't enough, his father apparently tried to kill him shortly after the funeral in a state of drunken anger.
"I rolled off the bed just as he put that knife right in the mattress," Meat Loaf told Rolling Stone in 2018. "I fought for my life. Apparently I broke three ribs and his nose, and left the house barefoot in a pair of gym shorts and a T-shirt."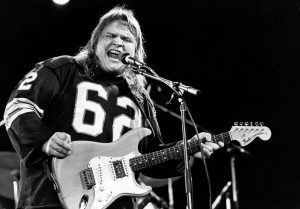 After feeling his alcoholic father, the I Would Do Anything for Love (But I Won't Do That) singer never looked back and began to get his career underway. But there were still many ups and downs like when issues with his strained voice nearly derailed his career early on.
"I didn't know how to deal with what was going on around me," he told PEOPLE in 1993 of stepping away from the spotlight a year after his debut album Bat Out of Hell was released. "For about five years I couldn't work. I didn't want the responsibility anymore."
Meat Loaf eventually recognized he needed to address his mental health as an adult and recovered with therapy and the support of his first wife Leslie G. Edmonds. Needless to say, he moved forward from his traumatic past to live out his Grammy-winning dreams.
Losing a Loved One to Cancer
Losing someone you love to cancer can cause immeasurable pain – as Meat Loaf knew all too well. But grief is an inevitable – and essential – part of the healing process. And there's definitely no one way to cope, but Doug Wendt shared his thoughts on grief in a previous interview with SurvivorNet after losing his wife Alice to ovarian cancer.
"I Don't Want to Move On; I Do Want To Move Forward": Doug Wendt On Being A Caregiver and Tragically Losing His Wife to Ovarian Cancer
"We're never gonna move on, I don't even think I want to move on, but I do want to move forward," Wendt said. "That's an important distinction, and I encourage anybody who goes through this journey as a caregiver and then has to face loss, to think very carefully about how to move forward."
Remembering all the wonderful ways the person you've lost enriched your life can also help you move forward – something Caleb Farley can surely attest to. In a previous interview with SurvivorNet, Farley talked about his mother's battle with breast cancer. He also discussed how he opted out of his position as a cornerback for the Virginia Tech Hokies due to COVID-19 concerns. Having lost his mom to breast cancer in 2018, he knew he wanted to be extra careful during the pandemic.
2021 NFL Draft Prospect Caleb Farley Tells SurvivorNet His "Mom Was Like a Superhero" Before She Lost Her Battle with Breast Cancer; Here's What Got Him Through
Farley announced the news of his opt-out in an Instagram video saying, in part, "I cannot afford to lose another parent or loved one… Though the competitor in me badly wants to play this season, I cannot ignore what's going on in my heart, and I must make the decision that brings me the most peace."
Farley trained for the NFL draft instead of playing for Virginia Tech, and his efforts paid off. He was selected by the Tennessee Titans as the number 22 overall pick in the first round of the 2021 NFL draft.
Farley's mother fought two battles with cancer. He watched as she went through multiple rounds of chemotherapy while still working and taking care of her family. Although his "superhero" mother will not get to see him play in the NFL, Farley will take many lessons he learned from her and apply them to whatever challenges he faces in life moving forward.
"My mother raised me to be very religious, very God-conscious. That's been everything to me, and my life. That's like the building blocks of my, of my life," Farley told SurvivorNet. "Anything that's happened to me, any adversity, any good times, any bad times, I've always kind of stood on that rock of faith. I can't thank her enough for how she raised me and because it was her who gave me all of that, um, spiritually, she, she just filled my heart with love and joy. I've had a happy life because of her."
Therapy as a Tool for Coping with Grief
Everyone's journey of grief looks different, but therapy and support groups can also be wonderful options to explore. It's also important to keep in mind that time does not heal everything, but it certainly helps.
In an earlier interview with SurvivorNet, Camila Legaspi shared her own advice on grief after her mother died of breast cancer. For her, therapy made all the difference.
"Therapy Saved My Life": After Losing A Loved One, Don't Be Afraid To Ask For Help
"Therapy saved my life," Legaspi said. "I was dealing with some really intense anxiety and depression at that point. It just changed my life, because I was so drained by all the negativity that was going on. Going to a therapist helped me realize that there was still so much out there for me, that I still had my family, that I still had my siblings."
Legaspi also wanted to remind people that even though it can be an incredibly difficult experience to process, things will get better.
"When you lose someone, it's really, really, really hard," Legaspi said. "I'm so happy that I talked to my therapist. Keep your chin up, and it's going to be OK. No matter what happens, it's going to be OK."
Learn more about SurvivorNet's rigorous medical review process.