Immunotherapy for Stage 4 Lung Cancer
Oswald Peterson was diagnosed with stage 4 lung cancer in 2017.
His care team at NewYork-Presbyterian didn't consider him a candidate for chemotherapy because he was too weak to withstand side effects.
Instead, he received immunotherapy through a clinical trial and is now cancer free and thriving.
For 53-year-old Brooklyn resident Oswald Peterson, life had been a blur of struggle and loss. He lost his mother to
ovarian cancer
in 2015 and his longtime partner in the same year as a result of neurological problems. Against that painful backdrop, he was diagnosed with stage 4
lung cancer
in 2017. He assumed there was little hope for his survival.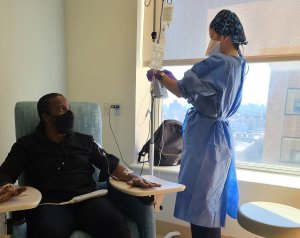 Read More
"The only thing that can be said to describe what I felt when I first got my diagnosis of cancer is shock," Peterson tells SurvivorNet. "You don't know what to do you don't know what the outcome is going to be. You hear the word cancer and you literally think that you're about to die. After dealing with my mother's cancer two years prior and losing her, I really thought I was about to die."
Related: Immunotherapy Now an Option for Many More Lung Cancer Patients
Lung Cancer in Smokers vs. Non-Smokers
Despite those fears, he's now disease free and thriving after
immunotherapy
treatment at NewYork-Presbyterian and Columbia University Medical Center. He's even participating in Caribbean carnivals again, one of his life's greatest passions.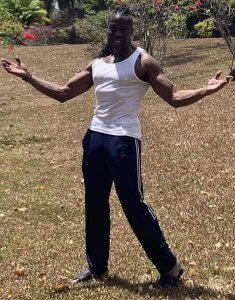 "The only way to describe how I feel today is blessed, fortunate," Peterson tells SurvivorNet. "You never anticipate being in a position to where you could possibly lose your life and then being afforded the opportunity to get it back… to do all the things that you wanted to do."
Stage 4 Lung Cancer Diagnosis
It was New Year's Day in 2017 when Oswald experienced severe pain and weakness. As the primary caregiver to his mother and partner, he was familiar with NewYork-Presbyterian/Columbia in Washington Heights and sought an evaluation there. Following tests, he got his diagnosis.
Related: Immunotherapy Has Changed The Game For Lung Cancer
His oncologist, Dr. Cathrine Shu, lung cancer specialist at NewYork-Presbyterian and Columbia University Medical Center, recommended immunotherapy, which around the same time had been FDA approved for patients with non-small cell lung cancer. "Oswald was extremely sick when I first saw him," recalls Dr. Shu. She tells SurvivorNet that he wasn't a good candidate for chemotherapy because, "he was too sick from the cancer.  I did not think he could tolerate the fatigue, nausea, and count suppression (white blood cell count, hemoglobin, platelets) that often accompany chemotherapy."
Chemotherapy vs. Immunotherapy Treatment
Given his condition, immunotherapy was the key. Dr. Shu tells SurvivorNet that her patient received a treatment call pembrolizumab (brand name: Keytruda) intravenously every three weeks.  "The treatment is a type of immunotherapy, which harnesses the power of Oswald's own immune system to fight the cancer," she explains.
The Outlook for Immunotherapy Treatment
Peterson was relieved to find the treatments not only effective but also relatively painless. "After dealing with my mother's cancer, I saw the side effects of radiation and chemotherapy and the effects that it had on her body. I was scared that I was going to have to go through that," he tells SurvivorNet. "The thing that was surprising to me was that when I had my first dose of the immunotherapy I didn't even know that I had received it."
Related: More Treatment Options for Non-Small Cell Lung Cancer Help Turn Patients into Survivors
He tells SurvivorNet he experienced no side effects: no hair loss, no weight loss, and "as a matter of fact I gained weight as soon as I left the hospital and it was the best thing for me."
What Do People With Lung Cancer Need to Know About COVID-19?
Each treatment made Peterson feel stronger. His breathing improved and he even had the strength to perform at carnivals again. Earlier this year, prior to the pandemic, he danced in a costume that weighed 200 pounds during a visit to Trinidad.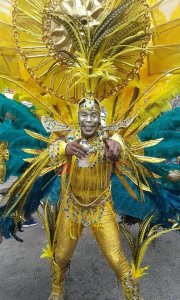 "My family is from Trinidad, and each year when I am there for carnival I always think back to, 'Oh my God, in 2017 at this time, I was practically on my death bed,'" he says. "Ever since, carnival always feels like a celebration of the renewed opportunity of life that was given to me through immunotherapy and NewYork-Presbyterian."
Disease Free After Immunotherapy
After treatment, he's disease free and living his life among close friends and a loving partner.
"There's nothing else that describes that feeling except feeling extremely blessed; that's the only way I could describe how I feel today," he says. "I'm healthy, I'm living a great and full life. I'm just truly in awe of what immunotherapy has done for me [and] truly blessed and grateful for everything done by Dr. Shu and the researchers who developed immunotherapy."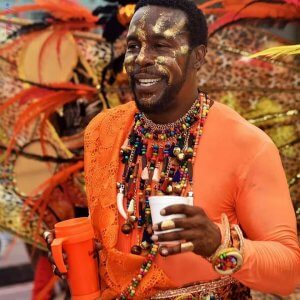 He adds, "NewYork-Presbyterian has given me a second lease on life. It opened up a whole new world for me and most important I knew that this was going to be something that was going to help so many other people and that I had a part and bring it forward."
His is not only one man's story of resilience and survival, but also a hopeful message for other patients.
"Our research is bringing new treatment options to the table every day. If Oswald had this lung cancer even 10 years ago, he would probably not be here today," Dr. Shu tells SurvivorNet. Her advice to others in similar situations? "Have hope, work closely with your oncologist, and participate in clinical trials if you can."
Learn more about SurvivorNet's rigorous medical review process.