Losing a Husband
Rush Limbaugh's wife Kathryn Adams tells fans on The Rush Limbaugh Show that her husband has passed at the age of 70. "Rush was an extraordinary man. A gentle giant. Brilliant. Quick-witted. Genuinely kind. Extremely generous. Passionate. Courageous … and the hardest working person I know."
Limbaugh, host of the most successful show in America that had boasted up to 43 million listeners, worked up until the end. He was emotional in December while telling fans how much their support had meant to him.
Dr. Patrick Forde from Johns Hopkins University tells SurvivorNet that past and present smokers should get screened for lung cancer to catch the disease early, before it spreads outside the lungs.
Lung cancer survivor Donna Hunting tells SurvivorNet that you don't need to be a smoker to get lung cancer. "If you have lungs, you can get lung cancer," she says. "It's not a smoker's disease. Anybody can get lung cancer."
Radio host
Rush Limbaugh
has died at age 70. Limbaugh's wife Kathryn Adams, 44, announced the news on
Rush's show
in a loving tribute, revealing a tender side to the man who had continually sparked so much controversy.
Related: New Rush Limbaugh Update: Staff is "Praying for a Remission" As Radio Host Battles Advanced Lung Cancer and Skips Show Taping Amid Treatment
Read More
"Rush will forever be the greatest of all time," Adams says to Limbaugh's listeners in a somber tone, speaking slowly. "Rush was an extraordinary man. A gentle giant. Brilliant. Quick-witted. Genuinely kind. Extremely generous. Passionate. Courageous … and the hardest working person I know. Despite being one of the most, recognized, powerful people in the world, Rush never let his success change his core or his beliefs." The show then goes in to a "Best of Rush" hour-long tribute.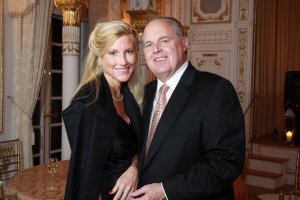 Related: Thanking God For Waking Up Each Day– Support For Radio Host Rush Limbaugh During Late-Stage Lung Cancer Battle
Limbaugh was battling stage 4 lung cancer since January of last year. The couple married in 2010 and Adams was Limbaugh's fourth wife. He had no children.
A Record-Breaking Career
The Missouri native launched his radio broadcast into national syndication to 56 radio stations in 1988. Twenty years later it was up to 600 stations and 20 million people were listening week by week, which made it the highest rated national talk show in the U.S.
By last year, The Rush Limbaugh Show listeners were up to 43 million. The most listened to talk show in America.
Related: Radio Host Dan Bongino Finishes Treatment for Hodgkin Lymphoma: 'It Was a Tough Road'
Hodgkin lymphoma survivor Dan Bongino, another conservative talk show personality, posts a tribute on his Instagram. "Rush changed my life, along with the lives of millions of others," he says. "The world is going to be a different place without him."
 

View this post on Instagram

 
Limbaugh had shown a more emotional side here and there on his show in past weeks, when he had talked to fans how much their support meant to him. Since his diagnosis, the host had been talking about his feelings while on the air. During Limbaugh's last show of 2020, he had turned emotional. "You have no idea what you all have meant to me and my family," and then stated something that's hard for anyone with a cancer diagnosis to come out and say. "The day is going to come folks where I'm not going to be able to do this," and added. "I wasn't expected to be alive today."
Related: Former & Current Heavy Smokers Should Get Lung Cancer Screenings Using CT Scan, Says Leading Expert
A Charitable Side
Limbaugh supporter Ken Artinigstall from Glendale, Calif. wrote in to the L.A. Times back in February 2020, just after Limbaugh announced his diagnosis, saying that the host was more generous than most were aware. "Just a little investigative work into Limbaugh's extensive charitable work over 30 years would show the character of this American patriot," the fan said. Google "Stephen Siller Tunnel to Towers Foundation," "Marine Corps-Law Enforcement Foundation" or "Leukemia & Lymphoma Society" to discover just a few of the charitable groups that Limbaugh (and his listeners, like me) have supported with donations totaling millions of dollars over 30-plus years."
Indeed, the host had hosted an annual event for the Leukemia & Lymphoma Society for 25 years, raising over $44 million in total, according to Premiere Networks.
Who Can Get Lung Cancer?
Although doctors typically cannot pinpoint exactly what causes certain types of cancers in people, smoking is always a high risk factor. Limbaugh was a cigar smoker, and often pictured smoking cigars, However, it is also possible for non-smokers to get the disease.
Lung cancer survivor Donna Hunting, a non-smoker, tells her story to SurvivorNet. "My husband and I were always very conscious of our health," she says." We had our preventative testing done, our yearly physicals, and ate right and exercised. And one day, I didn't feel good." She went to the doctor and he saw something concerning in my lungs. "And lo and behold, they called me and said I had stage IV lung cancer … I had no symptoms that anybody would think that I had lung cancer."
"If you have lungs, you can get lung cancer," she says. "It's not a smoker's disease. Anybody can get lung cancer."
If You Have Lungs, You Can Get Lung Cancer Survivor Donna Hunting Shares Her Story
Getting Screened For Lung Cancer
If you're a present or past smoker, doctors advise getting screened. Leading expert, Dr. Patrick Forde, Director of Thoracic Oncology Research at Johns Hopkins University in Baltimore tells SurvivorNet that there have been a number of studies looking at using low-dose CT scans to try to pick up cancer at an earlier stage in people who have a history of smoking.
Related: New Study Finds Vaping Causes the Same Changes to DNA as Smoking Cigarettes
"About 70% to 80% of patients who are diagnosed with lung cancer, unfortunately, the cancer has spread outside of the lung and is not suitable for surgery," Dr. Forde explains. "And there have been a number of studies … which looked at doing CT scans for patients who are over the age of 55 and had a significant smoking history for many years and then monitoring them on a regular basis with a low dose CT of the chest. And they were able to show a reduction in the numbers of lung cancers which had spread outside of the chest. They were able to pick them up in earlier stage and potentially cure them at a higher rate than not doing screening."
Former & Current Heavy Smokers Should Get Lung Cancer Screenings Using CT Scan, Says Leading Expert
Learn more about SurvivorNet's rigorous medical review process.