Stewart Cink Shares Difficult News at The Open
Stewart Cink is close to the top of the leaderboard at The Open, but the golf great has revealed his wife is dealing with a new health scare.
Cink, 47, spent two years away from golf after his wife, Lisa, was diagnosed with stage IV breast cancer in 2016, and is now playing the best golf of his life.
"Dealing with cancer in a marriage is complicated and takes a lot of patience and love," actress Marcia Cross previously told Survivor Net.
Stewart Cink is circling the top of the leaderboard after the first round of the British Open, but it is a bittersweet moment for the 48-year-old golf great.
In an interview with The Mirror, Cink revealed that his wife Lisa is currently going through a health scare, five years after she was diagnosed with stage IV breast cancer.
Read More
"We are praying and trying to stay focused on the good things. We will know more in about two months," said Cink, who is at
The Open
with his son and caddy, Reagan.
"She is not going to be out of the woods for really the rest of her life."
Cink added: "Hopefully this is just a little scare and we will know more in about two months. But for now she is doing well and we have a lot of faith and confidence in her medical team."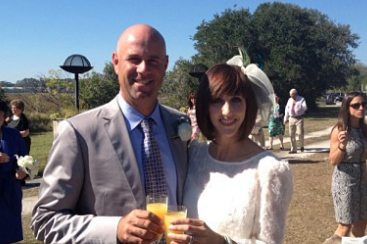 Related: Single Dad Battling Cancer Auctions Tom Brady Rookie Card to Provide for His Kids
Lisa Cink learned she had stage IV breast cancer in 2016, and her husband spent the next two years playing a very limited golf schedule so he could be by her side. He then returned to full-time play just before the pandemic and now, at an age when many are slowing down, he is playing the best golf of his career.
Cink is a leading contender at The Open this week, having previously won the tournament in 2009 after besting Tom Watson in a four-hole playoff. He will be eligible for the Champions Tour in just two years, but is currently ranked 15th in the FedEx Cup rankings.
That being said, it is clear that he would hang up his bag at a moment's notice for his family.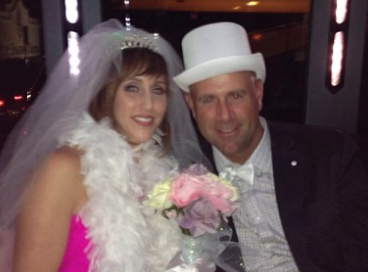 Lisa has been in remission for some time, and even managed to battle through COVID-19 early in the pandemic. She adopted an aggressive treatment plan after being diagnosed, and underwent nine rounds of chemotherapy in eight months. By December 2016 she was back on the course, caddying for her husband during a father-son tournament.
Cink then had his own – and far less frightening – bout with cancer in 2018 when he had a basal cell carcinoma removed from his nose.
He and his wife are high school sweethearts, and have been married for 28 years.
Related: Disgraced Pitcher Roger Clemens Says Baseball Players at Risk of Skin Cancer Under 'Sunscreen Ban'; How to Check for Skin Cancer
Supporting a Spouse Through Cancer
The support of loved ones is crucial for anyone battling cancer.
"Dealing with cancer in a marriage is complicated and takes a lot of patience and love," actress Marcia Cross told Survivor Net in a previous interview.
The Desperate Housewives actress should know, having played caregiver when her husband was diagnosed with throat cancer and later patient when she learned that she had anal cancer.
Cross pointed out, however, that it is not feasible to expect your spouse to become a brand new, and totally different, person overnight. Or at all.
"My husband was… he's a doer, like probably most men," explained Cross. "He took care of the kids. He was fantastic. I would literally tell him what not to come do. But when I needed him I would say, 'I need you now.'"
She continued: "Communication. Understanding that we are all built differently [is crucial]. Don't expect your husband to suddenly be somebody he's not. Or your wife."
Learn more about SurvivorNet's rigorous medical review process.
---