Stuart Townsend faced a daunting task.
The Irish actor had nine days to prepare for his role as Ken Wilber, a New Age philosopher and prolific author whose books have been praised by Bill Clinton and Al Gore. Deepak Chopra once called Wilber "one of the most important pioneers in the field of consciousness in this century."
Read More
Playing the key part in
Grace and Grit
, available online through Amazon Prime Video and other outlets, was "a journey of discovery," Townsend, 48, said in an interview from his home in Costa Rica.
The real-life Wilber, now 72 and living in Oklahoma, met Terry "Treya" Killam, a psychologist, in 1983. It was "love at first touch," she wrote in her journal at the time. Wilber and Killam wed, but before they could leave for their honeymoon in Hawaii, she was diagnosed with breast cancer. The couple's launch into a five-year crusade is recounted in Wilber's 1991 book, Grace and Grit, which was adapted and directed by British director Sebastian Siegel, a follower of Wilber's philosophies. Mena Suvari plays Treya.
How Cancer Tests a Relationship
At first, Townsend found Wilber's writing to be complex and not easily accessible. Then he read Grace and Grit. "That's when his full genius was really revealed because it's much more personal, because obviously it's his life."
Like classic cancer-themed movies Terms of Endearment and The Fault in our Stars, Grace and Grit is a love story first, a cancer saga second.
"She was very intuitive and he was very cerebral," says Townsend, explaining the relationship between Treya and Ken. "This love point — the meeting of those two ideas, of those two personality types and the struggle also with being a caretaker and a creative person," are all part of their story, the quintessentially cliché "incredible emotional roller coaster," he says.
"When we're really tested is when the true essence of ourselves come out," says Townsend.
Through those tests, especially a life-and-death test as cancer so often presents, love can really deepen, he says. And it's not always ethereal sweetness and light, as the early love scenes in this film portray Treya and Ken.
"What's beautiful about Grace and Grit is just the profound level of honesty — from both of them, from her writing and then from him retelling the story," says Townsend. "He's narrating it, essentially, but it's also her words."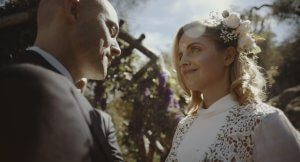 At times, Wilber is shown to be selfish and obnoxious. He wants his life back, and so does she. They fight, they're angry. For Townsend it meant playing moments of deep love and deep pain. "As an actor, you go, 'Oh God, that's a big moment. How am I going to do that?'"
So how did he? "Immersion is the most important thing. Really immersing yourself in whatever world you're trying to authenticate. With Grace and Grit there's a lot of material to get into." Plus, he laughs, he has been called a "veteran actor," and that helps when the topics are love and cancer.
He has "been blessed to have been in love," he says. One of his more famous relationships was with Charlize Theron. Now he lives in Costa Rica, where he is raising two sons, Desmond, 7, and Ezra, 5, with Agatha Araya.
View this post on Instagram
From Victim to Inspiration
And does he have any personal experience with cancer?
"Unfortunately, I think we all have," he says.
That's one reason he wanted to make the movie – it's relatable. Even though the story is set in the 1980s and the protocols and procedures show it at times, Townsend notes, "One thing remains constant: Even though we're in the 21st century, we still can't cure this thing."
What he found inspiring and hopes others do, too, is how Treya went from "being this victim of cancer to being this incredibly inspiring figure who wanted to help others through the conscious journey that she was going through." She kept journals and wanted Wilber to use them to write the book for others facing a similar battle. In the film, she's seen speaking at a John Denver concert, going to Germany for experimental treatments and running through a range of emotions from anger to fear to questioning her own existence.
"What is it about me? What psychological thing? Why is my body attacking myself? You see her really go into detail about that," says Townsend. "And that's just heartbreaking."
It's heartbreaking for Treya as she wrestles with the disease, and it's heartbreaking for Ken as the caregiver, the life partner, the lover.
"Mena has to be the patient and is the one that's going to die, and so as an actress she had to go to these certain places, but I, as the caregiver, I'm not dying, but I had to go through my own subset of other places," says Townsend.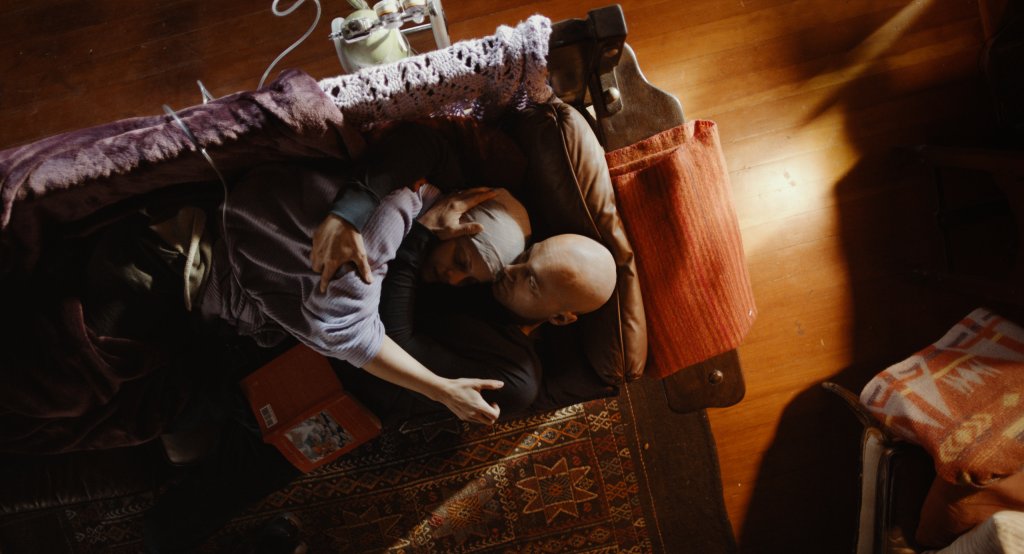 The Journey 'Every Cancer Patient Has To Get Through'  
He recalls that his "favorite person in the world died of cancer" when he was 16. "That was my granny and she somewhat raised me, and I just loved her more than any person in the world." She got lung cancer that year in March and died in September. "At 16, you're full of life and death is nowhere near your door. It devastated me, really devastated me."
Another one of his close friends got breast cancer a few years ago and he saw her change overnight. "What a terrifying moment that is where you now have this feeling of mortality and 'What do I do? What do I do to stop it immediately?' And there's so many avenues to go down. I witnessed it with my friend, where suddenly that's all she did — was study and meet people and talk about it." He says, "Thankfully, she's in remission now."
That's not how Grace and Grit ends. Spoiler alert.
A moving love scene between Ken and Treya in their home serves as one of the movie's final moments. No hospice nurses, no hospital machines. Townsend said that Treya's life at the end was one of the most "beautiful" moments in the book and the film, as she moved from "fear and desperation and being a victim" towards this 'passionate equanimity' as she calls it," – a feeling of love for all aspects of life and one's spirit, with no clinging or holding.
Townsend adds, "Accepting your own mortality is really profound." It was one of the most important aspects of the film, he says — "this idea of eternal love."
He doesn't mean eternal love between Ken and Treya, but an eternal peace and "grace," says Townsend, that Treya found in herself as a result of their love. "That's the journey that I think every cancer patient has to get through individually as well."
Townsend has never met Ken Wilber. "I haven't really been much in the States and he's also a recluse. I think, also, I'm kind of intimidated to meet him, you know." But Townsend said that Wilber saw the film and "gave the thumbs up, and that was very gratifying. I'm sure it's not an easy thing for him to watch."
Learn more about SurvivorNet's rigorous medical review process.
---