It's Time for Some Summer Fun!
The way we mentally approach life each day plays a big role in paving the way to good health, mental and physical.
While a cancer diagnosis can all-consuming, practicing mindfulness can make a critical difference in recovery, as can engaging in good mental health practices and finding opportunities for rest and relaxation.
Think Italy, margaritas, family and friends in summertime! Indeed, dreaming up a great vacation (real or imagined) can be a perfect chance to focus on feeling joy, a key aspect of your overall health.
La dolce vita.
The Italian phrase means "the sweet life," a saying used to embrace an appreciation for beauty, music, food, love. The words (also the title of a 1961 Federico Fellini movie), conjure up scenes of romantic summer days on the Amalfi coast, sipping wine as the sun sets over a beautiful seaside view.
Read More
But if you've been diagnosed with cancer, it's hard to think about anything other than your health, let alone a summer trip to Italy. Physically, there may be aches and pains. Emotionally, feelings range from fear to anger, shame to anxiety. And that's all to be expected. It's normal.
However, the way we mentally approach life each day plays a big role setting the tone and paving the way for our health. "A positive attitude is really important," Dr. Zuri Murrell, a colorectal surgeon at Cedars-Sinai Medical Center in Los Angeles, told Survivornet.com.
And isn't it easier to be positive in summer, when the days are longer, the sun brighter and the weather warmer?
As actor Stanley Tucci, a tongue cancer survivor with a special connection to Italy and Italian food, recently told People magazine, "Summer is such an important time for people to relax, but in America, we do not allow ourselves the time to really get away."
Getting away, even if it just means to get outdoors, whether for forest bathing or sun bathing, can help in recovering from difficult cancer treatments. In Between Two Harbors, a documentary available on SurvivorNetTV, cancer survivors are showcased in a recovery program in California's scenic Catalina Island, where surfing, paddling, kayaking and sailing play a key role. The inspiring stories show how much our surroundings affect our mindset.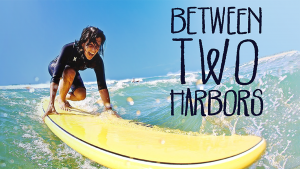 As Marshall Gold, a psychiatric mental health nurse practitioner at Johns Hopkins Medicine, told SurvivorNet, take a minute to ask yourself: "What do you continue to live for? What brings you joy to try to see a little silver lining in a horrible situation?"
Shannen Doherty has been a role model for many as she continues to live with stage 4 cancer. Last year, the Beverly Hills 90210 actress was seen celebrating National Margarita Day with her pal Sarah Michelle Gellar.
View this post on Instagram
HGTV star Tarek El Moussa, 40, known for his long-running show Flip or Flop, more recently posted about drinking margaritas with his second wife Heather Rae Young, 38. Tarek, a survivor of  thyroid and testicular cancers, wrote, "Always celebrate the little things in life. I try to remind myself daily that what you focus on expands… so instead of focusing on negativity or challenges, focus on finding solutions, living in the moment, and being grateful for everything you have." Tarek and Heather certainly have a lot to celebrate: they just announced their first child together is a baby boy!
View this post on Instagram
How you coach yourself as you work through your illness and your treatment is critical, Dr. Marianna Strongin told SurvivorNet.com. "Studies have found that positive self-talk significantly reduces anxiety, improves resilience and confidence and allows us to be connected with others."
Support systems are crucial. Traveling is a great way to meet new people and to deepen connections with family members and friends. According to an Exodus Travels survey cited by TravelPulse.com, 77% of Americans said that they have made lifelong friendships when traveling. Almost a quarter of respondents —  23% — indicated that they met their spouse on a trip, and 33% reported a "vacation romance," while 25% have made a best friend on the road.
Emotional health is so important, says Dr. Dana Chase, gynecologic oncologist at Arizona Oncology. "Definitely working on your emotional health, your physical well-being, your social environment…working on those things and making them better are important and can impact your survival."
And one of the best ways to care of your emotional health is by doing the things you love, the things that bring you joy.
"You should try to do more of those activities," Chase toldSurvivorNet.com. "Sometimes I will talk to a patient about making [a] list of the top ten things that bring them joy. And trying to do those 10 things…to make at least 50 percent of their experiences positive throughout the day."
The sweetness of life, la dolce vita, are words worth remembering — in any language.
Learn more about SurvivorNet's rigorous medical review process.