When it comes to cancer, SurvivorNet not only believes in the importance of speaking about one's physical health, but also one's mental health. That's why we've teamed up with Dr. Marianna Strongin, a licensed clinical psychologist, to respond to SurvivorNet reader questions, tackling topics that range from conquering treatment fears to self rediscovery and everything in between.  (You can submit your questions here.)
*****
Read More
I'm a 51 year old professional with stage 4 colon cancer. When I was first diagnosed it was Stage 2, and because they caught it early, surgery was the only treatment I needed. I thanked my lucky stars. Unfortunately, I wasn't lucky for long. The cancer came back — this time in my liver. I had liver resection surgery, and they told me because the cancer had returned I needed chemotherapy. I reluctantly agreed. I was so sick with my first chemo treatment that I had to be hospitalized for dehydration. I seriously can't bring myself to go back. I'm having major anxiety and fear of returning for another chemo session. I have 12 total, and I just don't think I can get through this. How can I get myself mentally prepped for chemo every time, because I know from a physical standpoint "I have to do it."
Dr. Strongin: The physical pain of chemotherapy is hard enough, but the emotional and psychological toll that it takes on an individual can leave a lasting mark. We are wired to avoid discomforts and pain so the very act of signing ourselves up for something that we already know is excruciating takes tremendous courage, strength and a compassionate cognitive approach.
Rather than focusing on the 12 treatments, I think it might be important to only pay attention to the current chemotherapy session.  Athletes often use this tactic when they are conquering some of their biggest challenges. Rather than focusing on the 26 miles ahead, professional runners learn to really focus on each mile- checking in with themselves both physically and emotionally and celebrating each mile conquered. In your case, it will be just as important to focus on each chemotherapy treatment independent of the others so that you can give each one strength and optimism. If you begin to think about how many you have left, it can create more anxiety, panic and a pessimistic outlook. Similar to athletes who work on their mindset for gameday,  we can also derive a similar psychological approach.
As you work your way through treatment the way in which you coach yourself is critical. Studies have found that positive self-talk significantly reduces anxiety, improves resilience and confidence and allows us to be connected with others. As you courageously make your way through this chemotherapy it is critical that your self talk is supportive, patient and overall kind. There will be moments of intense pain, discomfort and even setbacks. Your body may be saying "no more" but your mind has the power to kindly say, "you got this, one foot in front of the other, this pain is temporary."
During chemotherapy, many people experience a breakdown between the mind and body. I strongly suggest you create an internal dialogue that connects your body and mind even when it feels difficult. Guiding your body through pain with your mind will make you feel more in control, focused on the present and give you a greater understanding and appreciation for your strength.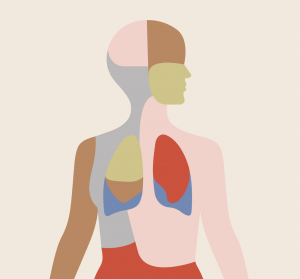 *****
I was a 22-year old professional tennis player. My entire life was to sleep, eat, train and repeat. I was homeschooled to have more time to train. I never even went to college as I made my first pro tour at 17-years old. I loved life despite feeling more exhausted from all of the traveling. I went to the doctor for my yearly physical and as one thing led to another, I was diagnosed with leukemia. After a year of intense treatment and anxiously waiting to start training again, my doctor told me that it's possible I won't be able to play at that level again. With my 24th birthday around the corner, this was supposed to be the peak of my career. Of course I worry about my health, but who am I without tennis?
Dr. Strongin: The mindset of an athlete is trained to be resilient, precise and focused. Often, we use sports psychology to help patients prepare for cancer treatment and use that approach as a way to guide and keep their momentum. Your dedication to your tennis career may be on hold for now, but it will surely guide and help you in your road to recovery.
I can understand how scary it might feel to know that your future self may not be able to compete at the same level, especially since you have dedicated most of your life to this sport, however, rather than trying to predict your game in the future, your present self needs all of your attention and comfort. Your power to rebuild yourself is very much tied to your mindset and if you jump too far ahead into the future you will lose balance and create more anxiety. Instead, I suggest you use all that training to focus on healing yourself now so that your future self can focus on rebuilding.
Tennis is embedded in your identity and will continue to be, but it may look and feel a bit different. Professional athletes often come to this at some point in their career either through age, setbacks, health or injuries. It is in these moments that they begin to expand on their identity. You can be a tennis player and many other things. Rather than focusing on what you might be losing, it might be helpful to also focus on what you are gaining. You are now a brave athlete who has gone through cancer treatment. As you begin to rebuild yourself, I urge you to leave room to grow into more than a tennis player. Sometimes our biggest setbacks are also opportunities to expand and experience something new.
Learn more about SurvivorNet's rigorous medical review process.
---