Linda Evangelista's Battle With Breast Cancer
Supermodel Linda Evangelista has opened up about how she was diagnosed with breast cancer twice within five years.
The 58-year-old Canadian fashion model, opened up about her health battles in the The Wall Street Journal Magazine's Fall Men's Style issue.
Cancer recurrence does happen to women who have beaten breast cancer, like Evangelista, but with help from your doctors and a positive mindset, the disease can be taken on again.
Evangelista chose to have a double mastectomy (removal of both her breasts) to remove the cancer.
"A double mastectomy typically takes about two hours for the cancer part of the operation, the removing of the tissue," Dr. Elisa Port, Chief of Breast Surgery at Mount Sinai Health System, previously told SurvivorNet. "The real length, the total length of the surgery, can often depend on what type of reconstruction [a patient] has."
Supermodel Linda Evangelista, a 58-year-old Canadian fashion model, has opened up about breast cancer recurrence and how she was diagnosed with the disease twice within five years.
The iconic fashionista, who previously dealt with unwanted changes to her body after a cosmetic procedure (to remove fat) called CoolSculpting didn't go well, has offered much insight into her recent health battles as she's been featured in The Wall Street Journal Magazine's Fall Men's Style issue.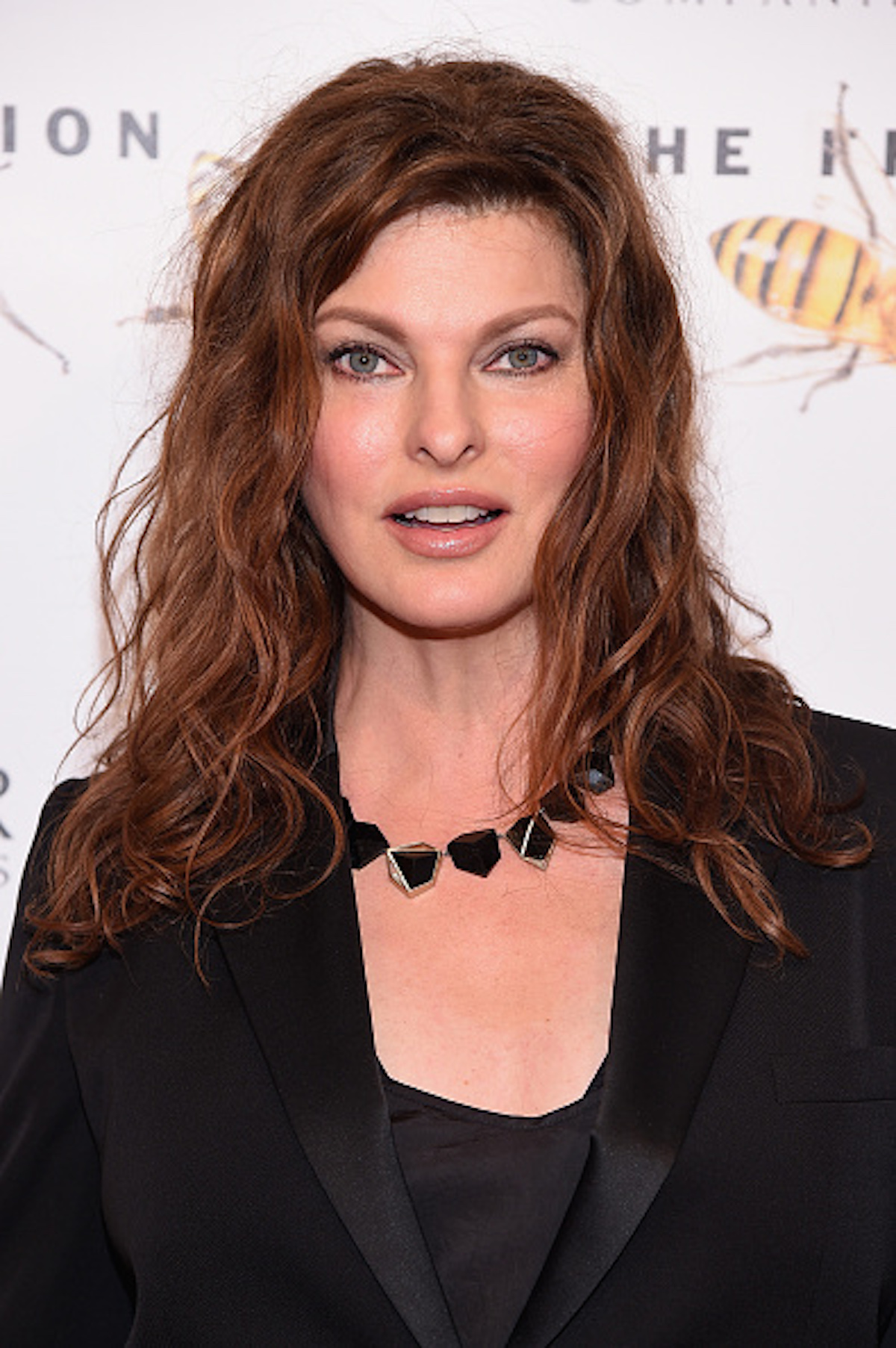 Read More
Evangelista appears to be thriving as photos from her photoshoot with close friend and photographer Steven Meisel, 69, are seen on the digital cover of the WSJ Magazine's Fall Men's Style issue, as well as throughout the informative article. It's uplifting to see the mom of one, who has been dubbed as "the fashion world's ultimate hair chameleon" by Vogue, has maintained confidence throughout her her health struggles and the treatment that followed. For the first time, Evangelista talked about how she was first diagnosed with breast cancer in December 2018.
"It was detected in my annual mammogram. The margins were not good, and due to other health factors, without hesitation, because I wanted to put everything behind me and not to have to deal with this, I opted for a bilateral mastectomy," she told the news outlet. "Thinking I was good and set for life. Breast cancer was not going to kill me."
The noted supermodel and fashion photographer have been together through it all. Amid Evangelista's health struggles, the close friends are examining their legacy with a new book. https://t.co/kDNGGw04HS

— The Wall Street Journal (@WSJ) September 5, 2023
However, in July 2022, the influential model discovered a lump on her breast and sought immediate medical advice.
She ultimately underwent an MRI scan and needed a biopsy done. It revealed she had cancer in her pectoral muscle.
Following the second diagnosis, Evangelista recounted telling her oncologist, "Dig a hole in my chest. I don't want it to look pretty. I want you to excavate. I want to see a hole in my chest when you're done. Do you understand me? I'm not dying from this.
"I just went into this mode that I know how to do, just do what you've got to do and get through it. And that's what I did."
Her oncologist recently disclosed that her prognosis is good, prompting Evangelista to ask "Why isn't it great?"—to which he replied, "Well, once it's come back, there's a chance."
Noting that she has a "horrible oncotype [a test that measure the risk of cancer returning] score" and insists on living life to the fullest, she said, "I know I have one foot in the grave, but I'm totally in celebration mode."
Referring to her breast cancer diagnoses, she said, "I've kept it quiet. Only a handful of people knew. And I'm just not one of those people who has to share everything.
"I thought to myself, I will share this one day but while I am going through it, absolutely not. I don't want the Daily Mail waiting outside my door like they do every time something happens. 'Linda seen for the first time since blah blah blah.'"
Evangelista's recent interview comes about two years after she went public about her horrifying experience with a cosmetic procedure called CoolSculpting. CoolSculpting is often described as an alternative to liposuction. Evangelista underwent seven CoolSculpting sessions between 2015 and 2016.
She later filed a lawsuit against the company for $50 million in damages, claiming that the procedure left her "permanently deformed" and "brutally disfigured" to the point where she is unable to work.
Linda Evangelista Shares First Photos of Her Body Since Fat-Freezing Nightmare: 'I'm Done Hiding' https://t.co/iOQdaGHvGG pic.twitter.com/d77OUJ7h1I

— People (@people) February 16, 2022
Over time, Evangelista started to notice swelling in the places where she got the treatment. Near her chin, thighs, and breasts, she developed bulges that hardened and turned numb. "I tried to fix it myself," Evangelista told People at the time. She even tried dieting and exercising, adding, "I got to where I wasn't eating at all. I thought I was losing my mind."
She was eventually diagnosed with with paradoxical adipose hyperplasia (PAH), an uncommon side effect experienced by under 1% of people who go through CoolSculpting.
Despite her struggles, she chose to share her story to help her move forward, hoping it would help other people going through similar experiences with their bodies.
SurvivorNetTV Presents: 'Resilient' Never Sell Yourself Short, You're Stronger Than You Know
"I hope I can shed myself of some of the shame and help other people who are in the same situation as me. That's my goal," she said. "I'm not going to hide anymore."
This year, Evangelista has been featured in a new book titled "Linda Evangelista Photographed by Steven Meisel," which focuses on duo's long-lasting friendship.
The project marks the photographers first monograph and Evangelista's first book.
All About Double Mastectomies
Lisa Evangelista chose to have both of her breasts removed to get rid of cancer, a procedure which is called a double mastectomy. The procedure may also be performed as a preventative measure for women who are at a very high risk of developing breast cancer.
The procedure typically only takes a few hours, but may take longer depending on what type of reconstruction a woman has opted to get. Some women decide to have their breasts reconstructed and have implants put in right after the mastectomy, while others don't have reconstruction at all.
What Happens During a Double Mastectomy?
"A double mastectomy typically takes about two hours for the cancer part of the operation, the removing of the tissue," Dr. Elisa Port, Chief of Breast Surgery at Mount Sinai Health System, previously told SurvivorNet.
"The real length, the total length of the surgery, can often depend on what type of reconstruction [a patient] has."
Dr. Port noted that these days, most women do opt to have some sort of reconstruction. The length of these surgeries can vary a great deal. When implants are used, the procedure can take two to three hours (so the total surgery time would be around five hours). There is also the option to take one's own tissue (usually from the belly area) and transfer it into the breast area but this is a much longer procedure.
"When you take tissue from another part of the body and transfer it to fill in the empty space where the breasts are, this is a very long operation," Dr. Port explained.
"It can take anywhere from six to 12 hours because it's really like having a tummy tuck and then transferring the tissue and grafting the tissue, connecting the vessels, so those tissues have blood flow to live in."
Implant Reconstruction After a Mastectomy: The Options
Tips On Reducing Chance of Breast Cancer Recurrence
As triumphant as breast cancer survivors can feel after learning they are cancer free, many worry about recurrence.
While the chance of recurrence varies based on the biology of the tumor, the stage it was when diagnosed and the treatment received, according to the Susan G. Komen organization, "Most people diagnosed with breast cancer will never have a recurrence."
Dr. Erica Mayer, a breast cancer medical oncologist at Dana Farber Cancer Institute, previously told SurvivorNet, "Once a patient has finished his or her active therapy for breast cancer, we will often refer to that time as breast cancer survivorship.
RELATED: To Reconstruct or Not: After Mastectomy, Two Women Take Very Different Paths
"This is a time when patients are still being actively monitored by their treatment team, not only to ensure that they remain healthy and cancer-free in the years ahead, but also making sure that they have recovered from any side effects of their initial treatment, and that they are pursuing healthy behaviors for example, getting regular exercise, eating a healthy diet, and keeping up with all their other routine medical care."
But recurrence does happen, so it's important to do everything you can to reduce your risk.
Here are some tips:
1. Follow Treatment Guidelines
"The best way to reduce your risk of recurrence with breast cancer is to follow treatment guidelines and complete the course of treatment that's given," says Dr. Port, who sat down with SurvivorNet and offered the following advice.
For example, she says many women have breast cancer that's hormonally driven, and there are treatments that they give, such as pills like Tamoxifen or aromatase inhibitors, to reduce the risk of these hormonally-driven cancers coming back. The issue is that the course of treatment may call for patients to take the pills for 5-10 years. While some have no side effects, others may experience a host of unpleasant side effects, even to the point where they're severely debilitated and have no quality of life on these medications.
"So the challenge is to work with every individual person to make sure we give her the best chance of getting through these treatments and enjoying the benefits of these treatments, which is the lowest rate of cancer coming back," Port says.
2. Maintain a Healthy Weight
Maintaining a healthy weight may also reduce the risk.
"We know that obesity or being overweight can increase the risk of cancer recurrence in breast cancer," Port says. "And so I say, maintaining a healthy body weight, whatever that is for the individual… You know, we talk a lot about healthy body weight, and there's a very big range of this, but there are certain numbers beyond which it does affect one's health. So we try to keep people within a range of a healthy body weight."
3. Limit Alcohol
Port says the other lifestyle factor that may increase one's risk of breast cancer recurrence is heavy alcohol intake.
"We say alcohol in moderation is probably fine, which is defined as three to five drinks a week," Port told SurvivorNet. "More than that can also potentially increase the risk of recurrence. So the big lifestyle factors are healthy body weight and moderate alcohol intake."
4. Eat a Healthy Diet
She says there's no one dietary element that you can eat or consume to give you an edge against breast cancer recurrence. It's not eating more broccoli or eating more blueberries or becoming a vegetarian. She says the fact that sugar feeds cancer is a big myth too. However, everything you eat does contribute to your overall health.
RELATED: Follow That Fire: Life After Cancer Will be Different, That Doesn't Have to be a Bad Thing
"These things are all really helpful in maintaining an overall healthy well-balanced diet and also to maintain healthy body weight. We know that diets that are heavy in sugar content are also usually unhealthy and can lead to weight issues. So it all really funnels back to maintaining a healthy body weight when it comes to lifestyle factors."
Dr. Ann Partridge On How Supplements Are Selling Cancer Patients and Survivors False Hope
What To Ask Your Doctor
What is my prescribed regimen to help avoid a breast cancer recurrence?
Are there steps I can take in my daily life to help avoid a breast cancer recurrence?
Do you have recommendations for someone who doesn't particularly enjoy exercise?
Can you recommend a dietician who can help me with healthy eating tips and maintaining a healthy weight?
Contributing: SurvivorNet Staff
Learn more about SurvivorNet's rigorous medical review process.
---