Helping to Prevent a Breast Cancer Recurrence
SurvivorNet talked with some of the best breast cancer specialists about what patients can do to prevent a recurrence of breast cancer.
The top tip is to "follow treatment guidelines and complete the course of treatment" that's prescribed for you. This means adhering to taking medications prescribed to help avoid recurrence.
Other tips include maintaining a healthy diet & weight, exercising and limiting alcohol intake.
You beat
breast cancer
. You battled the beast and are healthy, strong and ready to tackle the rest of your life. But what about breast cancer recurrence?
As triumphant as breast cancer survivors can feel after learning they are cancer free, many worry about recurrence. What are their chances of the cancer returning and what, if anything, can they do to help prevent it from doing so?
Read More
While the chance of recurrence varies based on the biology of the tumor, the stage it was when diagnosed and the treatment received, according to the
Susan G. Komen
organization, "Most people diagnosed with breast cancer will never have a recurrence."  That's the good news. "Once a patient has finished his or her active therapy for breast cancer, we will often refer to that time as breast cancer survivorship," says
Dr. Erica Mayer
, a breast cancer medical oncologist at Dana Farber Cancer Institute. "This is a time when patients are still being actively monitored by their treatment team, not only to ensure that they remain healthy and cancer-free in the years ahead, but also making sure that they have recovered from any side effects of their initial treatment, and that they are pursuing healthy behaviors — for example, getting regular exercise, eating a healthy diet, and keeping up with all their other routine medical care."
RELATED: How to Cope When Recurrence Rattles Your Faith At The Age of 25—Two-Time Colon Cancer Survivor
But recurrence does happen, so it's important to do everything you can to reduce your risk. Here are some tips:
1. Follow Treatment Guidelines
"The best way to reduce your risk of recurrence with breast cancer is to follow treatment guidelines and complete the course of treatment that's given," says Dr. Elisa Port, a surgical oncologist specializing in breast cancer at Mount Sinai, recently sat down with SurvivorNet and offered the following advice.
For example, she says many women have breast cancer that's hormonally driven, and there are treatments that they give, such as pills like Tamoxifen or aromatase inhibitors, to reduce the risk of these hormonally-driven cancers coming back. The issue is that the course of treatment may call for patients to take the pills for 5-10 years. While some have no side effects, others may experience a host of unpleasant side effects, even to the point where they're severely debilitated and have no quality of life on these medications.
"So the challenge is to work with every individual person to make sure we give her the best chance of getting through these treatments and enjoying the benefits of these treatments, which is the lowest rate of cancer coming back," Port says.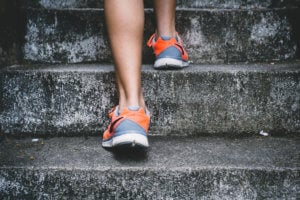 2. Maintain a Healthy Weight
Maintaining a healthy weight may also reduce the risk.
"We know that, uh, obesity or being overweight can increase the risk of cancer recurrence in breast cancer," Port says.  "And so I say, maintaining a healthy body weight, whatever that is for the individual… You know, we talk a lot about healthy body weight, and there's a very big range of this, but there are certain numbers beyond which  it does affect one's health. So we try to keep people within a range of a healthy body weight."
3. Limit Alcohol
Port says the other lifestyle factor that may increase one's risk of breast cancer recurrence is heavy alcohol intake.
"We say alcohol in moderation is probably fine, which is defined as three to five drinks a week," Port told SurvivorNet. "More than that can also potentially increase the risk of recurrence. So the big lifestyle factors are healthy body weight and moderate alcohol intake."
4. Eat a Healthy Diet
She says there's no one dietary element that you can eat or consume to give you an edge against breast cancer recurrence. It's not eating more broccoli or eating more blueberries or becoming a vegetarian. She says the fact that sugar feeds cancer is a big myth too. However, everything you eat does contribute to your overall health.
"These things are all really helpful in maintaining an overall healthy well-balanced diet and also to maintain healthy body weight. We know that diets that are heavy in sugar content are also usually unhealthy and can lead to weight issues. So it all really funnels back to maintaining a healthy body weight when it comes to lifestyle factors."
It's Very Important to Connect: A Survivor's Advice For Getting Through Cancer
5. Exercise
This goes hand-in-hand with maintaining a healthy weight.
"We know exercise helps people lose weight, but there's evolving data to suggest that it decreases significantly the risk of breast cancer," explains Dr. Elizabeth Comen, a medical oncologist at Memorial Sloan Kettering Cancer Center and medical advisor to SurvivorNet. "Why might that be?  We know that when women are overweight and they're obese, they can have a state of inflammation in their bodies.  Some of those fat cells can make estrogen.  And we know that being exposed to too much estrogen over a woman's lifetime can significantly increase her risk of breast cancer."
Exercise doesn't have to mean you join a gym and run 20 miles a week.
"Exercise doesn't have to mean all of a sudden you're running a triathlon or you're doing something that you've never done before," Dr. Comen says. "But sometimes for cancer patients, being diagnosed with this is a way to jumpstart their lives and take better care of themselves.
RELATED: 'She's Just So Strong:' Netflix 'Get Organized' Co-Star Joanna Teplin Gives Update on Clea Shearer's Post Double Mastectomy & Breast Cancer Diagnosis
While these tips may help reduce your risk, experts say it's important to understand that if a recurrence happens, it's not your fault, and there's nothing you can do to guarantee that cancer won't come back. The best you can do is work with your health care providers to come up with a plan that best reduces your risk for recurrence while allowing you to embrace and enjoy your life in the present.
What To Ask Your Doctor
What is my prescribed regimen to help avoid a breast cancer recurrence?
Are there steps I can take in my daily life to help avoid a breast cancer recurrence?
Do you have recommendations for someone who doesn't particularly enjoy exercise?
Can you recommend a dietician who can help me with healthy eating tips and maintaining a healthy weight?
Dr. Ann Partridge explains how supplements are selling cancer patients and survivors false hope
Learn more about SurvivorNet's rigorous medical review process.