Understanding Breast Cancer
'Good Morning America' host Robin Roberts, 61, is continually serving inspiration and positive words of encouragement, and has made it a regular routine to deliver a 'morning message and prayer' live from her 'GMA' dressing room. Good Morning America

host Robin Roberts, 61, is continually serving inspiration and positive words of encouragement

The New York-based TV personality, 61, who is a two-time cancer survivor, has made it a regular routine to deliver a "morning message and prayer" with her "glam fam" in tow, live from her GMA dressing room.

Read More

One of her latest Instagram videos has to do with feeling as if you are enough.

"So often, we think, 'If I had more talents, a better personality, and if I knew the right people, I could do something great," Roberts began, "but as long as you feel as though you are lacking, you don't have enough, and you've been shortchanged … you're gonna make excuses to be less than your best."
 

View this post on Instagram

 
In other words, we all have the power within us to do great things. Let's not compare ourselves to others and give into the "why me" that tends to creep in if we believe we don't have enough or that have been dealt a bad hand. "People do not determine your destiny," Roberts reminds her followers. "People can't stop God's plan for your life."
"Don't let what somebody says about you make you feel 'less than,'" she added.
Roberts concluded her latest life lesson by pressing her "Sweet Amber" noise machine that responds in her longtime partner's voice with a "Heyyyyy." Amber Laign, 47, is currently battling breast cancer, but as many us know, whether you're fighting cancer or lending your love as a caregiver, life must go on.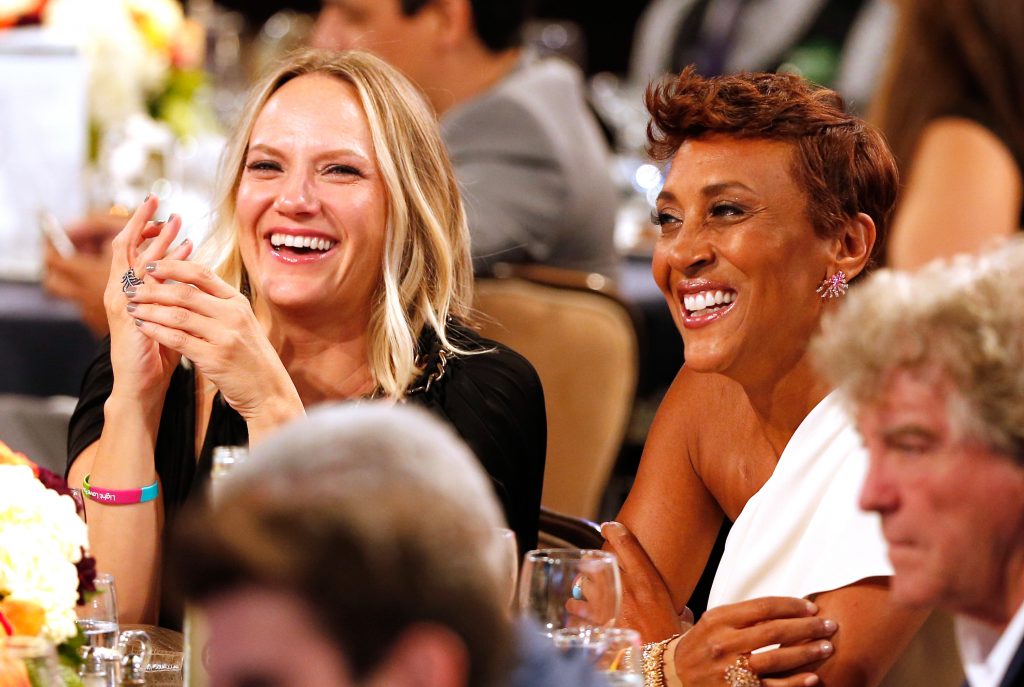 Just like we cannot let other people stop us, we can't let this disease stop us doing what we love to do. In Roberts' case, it's inspiring others and getting in hair and makeup to continue doing her job every day.
We can't cave in to the depression that cancer unfortunately tends to bring.
Feelings of 'Why Me' After a Cancer Diagnosis
Even the strongest people will have a few moments of questioning after a cancer diagnosis. "Why me?" is indeed a really common one.
The thing to remember at times like these is that cancer is not your fault, and it's not some kind of karmic punishment from the universe. Sometimes, these things just happen.
'Why Me?' Dealing With the Inevitable Questions That Come After a Cancer Diagnosis
Jovannie Lorenzo, who was diagnosed with colon cancer at age 32, says she spent a lot of time wondering, why me? What did I do to deserve this? Her diagnosis certainly shook her faith, but she says coming back to that faith is what got her through her cancer journey.
"You're not human if you don't question at some point in your life, why me?" Jovannie says. "Why would this happen to me, why God? What did I do? But trust in what's in your heart. Trust in what you feel and trust in what you know. And don't lose that hope, don't lose that love that you have for you God."
Robin's Cancer Battles
Robin Roberts has been open in saying that her faith got her through both of her cancer battles, and now she is continuing to lean on her faith as she helps Amber through her own journey, after getting diagnosed late last year. Amber is a bit more private in her life, but Roberts, as a public figure, has felt compelled to continually raise awareness for what she has been through.
Roberts was diagnosed with breast cancer in 2007 after discovering a lump. Ironically, she made this discovery while prepping for a news segment on performing self-checks, which shows just how important they are to perform at home.
Related: Getting to Know Your Breasts with Self-Exams
"At first I thought, 'This can't be. I am a young, healthy woman,'" Roberts said, which tends to echo through many women's heads following a diagnosis.
The journalist's early detection was a critical factor in her survival. She treated her breast cancer with surgery, one of several treatment options for this disease, which can also be treated with radiation, chemotherapy, hormone therapy and immunotherapy.
In addition to battling breast cancer, Roberts had  MDS, which stands for myelodysplastic syndrome—a rare type of blood cancer where abnormal cells form in the body's bone marrow.  Roberts had to undergo a bone marrow transplant.
Related: What's the Standard Treatment for MDS (Myelodysplastic Syndrome)?
Chemotherapy for breast cancer could have likely contributed to Roberts' secondary cancer. Although it is rare, it is one of the risks of treatment. MDS caused by cancer treatment is called "secondary MDS" or "treatment-related MDS."
Although risks and complications can happen with treatment, many patients feel that is is highly better than the alternative—and that the benefits outweigh potential side effect and future outcomes. So, while treatment may feel like your ultimate foe while going through it, just keep reminding yourself that there is light at the end of the tunnel, it is most likely only a temporary situation, and never give up hope.
Learn more about SurvivorNet's rigorous medical review process.