"Survivorship for a young adult is harder than actually going through cancer," says Ethan Zohn, who millions of Americans know as the winner of "Survivor: Africa," one of the hit reality-TV show's earlier seasons. Now, the two-time cancer survivor, who spoke to SurvivorNet in an open and inspiring interview from his home in New Hampshire, is back, in a big way, after dealing with years of anxiety and stress related to his diagnosis.
A medical cannabis advocate and an ambassador for Gabrielle's Angel Foundation for Cancer Research, Zohn is now ready to play hard: Returning to "Survivor," the CBS competitive reality series, as a cast member of the much-heralded, all-star Season 40, airing in February 2020, he'll also be featured in yet another reality show, "Kings of Kush," in the summer. The show is about growing hemp for CBD on a Vermont farm in which he's an investor.
Read More
Speaking on the phone from his home, where 18 inches of snow blanketed the fields outside, Zohn tells SurvivorNet he's grateful to be alive after facing two bouts of a rare form of cancer called
CD20-positive Hodgkin's lymphoma
. Life, he says, "is wonderful." He and his wife, Lisa Heywood, "heat our house with wood … we grow our vegetables. My wife is awesome."
But it took a lot of work, he says, to get here. He speaks of the unique challenges of being a cancer survivor when you're young and single. "It isn't easy," he says. "Just dealing with the fear the cancer coming back [is like] living with a dump truck full of uncertainty."
Ethan's Cancer Journey
Zohn was only 27 when "Survivor: Africa" aired in 2002. At the time, Zohn was a professional soccer player (playing for two different American teams and one in Zimbabwe) looking for additional exposure. He got what he was after, becoming wider known not just for his talent, but his altruism: He is the co-founder of Grassroot Soccer, which seeks to educate children in developing countries about HIV and AIDS through the sport, and which he helped start with a portion of his $1 million winner's prize from winning "Survivor."
Some eight years later, Zohn, then 35, was training for the New York City Marathon when he experienced, he says, "debilitatingly itchy skin." He went to his doctor, and soon learned he had an early symptom of Hodgkin's lymphoma.
Zohn went through chemotherapy, radiation and two stem cell transplants. Ultimately, he says, it was an experimental drug that saved his life. But the anxiety of not knowing if and when his cancer will return soon became an ongoing challenge. Anxiety, depression, and loneliness became constants.
View this post on Instagram
"The survivorship for a young adult going through cancer is harder than actually going through cancer," he says. During cancer, "when a doctor tells you to do something or you'll die, you do it — it's easy. There's no choice. But once you're home, in remission or whatever, living on your own with your whole life ahead of you … destructive thoughts get into your head. … It ended up being kind of paralyzing."
View this post on Instagram
"If you're a pediatric patient, you know, your parents are taking care of you [or] if you're an older adult, you're married, got health insurance, a secure job, a partner…there are people taking care of you," he continues. "But when you're a young adult, all of a sudden, you have gone through cancer twice, you're 35 years old, and you have your whole life to live. I didn't have a job. I didn't really have good health insurance. At the time, I was single, I was infertile, I didn't have a lot of money…I could die in five years."
View this post on Instagram
Zohn says even more challenging was how tough it was to date. "Like, I'm not the guy you want to take home to your mom," he says of his 35-year-old self. "'Hey, meet this guy — he looks like shit, he feels like shit, he has no hair.'"
Turning Things Around: Mentorship and Cannabis
Zohn pulled through, in part thanks to a mentor from Imerman Angels, which partners individuals seeking cancer support with a mentor.
"I had a mentor who would help me through my deepest fears at all hours of the night," Zohn says. "That was a really great service."
View this post on Instagram

And Zohn discovered medical cannabis — which he says had, and has, a profound effect on his wellbeing.
During his cancer treatment, Zohn says, he was taking various combinations of five to six prescription pills to fall asleep at night. "Ativan, Zofran, Ambien, Percocet–just to go to bed," he shares. "And then I would have to pop like an Adderall in the morning to even have enough energy to get out of bed to go to the hospital to get checkups."
It was a vicious cycle, he says, especially for a professional athlete who has always preferred to exercise control over his body.
But then he tried cannabis to help with his nausea during cancer treatment.
RELATED: More Cancer Patients Are Using Medical Marijuana for Pain: How Can You Benefit During Your Treatment?
"I'd experienced with cannabis recreationally in college several times, of course, but I was an athlete so I never really got into it," Zohn says.
Ethan Zohn is now working with CannabisMD, using his story to educate people about the benefits of cannabis during and after a cancer journey. 
At the time, though, Zohn was living in New York City, and medical marijuana was not yet legal.
RELATED: Marijuana For Cancer Treatment– Why It Could Help, But Not Cure
"So I was like literally going to a drug dealer in New York City in a mask and gloves and hopping into the back of his car…it was horrible," Zohn recalls. "So like, pile on doing something that's illegal activity in New York City when you're also going through sickness on top of everything … I'm a big advocate for the legalization for recreation, obviously."
RELATED: Who Has Access to Medical Marijuana in the U.S.?
Zohn emphasizes that he did clear his use with his doctors. He also either used CBD or cannabis edibles, or took it in the form of a tincture, which is a liquid extract taken orally.
"I just didn't want to inhale it," Zohn, who is still a runner and athlete, tells SurvivorNet.
View this post on Instagram

Ultimately, he found the right dosage that worked for him: A daily dose of CBD (cannabidiol), which is non-hallucinogenic.
"I take this as I would a multivitamin," Zohn shares. Then, if he's feeling especially stressed, say, he takes a tincture that has a 1:1 ratio of CBD to THC.
Dr. Junella Chin of MedLeafRx spoke with SurvivorNet about How medical marijuana Can Help Alleviate Pain
"This first helped while I was going through cancer," Zohn shares. "I could eat, I could go to sleep.  … And then post-cancer, it really helps me with my anxiety. The cancer stuff is always in the back of mind, and the cannabis kind of helped free me from that so I could start feeling like myself and living without so many fears."
The Best Part of All
Zohn met his future wife, Lisa, about a week before he went in for his second stem cell transplant. They became friends. Once Zohn recovered from treatment, he shares, "we started a long courting relationship."
At the beginning, he says, "there were moments when I tried to push her away because I didn't want to bring her into my crazy life and all the sh*t I was going through."
Ultimately, though, Zohn recalls something Heywood told him that really resonated. "She said, 'Cancer has taken enough from you, don't let it take this, too.'"
That was when he knew, he says, "that she was a keeper."
The two were married in 2015.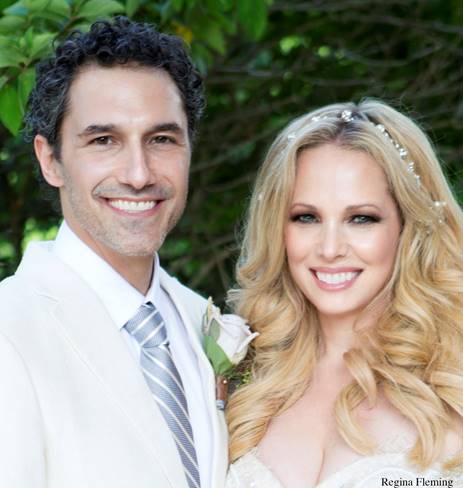 Advocacy Work 
Zohn says there were few resources to help him with the challenges of dating and having sex after cancer, so he and Heywood decided to collaborate with Dr. Sage Bolte, an oncology counselor specializing in sexual health and recovery, on a series of talks to help others address the challenges. The talks were called, "The Ultimate Threesome: Cancer, Your Partner, and You." The couple are still advocates in the area.
Zohn is especially passionate about his work with Gabrielle's Angel Foundation for Cancer Research, which helps to fund research in blood cancers and lymphoma.
"What a miracle looks like to a cancer patient are successful research and new drugs," Zohn says. "Science wasn't able to save my dad [who died of cancer] in 1989, but it was able to save me. We need this critical work, and we need to continually raise money to have this happen."
Learn more about SurvivorNet's rigorous medical review process.
---