During the season of Thanksgiving, it's the ideal time to reflect on all the blessings in life in their various forms, from big to small. When facing a health issue like cancer, it can sometimes feel difficult to focus on the good and find reasons to be grateful.
Related: Stay Positive, It Matters
Read More
However, keeping an eye on the good and
being grateful can be beneficial
in your cancer journey. And in some instances, it may positively impact your prognosis. Here are five things we're grateful for this year.
1. Caring Oncologists
Oncologists are doctors who treat cancer. Having a supportive, attentive, and caring oncologist is a key component of the cancer journey.
We're grateful for the dedicated oncologists throughout the world who are driven to improve the lives of others through cancer care.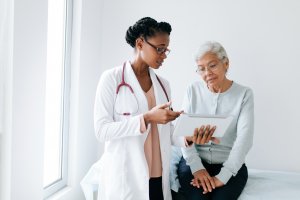 2. Oncological Social Workers
An oncological social worker is a social worker who helps you navigate the ins and outs of your cancer journey – financial, emotional, et cetera. For many people diagnosed with cancer, this type of support is invaluable.
Sarah Stapleton, a licensed clinical social worker at Montefiore Medical Center, says in an earlier interview, "I think it's super important to see a social worker. I think there's a networking that they can assist you with. And they really have the strongest knowledge of the resources available to get you through the process."
She continues, "I think social work– one of the primary roles is advocacy. It's meeting the patient and understanding the patient's needs and understanding what it is you need in this very moment, whether that be financial resources, whether it be related to your insurance, transportation, or ultimately, the emotional process of getting through cancer treatment."
The Value of Using a Social Worker During Treatment
3. Therapists & Psychologists
For many people a cancer diagnosis can lead to feelings of grief, anxiety and depression. It's important to treat your mental health issues through your cancer journey, as they can impact cancer treatments.
"Depression and stress make it harder to treat cancer, make it harder to tolerate the treatments."
In an earlier interview, Dr. Scott Irwin of Cedars-Sinai explains the way clinical depression may affect someone battling cancer. He says, "Depression is a really interesting topic, because a lot of people assume that, oh, they have cancer. They must be depressed. That's actually not true. 85% of patients do not get what would be considered a clinical depression. 15% do."
"For prescribing medications for depression in the context of cancer, I often try to choose medications with the lowest side effect profile," says Dr. Irwin. "If patients are getting hormonal therapy, there's particular antidepressants that we can't use, because they may lower the effectiveness of that hormonal therapy. And so we choose antidepressants that don't impact the cancer care. Depression and stress make it harder to treat cancer, make it harder to tolerate the treatments."
Treating Depression After a Cancer Diagnosis
4. Covid-19 Vaccines
The Covid-19 pandemic has deeply impacted cancer screenings and treatment. Thankfully, the Covid-19 vaccine is now widely available, and it's imperative for most cancer patients to get the vaccine (and booster) when they are able.
Related: The COVID Vaccine's Effectiveness for Cancer Patients: 3 Key Takeaways from the European Society for Medical Oncology Conference
Some cancer treatments, such as chemotherapy, can blunt the immune system, making a person more susceptible to contracting the virus. The vaccine is an effective way to prevent the most serious and most deadly effects of Covid-19 on all people, especially those who are at-risk, like cancer patients. People with blood cancer should speak to their doctor before getting the vaccine.
5 COVID-19 Vaccine Questions Answered by Expert Physician
5. Caretakers & Support Systems
Caretakers, and support networks through cancer – which can include friends, partners, spouses, religious communities – are vital through cancer. Having a sense of support while going through a health battle makes the journey easier to bear, and less lonely.
Related: For Ovarian Cancer Patients, Support Groups Can Offer Comfort and Encouragement
Beverly Reeves recalls in an earlier interview how important her community was to her after her ovarian cancer diagnosis. Her advice for someone newly diagnosed with cancer is to reach out for support. She tells us, "If I had one piece of advice for someone who had just been diagnosed with ovarian cancer, it would be to get a strong support group together. Get your close friends. If you're connected to a faith community, get your faith community."
"Get your family. Let them know what's going on and let them help you," says Reeves.
'Faith, Family, and Friends' Helped Beverly Reeves Get Through Ovarian Cancer Treatment
Learn more about SurvivorNet's rigorous medical review process.