Skin Cancer Survivor Hugh Jackman's Manhattan Apartment For Sale
X-Men star Hugh Jackman has put his Manhattan apartment up for sale for $39 million.
The stunning apartment comes with five bedrooms, five bathrooms, office space, gourmet kitchen and a breathtaking view of the Hudson River.
Jackman has battled against skin cancer six times and has been a public support of taking preventative steps such as wearing sunscreen.
Skin cancer survivor Hugh Jackman has put his Manhattan apartment up for sale and it could be yours for the low price of $38.9 million.
Read More
The 53-year-old actor has lived in the West Village unit for over a decade, according to
PEOPLE magazine
. The triplex apartment takes up the eight, ninth and tenth floors, with a total of over 11,000 square feet of living space in a prime Manhattan location.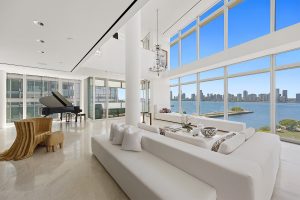 The listing says the apartment has five bedrooms five bathrooms and two half bathrooms and includes a breathtaking view of the Hudson River, complete with terrace.
Also included are a library, recreations room, home office area, ethanol fireplace, gourmet kitchen, studio/exercise area, spa bath and sauna.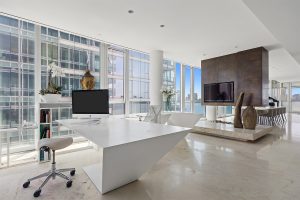 According to the New York Post, Jackman is set to make a tidy profit off the sale, having bought the apartment for $21 million in 2008.
""The double-height great room has a true 'wow factor' and provides sunset views of the Hudson River and New York Harbor that are stunning and ever-changing," Deborah Grubman of high-end real estate company The Corcoran Group, which is listing the apartment, told PEOPLE.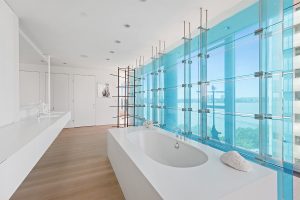 The X-Men franchise star recently overcame a bout of COVID-19. He was diagnosed with skin cancer in 2013 and has had six different bouts with the disease. He has spoken publicly about the importance of protecting your skin, including by using sunscreen.
In a 2015 interview with ABC News, Jackman discussed how he had spent much of his childhood not wearing sunscreen while playing in the sun in his native Australia.
Jackman had been diagnosed with basal cell carcinoma, a relatively mild form of cancer and a common one. According to the American Academy of Dermatology Association, nonmelanoma skin cancers, the family that basal cell carcinoma belongs to, affects 3 million Americans per year. The prognosis for those diagnosed with the disease is generally very positive, if it's caught early.
Skin cancer is the most common form of cancer in America, and an estimated 20 per cent of Americans will be diagnosed with some form of it during their lifetime. Exposure to UV rays, including through sunlight and indoor tanning, is one of the leading causes.
Learn more about SurvivorNet's rigorous medical review process.
---