The cost of treating cancer in the United States is rising significantly.
National cancer care costs soared to $208.9 billion in 2020, according to a report released this week by the National Cancer Institute, while prices for new drugs approved for use in the treatment of cancer more than doubled over the past decade, according to an analysis published Thursday by JAMA Oncology.
Read More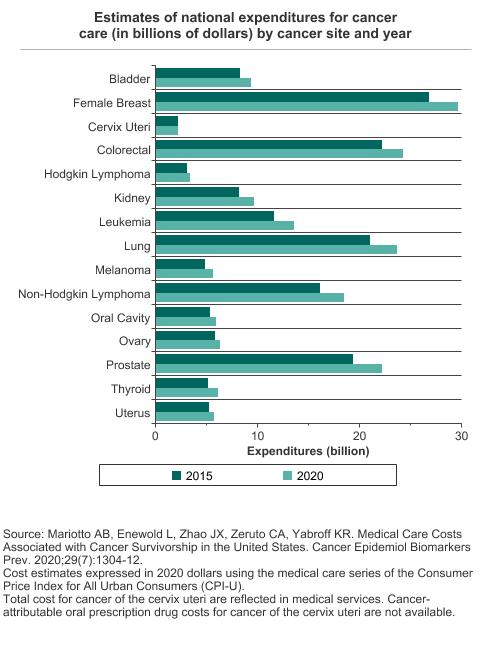 Cancer care costs grew 10% more than the $190.2 billion the disease cost in 2015,  an increase that was attributed to aging and population growth. That $208.9 billion was then broken down into two categories: medical care ($188.1 billion) and prescription drugs ($20.9 billion).
In terms of medical care, national medical services costs were highest for female breast, colorectal, lung, and prostate cancers. National oral prescription drug costs were remarkably similar, with female breast cancer again topping the list, but followed by leukemia, lung, and prostate cancers.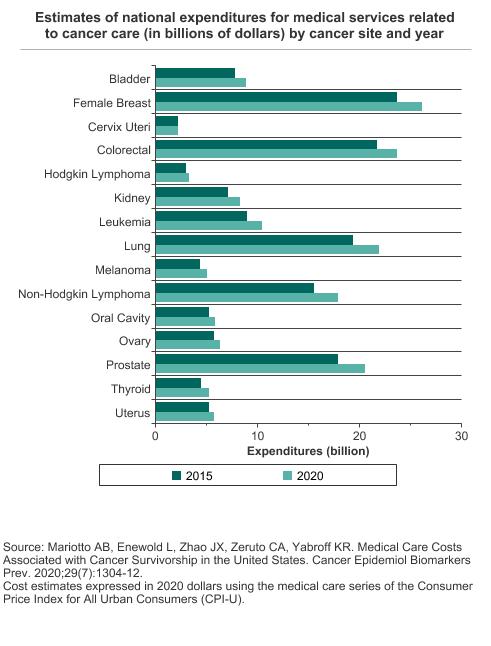 A majority of medical care money was spent on these 10 cancers:
Female breast ($29.8 billion)
Colorectal ($24.3 billion)
Lung ($23.8 billion)
Prostate ($22.3)
Non-Hodgkin lymphoma ($18.6 billion)
Leukemia ($13.6 billion)
Kidney ($9.7 billion)
Bladder ($9.4 billion)
Ovary ($6.4 billion)
Thyroid ($6.1 billion)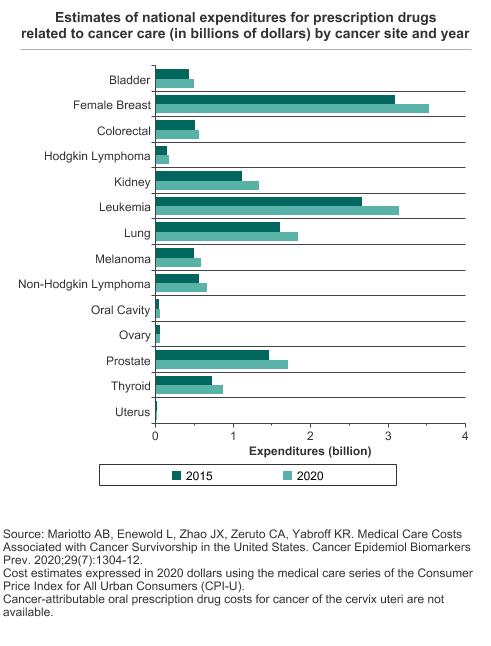 A majority of the money spent on prescription drugs broke down in a similar manner, though they only represented about 10% of total costs. Those cancers were:
Female breast ($3.5 billion)
Leukemia ($3.2 billion)
Lung ($1.8 billion)
Prostate ($1.7 billion)
Kidney ($1.3 billion)
Thyroid ($0.9 billion)
Non-Hodgkin lymphoma ($0.7 billion)
Melanoma ($0.6 billion)
Colorectal ($0.6 billion)
Bladder ($0.5 billion)
These totals were largely determined by using Medicare data.
According to the Jama Oncology study on drug prices, from 2009-10 to 2018-19, the lowest average monthly costs for new FDA-approved cancer drugs rose to nearly $15,000 from about $6,000. This 150% increase in prices was much higher than other countries included in the analysis. In England, Germany and Switzerland costs for new drugs rose by about 74%. Between 2009 and 2019, 48 of 65 (74%) cancer drugs had price increases in the US that were greater than inflation.
Meanwhile, the annual average national cost for cancer patients were highest in the last year of life or cancer phase. Those costs varied greatly from an annual average of $8,500 for the initial care of a patient with melanoma, to the just under $250,000 in expenses in the final year of treatment for a patient with acute myeloid leukemia.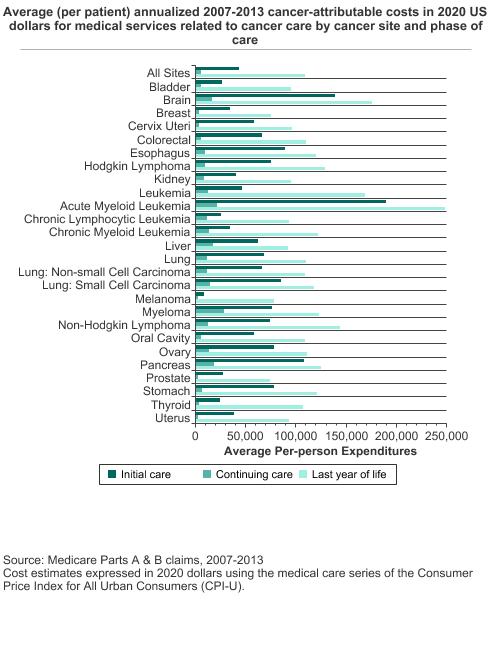 The highest average costs were all in the final year or phase of cancer and for patients with:
Acute myeloid leukemia ($249,124.7)
Brain ($176,354.9)
Leukemia ($169,588.0)
Non-Hodgkin lymphoma ($144,706.8)
Hodgkin lymphoma ($128,986.8)
Pancreas ($125,030.8)
Myeloma ($123,365.1)
Chronic myeloid leukemia ($122,428.2)
Stomach ($122,011.8)
Esophagus ($120,033.8)
There was little in the way of prediction for future costs, but it was noted that greater life expectancy would drive up the national burden. There is a chance, however, that this number could balance out with the U.S. birth rate, which has been in decline for the past decade, according to the Brookings Institute.
It is also likely that more money will be spent on prescription drugs in the coming years. The success of mRNA technology in COVID vaccines has resulted in a number of drug companies developing and testing medications that use this same technology for cancer care. There have also been close to 100 new cancer drugs approved by the U.S. Food & Drug Administration in the past year alone.
Other findings in the National Cancer Institute Cancer Trends Progress Report include: a decrease in tobacco use, an increase in Americans meeting the physical activity guidelines, and the overall decrease in mortality rates led by female breast, lung, and colon cancers.
At the same time, Americans are failing to meet any of the recommended dietary guidelines, e-Cigarette use is increasing in teens and adults, and mortality rates are rising in patients with thyroid and uterine cancers as well as melanoma.
"As the report details, the nation is making important progress toward major cancer-related targets but losing some ground in others," says Dr Robert Croyle, director of the Division of Cancer Control and Population Sciences at the National Cancer Institute. "Mortality trends are the best indicators of progress against cancer. The rate of death from all cancers combined continues to decline among both men and women, among all major racial and ethnic groups, and for the most common types of cancer, including colon, lung, female breast, and prostate cancers."
He then notes: "Nevertheless, mortality rates are increasing for some cancers, and important differences among subpopulations reflect both chronic and, for some groups, substantial health disparities."
Learn more about SurvivorNet's rigorous medical review process.
---