Andrew Jones's cancer, now in remission, has not slowed him down. In fact, the Texas Longhorns guard has sped things up.
After missing the better part of two seasons to battle leukemia, Jones had a triumphant return to the court in the Longhorns' season opener on Tuesday night, scoring a career-best 20 points in just 29 minutes on the court. Texas, with that big assist from Jones, handily beat Northern Colorado 69-45.
Read More
The basketball team — and all of the University of Texas at Austin — were glad to have him back, as evidenced by the flood of congratulatory posts on the Longhorns' official Twitter account.
You love to see it ???? @DrewdotCash with another 3 ????

UT: 50 – 23 :UNC#AllForTexas | #HookEm pic.twitter.com/gS1LnstBJc

— Texas Basketball (@TexasMBB) November 6, 2019
Diagnosed In The Prime Of His Career
Jones's diagnosis came in the prime of his college basketball career. After a wrist injury sidelined him for a few games and he went back to practice, Jones told local basketball site Hook 'Em, he found himself short of breath and feeling sluggish. He tried to shrug off the symptoms, but when his energy flagged even further and he started coughing up blood, he knew he had to see a doctor.
In January 2018, the then-20 year old was diagnosed with acute lymphoblastic leukemia.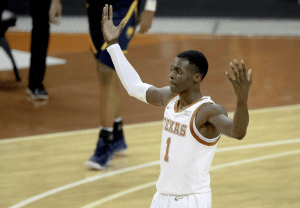 RELATED: VIRAL PHOTO OF 4-YEAR-OLD BOY BATTLING LEUKEMIA TOUCHES THE HEARTS OF MILLIONS
"I was sad," Jones told Hook 'Em. "I just busted out in tears … I didn't know if I was going to live."
What Is Acute Lymphoblastic Leukemia?
Acute lymphoblastic leukemia (ALL) is an extremely rare cancer that starts in the bone marrow. It accounts for less than half of 1% of all cancers in the U.S. Typically, children under the age of 5 have a higher risk of developing the disease. The risk slowly declines up through the mid-20s, and then begins to rise again after age 50, according to the American Cancer Society. The disease is more common in children than in adults.
MD Anderson Cancer Center, where Jones was treated, describes the symptoms for the disease as "flu-like." And Jones said he was indeed experiencing dizziness, headaches, a fast heartbeat, and having trouble breathing.
For treatment, Jones underwent 12 rounds of 28-day cycles of chemotherapy. Earlier this year, he was told that his treatment was working — his cancer had gone into remission. His last day of IV chemotherapy was this past August, though he continues taking a drug called Ponatinib in pill form, which he'll take for at least the next five years in hopes of keeping his cancer in remission, according to a profile of the player published by MD Anderson.
A Triumphant Return
Jones, who appeared in excellent health on Tuesday night, has since regained some of the weight he lost during treatment (some common chemotherapy side effects are loss of appetite and nausea), and it's clear, after seeing him play 29 minutes on the court, that he has lost none of his athletic ability.
Jones told Hook 'Em that after his experience with cancer, he wants to be a better leader and an example for the younger players on the Longhorns to look up to. He has quite a story to tell — and he wants to use it to inspire others.
Learn more about SurvivorNet's rigorous medical review process.