"Cecily, how she adored you." That was one of the beautiful tributes to Beth Chapman as her family, friends, and fans gathered to honor the reality TV star at a memorial service in Aurora, Colorado.
"I never imagined losing my mom at age 20," said Beth's daughter Bonnie as she bravely addressed the crowd at the service. "No one will ever be a bounty hunter in heels like she was. No one will ever be as great a mother. She taught us to stick up for ourselves."
Read More
RELATED: Beth Chapman's Tearful Daughter Bonnie Says "My Mom Will Never See My Wedding Dress!" in Stirring Eulogy
"Mrs. Dog didn't wait for events, she made them," said the manger of the Chapman's Hawaii bounty hunting office. "She was, and remains, 'Dog's Most Wanted.'"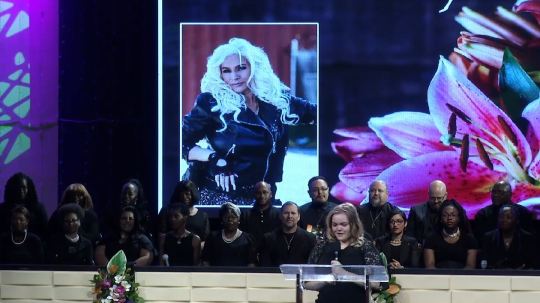 As Duane Dog Chapman sat by the side of the stage, the memorial started with the gorgeous music of Beth's favorite gospel singer.
"You provide her unconditional love, you are her eternal guardian, you never wavered," Dog was told, as he wiped the tears from his eyes.
RELATED: "My Heart is So Heavy!" Beth Chapman's Daughter Cecily "Cries The Whole Time" As as She Honors Her Mother's Amazing Nails
Beth, "lived life on your own terms, you touched so many lives. You learned something or taught something. Your spirit was large. I feel certain that you entered the grandest stage of all and all the lights were lit for you. You have given each of us a gift that we will carry forever and that is your legacy.
Those were some of the tributes to Beth Chapman, the beloved bounty hunter and wife of Duane "Dog" Chapman who recently died after a difficult cancer journey, who was honored in a memorial service in Aurora, Colorado.
After the rest of the family spoke, Duane gave a moving speech that revealed some of the pain he has been going through since Beth's death. "I cannot believe that she's gone," he said of his beloved wife. "This is not possible, I want to wake up from a dream."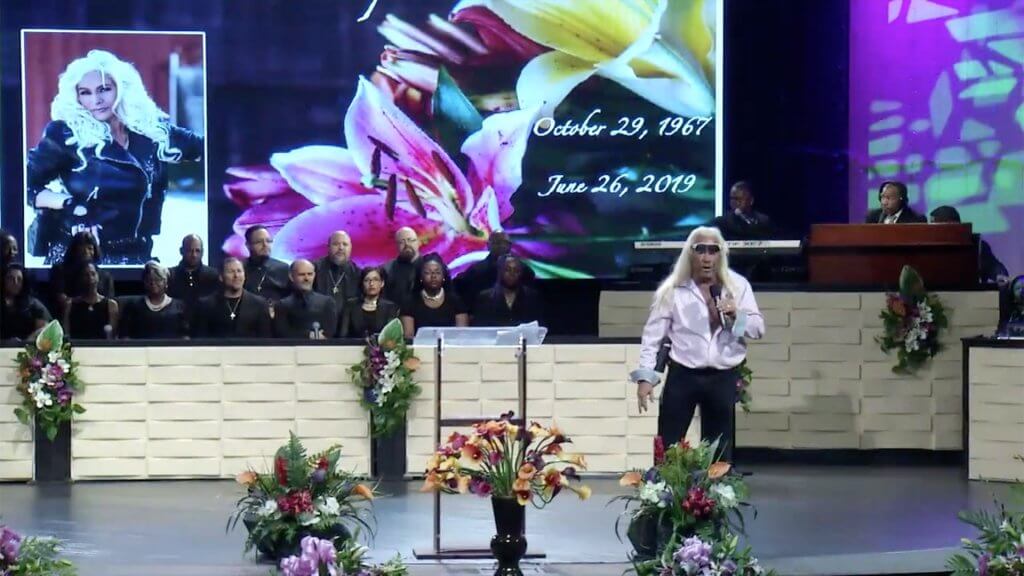 He said that he'd trade just about anything to have one more moment with Beth.. "In the '70s, I did 18 months in the Texas penitentiary and I told God yesterday I'd do five years, ten years day to day just to kiss her again."
And that he'll always try to make Beth Proud. "I never felt like this. She will never be dead to me. She is in another place. I'm gonna get to heaven and make her so proud. She's gonna say like she said here, 'That's my man right there, that's big daddy right there.'"
Dog also talked about Beth's attitude when it came to filming their spinoff show Dog's Most Wanted during her cancer battle. "She'd gotten sick, they told her she got cancer. They said she could do chemo though, they said she would have to sit at home while Dog films the show. The show did not kill her but she died for it," said Dog. who called Beth their "angelic drone in the air now."
He said they went back and forth about whether she'd be able to be on the show. "She said, 'Do you think I'm going to let you go out by yourself and film this TV show? You're out of your mind.' I said, 'Honey you might have to do chemo and stuff,'" he continued.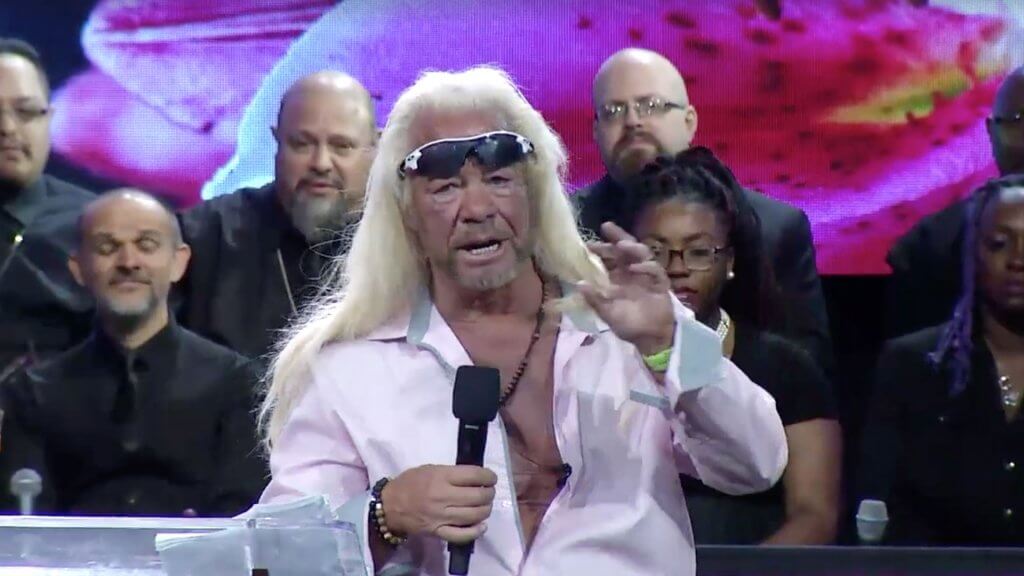 But that Beth's resolve to be part of the filming won out in the end. "She goes, 'All it'll do is keep me alive six months longer and I'm not going to do that because I want to be by your side.' She would tell these guys on the show, 'You're trying to die doing these drugs and I'm trying to live.' Those guys started bawling and crying."
For Dog, Beth's closet is a potent reminder his beautiful Beth and the way she smelled. "I walked through the closet the other day and I smell her," he said. "Then this morning, I could smell her. I said, 'Is it okay if I keep the closet like that?'"
A loved one told him, "Until you die, that closet is staying the same.
Finally, Duane offered words of wisdom for other young couples. "If you're beefin' with your old lady, stop and kiss her right now. Because you're gonna feel so bad when he or her are not with you anymore."
"It is one of the worst feelings a man or woman could ever have. I'm telling you," he continued. "I've never felt this bad, I'm sad. I didn't want to do a celebration of life because I'm sad. I miss her so much."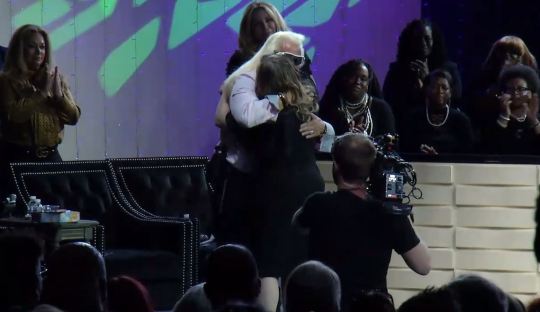 The service took place at the Heritage Christian Center. It came after an initial ceremony that the Chapmans held on a beach in Hawaii—one of Beth's favorite places. Beth and Dog had split their free time (when not out bounty hunting) between Hawaii and Colorado, which is why the family saw it fit to hold two memorial services in the places that meant something to Beth.
The service was open to the public, and the Chapman family received so many of Beth's family, friends, and fans, that a celebrity organizer was selected to help with the details of the event. Kim Fields, known for portraying "Tootie" on The Facts of Life and from Real Housewives of Atlanta, coordinated security for the event and oversaw production details, according to TMZ.
The family also worked with local police to make sure the venue was safe and secure. Weapons were banned at the service — even though Colorado is an open carry state — and all bags were searched. TMZ reported the extra security was related to sensitivities among the community after the 2012 Aurora movie theatre shooting, and the nearby Columbine High School shooting.
The service included a performance by Gospel singer Leah Shafer, whom Beth loved. Shafer, who sang a series of emotional gospel songs, credited God in her response to the invitation to sing at Beth Chapman's service.
"It made me realize that when God wants to use you, despite others' opinions, He will place you," Shafer said. "He continues to show me over and over that He will use my gifts in ways that are unexpected and for His greater purpose. When I try and force things, it never turns out the way I think it will. But when I let go and let God in, doors open in ways that have a far greater purpose."
DETAILS OF BETH'S CANCER
Chapman's cancer journey began when she was diagnosed with throat cancer in 2017. She made a remarkable recovery, but then this past year, doctors discovered that her cancer had returned in her lungs, at which point it had also spread throughout her body.
Last month, Chapman was admitted to the Queens Medical Center in Hawaii, where she was placed into a medically induced coma by doctors who, according to the website TMZ, said they were trying to help her and reduce her suffering.
True to form, Beth and 'Dog' Chapman lived the last months of Chapman's cancer battle in the same extremely public way in which they've lived the rest of their lives for many years. The end of Chapman's life was met with a huge outpouring of support from millions of people who identified with her struggle and also took part in her Christian faith, about which she was extremely vocal.
"I don't go to God and go, 'Why did I get cancer?'" Chapman told a church group in Bradenton, Florida on Mothers Day. "He'll roll his eyes at me again, because I know why — because this is the ultimate test of faith."
Decision to Forego Chemotherapy
As part of her devout faith, Chapman announced during her cancer journey that "chemotherapy is not my bag," and shared that she was putting her faith in God.
She said that instead of chemotherapy she would be leaning on her Christian faith and the Lord Jesus Christ. Beth is a devout Christian.
Choosing to forgo conventional treatment is an extremely difficult and personal decision. We don't know what, if any, alternative treatments Chapman may have been pursuing for what's been reported to have been stage IV lung cancer. Typically, the treatment for this advanced disease can involve extensive chemotherapy or radiation, or targeted therapy if the patient has a certain genetic mutation.
But decisions to forego aggressive treatments at the end-of-life are the types of decisions with which millions of families have to grapple when a loved one is in the very advanced stages of cancer.
During her final days, Chapman was surrounded by those who loved her—including her husband, Dog, who has always praised his wife for her strength, especially in the face of cancer.
Learn more about SurvivorNet's rigorous medical review process.