The Love of a Spouse Through Cancer
Martin Short was married to his loving wife, Nancy Dolman, for 30 years before she passed away in 2010.
Dolman battled ovarian cancer, a journey the family kept private.
Short says he still "talks" to Dolman and honors her memory with a good drink when he's really missing her.
Our experts say it's OK if you don't want to share your cancer diagnosis with pepole, and that you should feel confident in whatever decision you make.
Having a strong support system, like Dolman did with Short, can be invaluable during a cancer battle, and keeping communication can help the couple understand each other better through it.
Martin Short may be known as a hilarious comedian and actor, but behind the scenes, he had a beautiful love story with his wife and a marriage that lasted 30 years. She supported him through his entertainment career, and he supported her through her a devastating battle with
ovarian cancer
. While she passed away in 2010, Short continues to honor her in sweet ways. As he celebrates his 73rd birthday, let's take a look at how he keeps his wife close.
Martin Short, The Comedian
Martin Short is a Canadian-American actor, comedian, writer, and producer who's entertainment career has spanned several decades. He first gained attention as a cast member on the sketch comedy show "SCTV" in the early 1980s and then later on "Saturday Night Live," where he created so many memorable characters. Short has also starred in a number of films and television shows, including "Three Amigos," "Father of the Bride," and "Damages." He has won numerous awards for his work, including a Tony Award for his performance in the Broadway musical "Little Me."
Read More
He is currently starring in the hit Hulu mystery-comedy series "
Only Murders in the Building
" with friend and fellow actor Steve Martin, and he recently portrayed Lumiere in the live presentation of "Beauty and the Beast" on ABC. Throughout his career, Short has been known for his quick wit, versatile acting abilities, and comedic timing. He and friend Martin have become an iconic duo, starring in films together, going on comedy tours, and hosting "SNL" together, tag-teaming through ingenious sketches and routines.
Martin Short's Marriage to Nancy Dolman
Martin Short married Canadian actress and writer Nancy Dolman in 1980. The couple met in 1972 while performing together in a production of "Godspell" in Toronto, and Short had described it as love at first sight.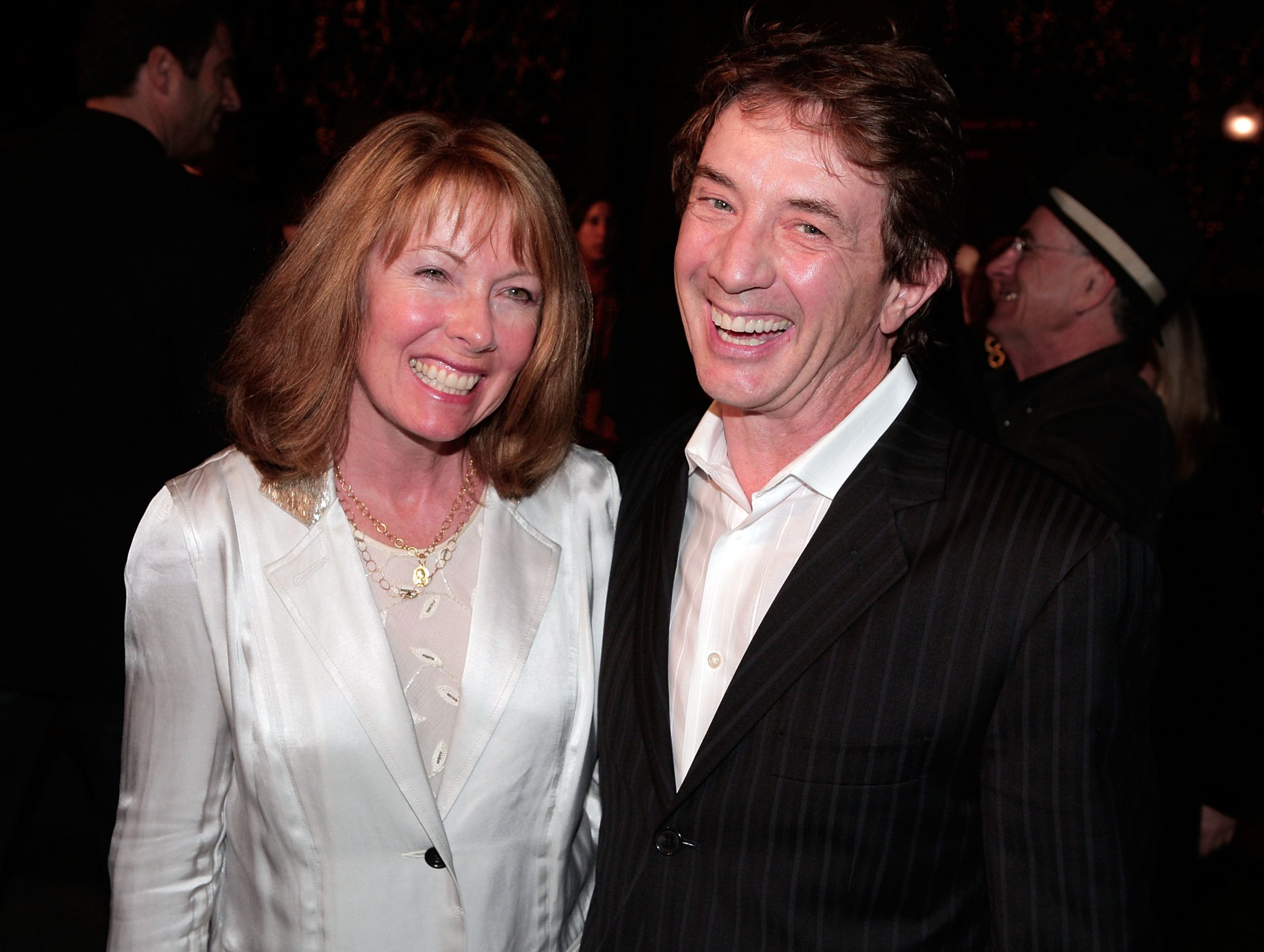 Dolman was successful in her own right, appearing in several television shows and films, including "Soap" and "The Last Good Time." She had eventually shifted her focus to writing and became a successful screenwriter, contributing to projects such as "Martin Short: Fame Becomes Me" and "The Martin Short Show."
But it was when Short and Dolman adopted their three children, Katherine, Oliver and Henry, that she again shifted her attention to the family. She decided to be a stay-at-home mom to raise the kids and support her loving husband, Short wrote in his memoir "I Must Say: My Life As a Humble Comedy Legend."
"Our marriage was a triumph," Short told AARP magazine.
"In our 36 years together we became so intimately familiar with the workings of each other's minds," he described in his book.
Short and Dolman's solid foundation undoubtedly helped them fight one of the biggest battles together: cancer.
Nancy Dolman's Cancer Journey
Nancy Dolman was diagnosed with ovarian cancer in 2007. That cancer starts in the ovaries, the almond-sized organs that produce eggs and hormones estrogen and progesterone.
Ovarian cancer is often called the "cancer that whispers" because women don't often experience symptoms until it has reacher later stages, says Dr. Beth Karlan, director of the Women's Cancer Program at the Cedars-Sinai Medical Center. So recognizing warning signs is extremely important. Symptoms may include:
Feeling full earlier/decrease in appetite
Feeling bloated
Changes in bowel habits
Pain in the pelvis
Urinary symptoms, such as an urgent need to go
Extreme fatigue
Abdominal swelling
Pain during sex
The family didn't speak much publicly about her diagnosis and treatment, deciding to keep her journey private and out of the spotlight.
WATCH: The Changing Landscape Of Ovarian Cancer Treatment PARP Inhibitor Drugs Withdrawn For Some Indications
Our experts say that a cancer diagnosis — and the treatment that follows — affects everyone differently. It's important to know that the emotions you experience are completely normal. And who you share this journey with others is completely up to you. Some people want to share their experiences as much as they can and others don't want to tell anyone. Both of these approaches, and everything in between (like only telling a few close friends), are valid. And you should feel confident in the decision you make for yourself.
"Patients who have just been diagnosed with cancer sometimes wonder how they are going to handle the diagnosis of the cancer in social situations," psychiatrist Dr. Lori Plutchik explained to SurvivorNet. "How much information they should share and with whom they should share the information … everybody is different.
"People should do what feels right to them. Going through a cancer diagnosis, through treatment, is often a very long process," she added,
Even though they didn't share Dolman's cancer journey publicly, it was clear that Short was by her side through it all.
Sadly, Dolman passed away from the disease in 2010.
How Martin Short Keeps His Wife's Memory Alive
"I'm still very much married to Nancy," Short said in his memoir, expressing how he keeps her memory close to him every day"
"I still communicate with her all the time. It's 'Hey Nan,' you know?" he told AARP. "How would she react to this decision or that, especially regarding our three kids. … So to me, she's still here."
And he described a special tradition he still holds when he wants to honor their incredible relationship together.
"So some night, when I'm really missing her, I'll grab a rum and Coke at twilight and sit on the couch on our front porch, or perhaps upstairs, on the balcony off of our bedroom, with the Pacific Ocean in view. I'll call out, 'Hey, Nan'! Forming the words just feels good in the throat," Short wrote.
It helps Short feel close to the love of his life, who supported him through it all.
"These, our talks, go on internally, not out loud. … But we do talk, Nancy and I, and I can totally hear where she agrees with me and where she disagrees," he said of staying close with his late wife.
In mourning his love and learning to move forward atfer her death, Short said he has learned to appreciate life and take more chances.
"Her death emboldened me to take risks. With real tragedy, you become a little more daring. It's the yin to the yang: the positive part of life's dark side," Short said, highlighting how his wife is still a source of support for him.
And even with more risks and chances, that appreciation for life has brougth a sense of solice to Short, and he knows how he needs to spend his time.
"To me, life is a practical experience each day, with a coating of 'Be as happy as you can be' on top," he said.
The Support of a Spouse Through Cancer
Martin Short and Nancy Dolman's relationship is an example of the impact a loving connection can have on two people. And when one partner receives a cancer diagnosis, it's undeniably something the patient and their supporters will face together and learn to cope with.
According to MacMillan Cancer Support, communication is a vital tool in helping support a partner with cancer and it could help a couple understand each other better.
"Try to be yourself and live as normally as possible. Behaving differently may make your partner feel more aware of the cancer," the charity explains. "It can help to ask your partner what support they would like and find useful. This makes sure you help where it is most wanted and needed. It can also help you avoid misunderstandings."
And having a strong support system around you, like Dolman clearly did in Short, is ideal when challenged by health struggles.
Ovarian cancer survivor Beverly Reeves can attest to the importance of support and a loving community amid fighting a disease.
"If I had one piece of advice for someone who had just been diagnosed with ovarian cancer, it would be to get a strong support group together. Get your close friends. If you're connected to a faith community, get your faith community," Reeves told SurvivorNet in an earlier interview.
"Get your family. Let them know what's going on and let them help you. And sometimes that's the most difficult thing to do, but just know that they are there," she continued. " If they love you, they're there to help you. And don't be embarrassed."
"Because this is a cancer that not a lot of people want to talk about," she said. "But it's real and we need to talk about it, and we do need that help. So talk to your family and your friends and your faith community, and get that network together so they can support you and be there for you."
(Editor's Note: The medical information and original sourcing in this article have been done exclusively by SurvivorNet staff. All content has been fact checked exhaustively. Some artificial intelligence tools have been used in the creation of this piece.)
Learn more about SurvivorNet's rigorous medical review process.
---