Fran Drescher's Challenges
The Nanny star Fran Drescher, 64, opened up about challenges she faced in her career, particularly how many people told her during childhood that she could never be an actress due to her unique voice.
Drescher was diagnosed with uterine cancer in June 2000. She went into remission after successful treatment, and now tries to help others facing a diagnosis.
Uterine cancer is a cancer that develops in the lining of the uterus and affects nearly 67,000 women in the United States every year.
The Nanny 
star
Fran Drescher
, 64, made her mark in Hollywood through her portrayal of Fran Fine, known for her unique signature voice and dashing outfits. However, the road to stardom wasn't always easy, and Drescher has faced a number of challenges in her lifetime including
fighting cancer
. Despite all the obstacles, she's overcome them all.
To promote her film Hotel Transylvania: Transformania, the TV icon opened up about how she was told by numerous people that her dreams of Hollywood were impossible due to her unique voice. According to Drescher, a high school teacher of hers told her that it was impossible that she could be an actress, as her voice is extremely nasally and high pitched. Little did that teacher know, Drescher's voice is one of the reasons she's become a Hollywood icon.
Read More
Related: 'The Nanny' Star Fran Drescher Celebrates 20 Years of Being Cancer Free with a Virtual Cabaret
"In high school, a teacher said, 'You will never work with that voice. You'll have to learn how to speak like a normal person,'" Drescher told Las Vegas Review Journal. "My Mom, who sounds just like me said, 'Honey, you don't have a funny voice. What are they [talking] about, Fran?' ….I knew I would never have Meryl Streep's career. I was determined to have Fran Drescher's career — and that's what happened."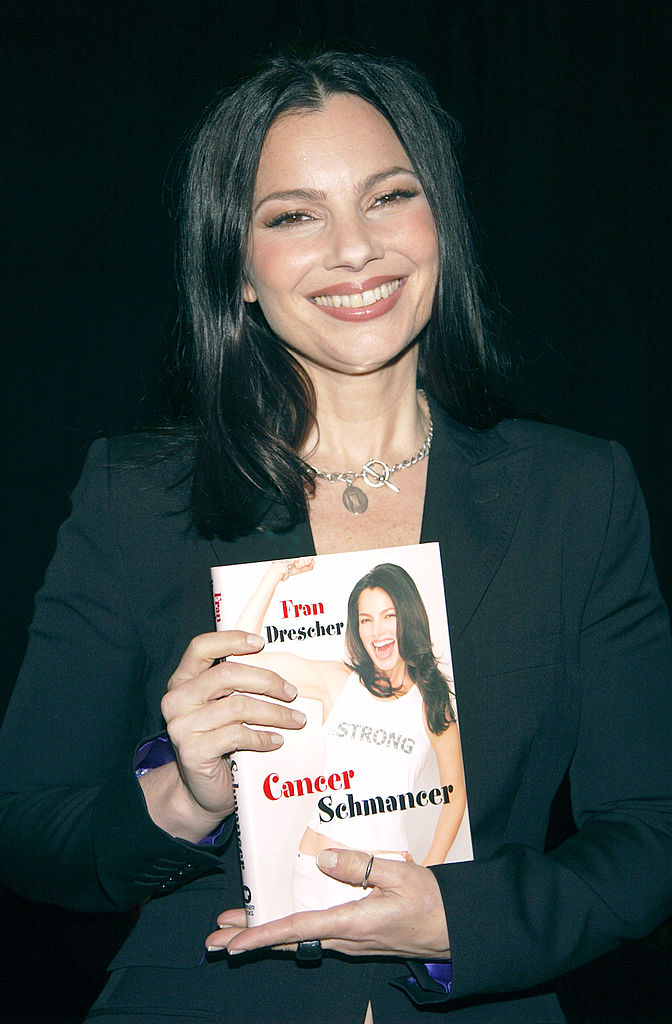 Fran Drescher's Cancer Journey
Drescher was diagnosed with uterine cancer in June 2000. After two years of experiencing uterine cancer symptoms, Drescher received misdiagnoses from eight doctors. Then, she finally got a correct diagnosis. Drescher told SurvivorNet in a previous interview interview how the experience led her to feel scared and betrayed by her own body, as well as the medical community. However, she's used the experience to try to help guide others through a cancer diagnosis. She's spoken publicly about her cancer battle and encourages others to always seek second opinions if they're unsure about a treatment path.
Related: Uterine Cancer Survivor Fran Drescher, 63, Encourages People to 'Overcome' and Seize the Opportunity to 'Grow'
"If you are a cancer patient or was just diagnosed with cancer, you may, undoubtedly, be very frightened. I know that I was," Drescher told SurvivorNet in an exclusive interview. "Some of the recommendations that I can make for you immediately is to open your world up to people, start looking at your lifestyle, become educated so that you can see what all of your options are. Because the best decision you make is an informed decision and to start increasing mind, body, and spirit balance as much as you can."
Fran Drescher's Advice on How to Handle a Cancer Diagnosis
Understanding Uterine Cancer
Uterine cancer is a cancer that develops in the lining of the uterus and affects nearly 67,000 women in the United States every year, according to the American Cancer Society. Most women diagnosed with this cancer will be post-menopausal, and it's extremely rare in cases of younger women. Fortunately, uterine cancer is usually treatable if caught early. The initial treatment plan for most cases is surgery, but this newly approved drug combination could be a game-changer for women facing a recurrence or if they are not eligible for surgery.
Gynecological cancers can be tricky to detect, but there are signs that if spotted you should consult about with your doctor. One of the most common symptoms that may indicate that uterine cancer has developed is irregular bleeding. This means bleeding in between periods for pre-menopausal women and unexpected bleeding for post-menopausal women. There are also a few factors that can predispose someone to the disease. These risk factors include conditions such as hypertension, diabetes, Polycystic Ovarian Syndrome (a condition which prevents regular periods), obesity, Hyperandrogenism (a condition where someone holds higher levels of male sex hormones) and Lynch Syndrome.
Related: 5 Possible Symptoms That May Indicate Gynecological Cancer
"I think one of the challenges with uterine cancer is that it can also happen in younger patients that have certain conditions that might predispose them to cancer," Dr. Diana English, a gynecologic oncologist at Stanford Health Care, previously told SurvivorNet. "These patients might not be thinking about this, their primary care providers might not be speaking to them about this."
Dr. Diana English breaks down the risks and symptoms of uterine cancer
Learn more about SurvivorNet's rigorous medical review process.